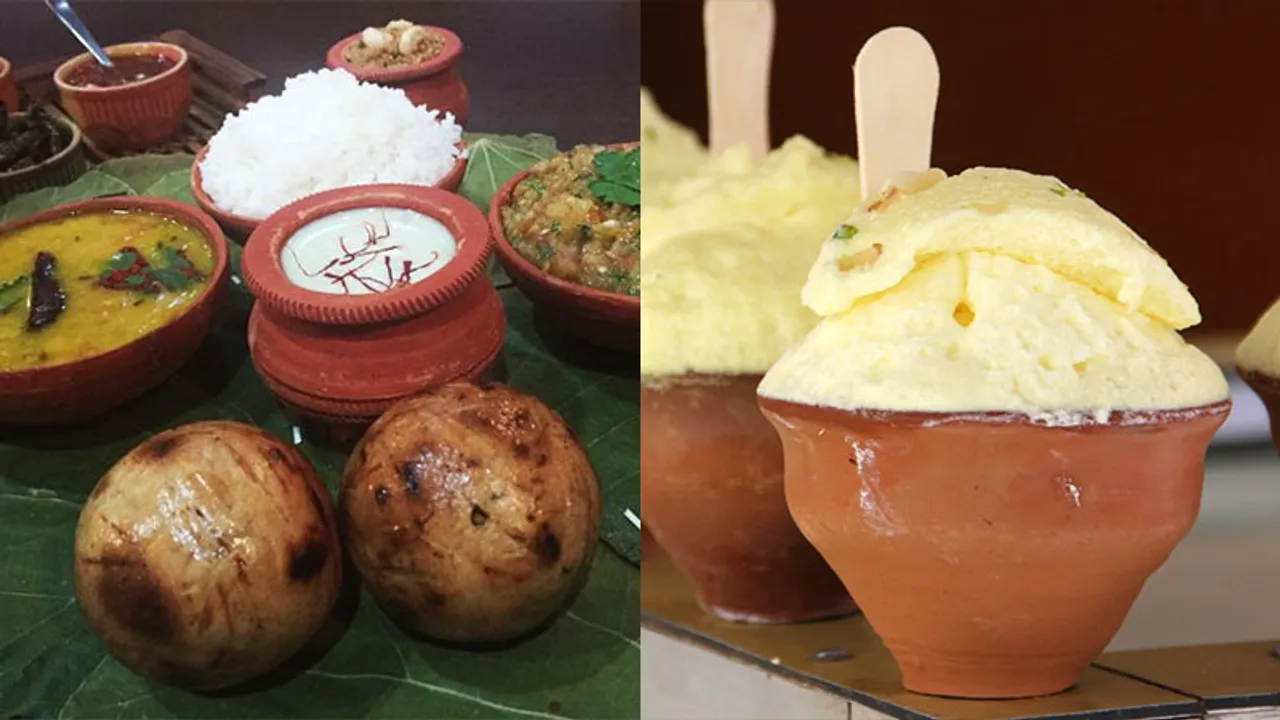 One of the oldest cities in the world, Varanasi, is surely a place one should visit at least once in their lives. It is famous for its rich heritage, culture, diversity, and of course food. Varanasi offers some of the most tasty delicacies along its narrow streets and people from around the world have loved it!
Banaras, as the locals still call it, is majorly popular due to its serene ghats and numerous temples. The city has a lot to offer when it comes to aesthetics. The winding streets, the architecture, the food, and the friendly localites make this place a must visit in a traveler's list. Varanasi plays host to hundreds of thousands of tourist every year.
Some of the dishes served here are unmatched. They can only truly be experienced when you're standing on the street and enjoying them like the locals do! Here are some lip smacking dishes that you must not miss if you're ever in the city:
1. Kachori Sabzi (Where: Ram Bhandar, Kachori Gali)
2. Baati Chokha (Where: Puran Das Road)
3. Malaiyyo (Where: Kachori Gali, Neelkanth)
4. Thandai (Where: Chowk, Blue Lassi Shop)
5. Banarasi Paan (Where: Dashashwamedh Ghat, and almost every nook and corner serves paan)
6. Rabdi Jalebi (Where: Ram Bhandar)
7. Choora Matar (Where: Gopal Mandir Gali)
8. Tamatar Chaat (Where: Deena Chaat Bhandar, Dashashwamedh Road)
9. Blue Lassi Shop (It serves over 75 flavors of lassi!)
10. Lemon Tea (Where: It can be found on every ghat)
11. Dahi Chutney Golgappe (Where: Deena Chaat Bhandar)
https://www.facebook.com/dillifoodiesofficial/photos/basw.AbouTslahKndZGqzhbuBUIap5BKvidESLvCQOZEpjo_TjNoTt_5TW7knRTzcf-3mpWWEXSMNfqU_RFGsanHErda0-80E_Dm1obDoMjTQJRVqYn6uZlpZv8HLvFzVuEFejqflo1L3W1aJF6u9njmWOqoCVQ-ezs5gm0PVJIKLXrCTVg.10204572498171658.646007345819957.878276305577190.2094074467541035.108099093035605.416038751778904.1592790454325805.225368334577602.769944179854190/646007345819957/?type=1&opaqueCursor=AbrZ0WC53n2vD2WAECqXrHe225oIdqxBB9BWKSRadYN98b6GAPxmABw7RrnqN8VUUJGy_kWJrtSHGilvQZPvl2CWaHFfUEthMIzMvwIJ8fjAD9TP5HyDgaxwuQ2dB2pb882qo4l7xR6nNb5XHEw10T34q-iXrPSEAh52qTkQXetk54PQ--lBweeG5-usdZxXUu6PZtscb2lgYHzTpQSPZJm5NtgREyJmpZr7Br12WlMr32JTU5DkBaiM5VvD9NDK6MG_i6G97lr6CsYtcpaACAvQ7Q-Rqw4WDlriNRmaslgXjj2bcnFh6J-nLsMDtCp3-BTTTMhedsbiZ2ntUUyeiTAL4LUBSR1M1WYd3NTRk4U8uQOsk3jnJ6Ux9opi5Oo-Rwe_mV_GrPSWkfRpkNTZKkXmwJLV5_PTjdFwBFN_KOPWA9bunAbBL6JvklBfQvFhc2jm0l3Um5kTdbzqGHnDHfs4g24vIsr2dgcT63N8J6T0ZljsxEUHb0D-8McjuQQytgd93zABW10muqo2wOXFK9efQBE1XDCQhmmCPCW1WUB0rbDmoXmN7CDSIJpr0gztSXku2eClNofsQWzLfCUbNys5vxrMIcRCicIE4rGpoZuZdZmH-XB1D2BYuO0p_hkNpN-RSdbjtko6srSYAK0Y8O5_JgQbyAiGQIsJ82MbXd_pTxuokvPpjF7hz_l8P84-uDGMmY4oibCjii6LqyV5syjf
12. Pizzeria Vaatika, Assi Ghat (It has amazing pizzas and its apple pies are famous!)
Being a local of Varanasi myself, I can vouch for all these treats and that they're mouthwatering! Varanasi is a place that should be on every traveler's bucket list!