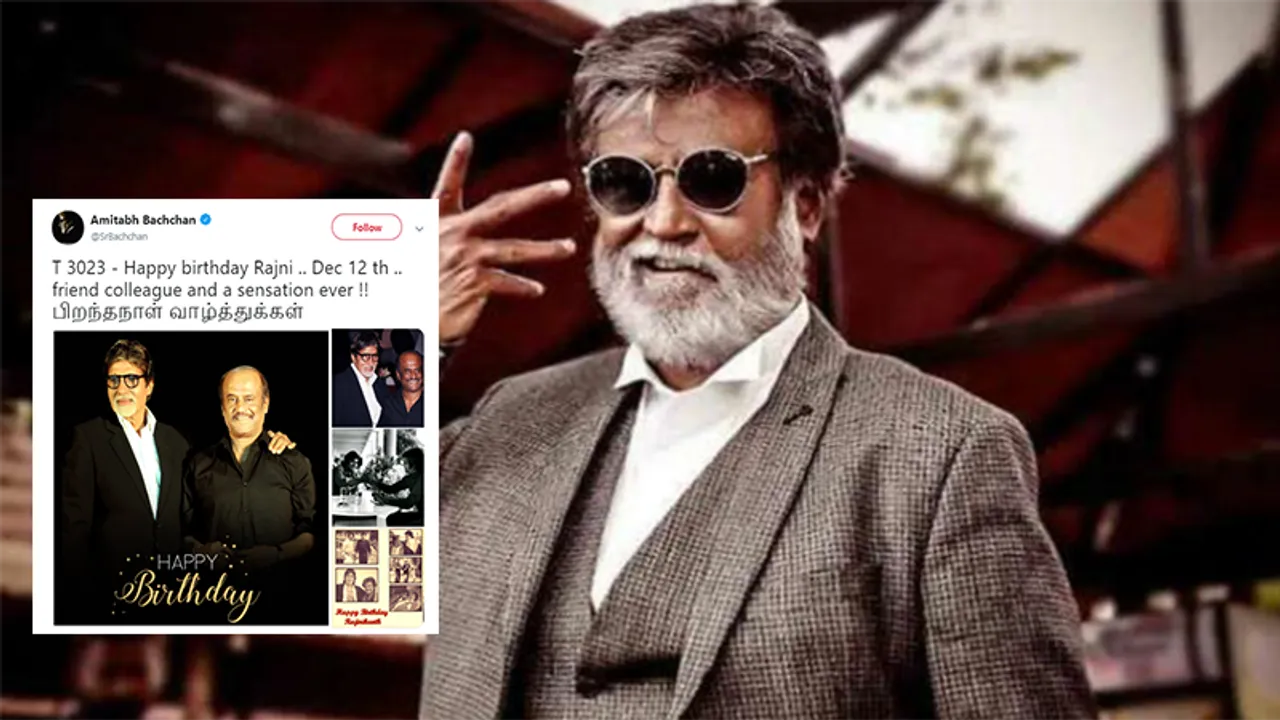 Rajnikanth's fans & friends including Amitabh Bachchan and Dhanush took to Twitter to express their love and wish the superstar on his birthday.
Shivaji Rao Gaekwad, or Rajni Sir, as addressed lovingly by his fans, has come a long way from being a bus conductor in Bangalore Transport Service, to acting in plays, till being an enormous star with religious fan following, gained from unequalled acting performances.
We've always heard instances like Rajni Sir's fans will burn your house if you try to pirate his movies, and the lines in theaters when his movie is showcased are longer than Rapunzel's hair. Such instances may or may not be true but there's no doubt that he is a loved artist and his charm and 'unreal' style has left a long-living legacy and the bar he has set would probably be impossible to match.
The times have changed but his fan following has only changed for better, fans have started using social media to express their affection along with the traditional ways.
Mega stars like Amitabh Bachchan and Dhanush too have conveyed their fondness through adorable tweets.
With hits like Sivaji, Kabali, Baasha, Kaala, Robot and the newest hit 2.0 and expectantly many more to come, the 68-year old actor turned politician is a true Thalaiva(Boss) and we wish him Happy Birthday.
T 3023 - Happy birthday Rajni .. Dec 12 th .. friend colleague and a sensation ever !!
பிறந்தநாள் வாழ்த்துக்கள் pic.twitter.com/nE8iQxg14u

— Amitabh Bachchan (@SrBachchan) December 11, 2018
Happy birthday my #thalaiva ... The most beautiful human being I have met in my life. This first bench fan's humble wishes to the unexplainable phenomenon this country has ever seen. Love you thalaiva ♥️ ♥️ ♥️ #superstar " the only one " #12/12

— Dhanush (@dhanushkraja) December 11, 2018
Celebrating the journey of the Super One. Ticket to ticket, whistle to whistle, conductor to actor, star to Super star. Happy Birthday Thalaiva @rajinikanth ! #HappyBirthdaySuperstar #Thalaivar #ZeeTamil #RajiniKanth #2Point0 pic.twitter.com/Vmcvmet2Ow

— Zee Tamil (@ZeeTamil) December 12, 2018
Happy birthday thalaivaaa #Rajinikanth #RajinismForever ☝??? pic.twitter.com/XQczrxwb5f

— Sanjay Raja (@snjai_raja) December 12, 2018
Happy Birthday #Rajinikanth sir ??? pic.twitter.com/O7ulbjcpGZ

— ?V E N K Y? (@daggumativlsvkm) December 12, 2018
Biggest Superstar, yet very humble and grounded. The man who is inspiration for millions, one and only @rajinikanth .
Happy Birthday #Thalaivaa ??.#Rajinikanth#HBDSuperstarRajinikanth pic.twitter.com/71RvE3APQJ

— Tejo Bharadwaj (@TejoBharadwaj) December 12, 2018
Error 68:Replacement not found,will never be!
Happiest bday #thalaiva #Rajinikanth #PettaBirthdayTrEAtSER pic.twitter.com/axoGkufIih

— ☻ (@aish3y) December 12, 2018
@NameisNani Anna wishing #Rajinikanth Sir In His Style???#HappyBirthdaySuperStarRajinikanth garuu? pic.twitter.com/MZD7IRoGQc

— Nani Satya (@Satish_Nani_dhf) December 12, 2018
Happiness is seeing our thalaivaa trending ? #HBDSuperStarRajinikanth #rajinikanth pic.twitter.com/VAm2ZHs9tD

— J Deeps ⚡ (@taradipsy) December 12, 2018
Thalaivar #rajinikanth sir and engal annan @Siva_Kartikeyan Anna ? together ?? just loved this pic .. and made this sketch ❤️❤️ with so much of love??❤️ @AllIndiaSKFC @AnandSkfc @ActorSK_News pic.twitter.com/bvo6MTZj1P

— ? Shakti ? (Sk blood) (@Shaktinattar2) December 12, 2018
You, sir, are an inspiration to millions and billion others who have grown on your style the world over.
On this special day, I wish Birthday a very happy Rajini Sir#RajiniKanth #Actor #Legend #Thalaivar #ArfiLamba #Bollywood #Cinema pic.twitter.com/qwdiYrLa2x

— Arfi Lamba (@arfilamba) December 12, 2018
Happy birthday to our thalaivar, one & only superstar #Rajinikanth sir @rajinikanth #PettaParaak pic.twitter.com/GJu7Uv3uzJ

— Harish kalyan (@iamharishkalyan) December 12, 2018