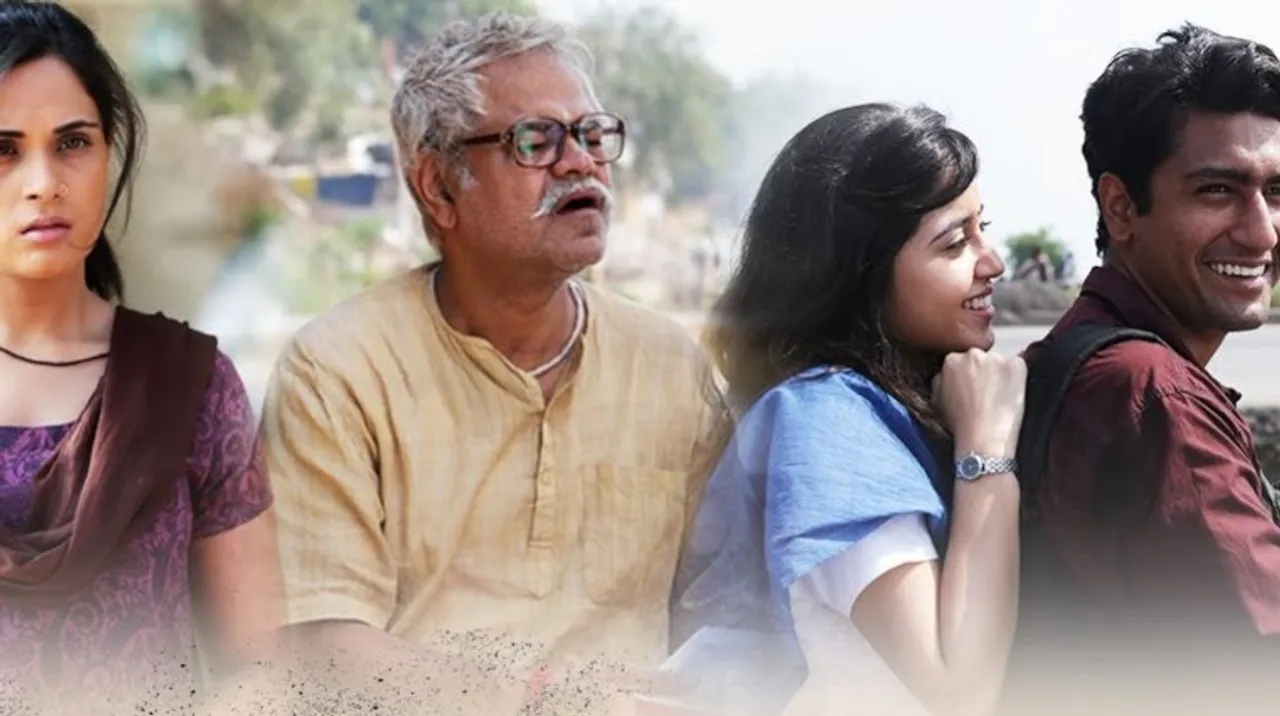 Masaan is one film that managed to pace our heartbeats and slow them down with each scene. The film that premiered at Cannes in 2015 left a mark of everyone who witnessed this stirring tale of love, life, death and every other thing in between. Neeraj Ghaywan brought to life an unforgettable story through the lives of Deepak (Vicky Kaushal), Devi (Richa Chadha), Shaalu (Shweta Tripathi), Vidyadhar (Sanjay Mishra) and Sadhya (Pankaj Tripathi). It has been four years since the film came out and there isn't one scene of this film that won't leave you with goosebumps. While we're definitely re-watching this film today to celebrate its 4th anniversary, the cast of the film did so by sharing some touching memories from the film.
Take a look:
https://www.instagram.com/p/B0SYin0JWUt
Vicky's caption read:
For days before we started filming Masaan, I'd sit here for hours at a stretch, quietly watching bodies getting burnt one after the other... dark, fair, beautiful, ugly, rich, poor, fat, thin... All of them turning into the same colour of ash. Leaving behind, just their deeds, teaching me the most important lesson of my life. My job was to put life into Deepak, what eventually happened was the other way around.
Four years back, I got to ask you all a question... "अब तो हम friend हो गए, हैं ना?" ...Answer to which, I keep getting till date. Here's to 4 years of our beautiful friendship. I cherish it everyday of my life. Thank You. #4yearsofMasaan ??
https://www.instagram.com/p/B0SlddNDLHi/
Richa's caption read: Masaan has given me a lifetime of memories. As I write this, I can't help but get choked up. Images flash before me - of desolate, dusty Ganga ghats, of steel tiffin boxes wrapped in plastic bags, of small town dreams, a floral plastic tablecloth. And then of crazy, drunken parties in France, of carrying heels in your hands because your feet ache from dancing, of a standing ovation that made adults sob like babies, of group huddles, of walking the red carpet at Cannes while hearing your name announced alongside legends like Marion Cotillard, of a hug from Naseer saab, of people's glimmering eyes as they search for words, of silence after the end credits, of my parents' beaming faces as they saw a hobby turn into a career, of red balloons and a small gift box wrapped in purple paper.
Masaan is immortalized by the people that were in it - behind and in front of the camera. And now by you, the audience that saw it and became a part of that world. It shall now forever inhabit our collective imagination, in tiny, undetectable ways.
Devi will always be alive, long after Richa is gone. Tricky thing to come to terms with.
https://www.instagram.com/p/B0Sov9Pp7pt/
Shweta's caption read:Every morning of shoot I use to wake up, and on my dressing table waiting for me were the bangles, the bindi, the ring and the watch. I use to wear them. And slowly become less of me and more of her.
This day, 4yrs back, I made my debut on the big screen. Felt like a big deal. Still does :)) so here's to the poets, to romance in stationary shops, bike rides, बरसात, to first kisses, and listening to your heart.
Thank you SO much for all the love you've given us. It means a lot! Sending the biggest ? out. #Masaan
Here's our little dedication to the film that will always remain close to our hearts:
https://www.instagram.com/p/B0TRybpl6vY/?igshid=12xaftsy4w8r3
Thank you, team #Masaan for giving us this gem.