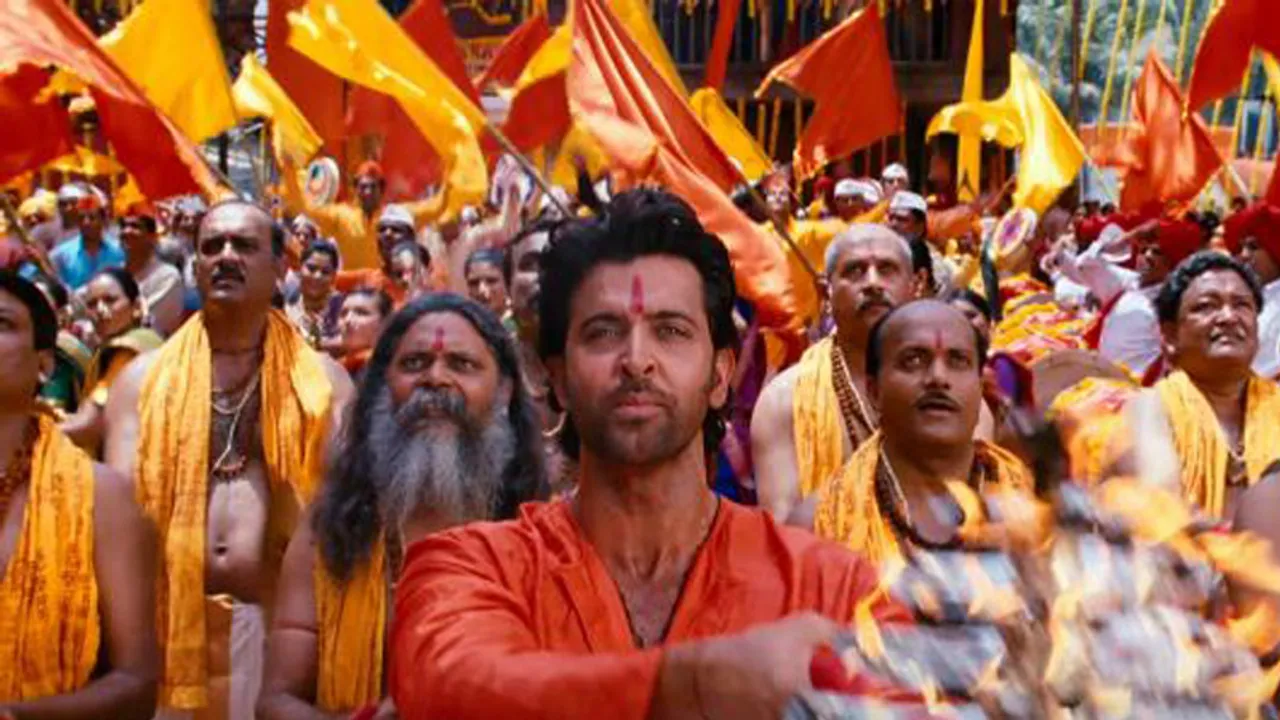 As the Mr. Long Legs of Bollywood turns 45 today, let us look back at some of the best Hrithik Roshan movies in Bollywood that his 18 year career has churned out!
Whether it's the sculpted body of a Greek God, legs as long as the Eiffel Tower or dance skills that make you wonder whether he has bones at all, Hrithik Roshan was perhaps destined for greatness. The year 2000 was the beginning of a new millennium and the beginning of a list that goes by the name, best Hrithik Roshan movies because he is a damn fine actor. Sure he has those Aap Mujhe Achche Lagne Lage and Main Prem Ki Diwani Hoon type stuff sprinkled here and there, but hey, who doesn't?
Who remembers the perpetually brooding Vijay from Agneepath? Or the suave chor from Dhoom 2? Not to mention all the serious af roles he's nailed in the past with the Ashutosh Gowariker editor-nahi-tha-sab-footage-daal-diya Jodhaa Akbar, or his supreme effort as a quadriplegic in Guzaarish?
Here are some of the best Hrithik Roshan movies that you definitely need to watch, rewatch and re-enjoy to honour the man!
Kaho Naa Pyar Hai
His very first film cemented his place in Bollywood and was a critical and financial success. He not only became the next call on every Bollywood director's cell phone, but also turned into an overnight heartthrob for women all over India.
Also THIS.
How many times have you gotten drunk and tried to pull this step?
His first movie still has people crazy about him. Hrithik it's about time you do a commercial entertainer like Kaho na pyar hai. @iHrithik pic.twitter.com/SE8Azo0Wup

— amitjain002 (@amitjain002) May 7, 2017
17 Year of # kaho na pyar hai
This movie is evergreen like our
Rhythm of Heart ? @iHrithik pic.twitter.com/ve1vl3ur0K

— ?Sumiti? (@jhasumit626) January 15, 2017
Kol Mil Gaya
&pbjreload=10
After his blockbuster debut and critically acclaimed outing with Fiza, Hrithik sadly wasn't able to deliver a hit as impactful as Kaho Na Pyar Hai, but his mentor father had the perfect script to turn the tide in his favour!
Today marks 12 years of interesting, wonderful movie #KolMilGaya@iHrithik, @realpreityzinta #12yearsofKoiMilGaya pic.twitter.com/Dl7Eg3ZdAV

— Nadezhda (@Nadezhda696969) August 8, 2015
Hrithik lost close to 8 kilograms to play the role of Rohit, and delivered another impressive performance that was a commercial as well as critical success.
Koi..mil gaya. Only movie that successfully made me in tears. The scene when the disable dude getting bullied really got me good.

Plus Preity Zinta is so pretty it is ridiculous.

— Jack (@NaimAlias) November 19, 2017
Fiza
Taking up a controversial role in only his second ever film, paired alongside seasoned actors Karisma Kapoor and Jaya Bachchan, Hrithik impressed critics with his portrayal of an innocent turned terrorist in Fiza.
Fiza was so good. Excellent movie with refined performances. MDK has immense repeat value. They both didn't deserve to flop. https://t.co/viNo92xZfg

— Chokra_Jawaan no more (@Monsieur_Sal) October 15, 2016
Hrithik was nominated for the Filmfare Award for both Kaho Na Pyar Hai and Fiza, and took home the prize for KHNP, although his work in Fiza was of a significantly higher quality.
FIZA & AGNEEPATH. Critically acclaimed movies of Hrithik Roshan in his career. Both the movies power packed with... https://t.co/kDuCyJHQ67

— Suraj Kumar Das (@surajkdofficial) April 11, 2016
Kabhi Khushi Kabhie Gham
Cast alongside some of the greatest and seasoned Bollywood actors, Hrithik Roshan as Rohan Raichand still managed to make his presence felt, and participated to deliver one of the biggest Bollywood hits of all time.
Also, you should react to songs from Kabhi Khushi Kabhi Gham. It's like the best Bollywood movie of all time. It one of the classics of mine and many more. It has a lot choreography to all of the songs. The most popular actors/actress in Bollywood industry :). @SwagAsDauterive

— Sarah (@kuranis1997) January 7, 2018
Dhoom: 2
The super lucrative Dhoom franchise has a lot to owe to Hrithik Roshan's portrayal of Aryan, a hi-tech thief compelled to leave a mark of his own on the world by stealing priceless articles. Dhoom 2 was the highest grossing film in Bollywood for almost 2 years until another film overtook it.
Pritam is the best. Dhoom 2 remains the best in dhoom https://t.co/qWovmUWsug actions, best music. - dhoom Again, crazy kiya , touch me, dil laga na.. just wow.

— Rajiv kabilas (@Rajivkrishan) November 29, 2017
#Dhoom2 was one of the biggest action movie in dhoom franchise, and people are dying to see once again @iHrithik in that avatar.
And it's gonna happen now...woooow ?✌️ https://t.co/bVctuYrU76

— MEER (@HrithiksAvenger) November 29, 2017
Jodha Akbar
Hrithik's portrayal of Jalal U-Din Mohammad Akbar was one of his finest performances in his career, and his work with Aishwariya Rai helped this fine historical epic become a highly praised super hit.
@iHrithik Your looks really kills me in Jodha akbar movie,you really look adorable in that King's dress,Awesome movie,I have ever seen? pic.twitter.com/1azhQWg0bg

— Surya (@SURYA_727372) June 7, 2017
@iHrithik wonderful movie after your Jodha Akbar really loved it ??you a born actor and no need to prove !! From a True Fan

— vinod kumar (@vinod1knair82) February 1, 2017
Guzaarish
Playing the role of Ethan Mascarenhas, a quadriplegic who is fighting for the right to be euthanized, Guzaarish saw Hrithik step way out of his comfort zone and earn high praise not only for his performance but for his preparation which saw him lose a considerable amount of weight to play the character.
Watched #Guzaarish after 7+ yrs of its release, it made me emotional throghly. This is one of the remarkable performance of @iHrithik. Idk why it wasn't a commercial success bt I do knw that we Indians don't deserve such a class movie.
Bravo SLB for making this movie. pic.twitter.com/BJKJ93NmPg

— BHARATbhushan (@iemBB) January 7, 2018
Zindagi Na Milegi Dobara
Playing the ambitious workaholic who learns to let go, Hrithik Roshan helped Farhan Akhtar's sister deliver her version of Dil Chahta Hai to make it one of Bollywood's most loved and commercially successful films.
Zindagi na milegi dobara- prolly the only bollywood movie i can watch a thousand times and still not get bored of it

— Shaf (@shadysheikh25) December 27, 2017
Watching 'Zindagi na milegi dobara' 5th time,wonderful,awesome movie?Mssg ..Live life fully,happily & without regrets,face ur fears head on.

— AnshikaJainKaur (@anshika_75) October 22, 2017
Agneepath
Taking the mantle from the great Amitabh Bachchan for the role of Vijay Dinanath Chauhan, Hrithik's Vijay was a conflicted, reluctant but dedicated character. He made the iconic role his own with a fresh take, and managed to stand his ground against Sanjay Dutt's menacing Kaancha Cheena.
Watching Agneepath again... For the love of Hrithik Roshan

— Micheal Stephanie (@mike_bora) December 25, 2017
Here's wishing a very Happy Birthday to Hrithik Roshan! May you deliver many such blockbusters in the future.