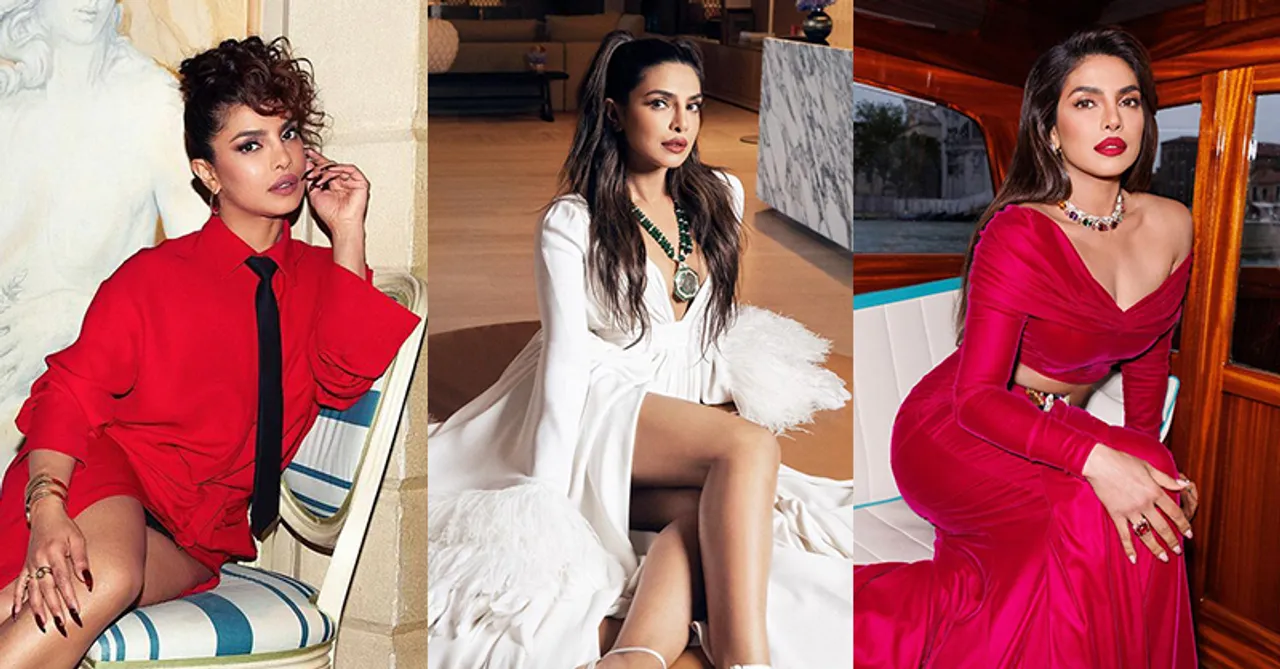 Priyanka Chopra has played her fair share of brilliant roles on screen that have been celebrated worldwide and on her birthday, we'd like to take a trip down memory lane and revisit some of her most iconic on screen roles! 
Youngsters all over the nation aspire to do great things like Priyanka Chopra and find inspiration in her. The actress has achieved international recognition in addition to success in Bollywood. Her skills have received worldwide acclaim and she is definitely on the right track to global domination. She has brought great pride to herself, her family, her country, and many other people with her accomplishments. She has appeared in countless Bollywood films over the course of her nearly two-decade career, portraying some incredible and enduring characters that continue to resonate with audiences today.
Also read: From desi girl to pardesi girl, there's nothing Priyanka Chopra Jonas hasn't done throughout her journey
Check them out
Kashibai- Bajirao Mastani
There aren't many movie characters who can make an impression despite having little screen time. Unquestionably, Kashibai from Bajirao Mastani is a character who merits her own plot. Priyanka Chopra's role has a predictable beginning because she is the modest royal damsel who faithfully performs her domestic duties as a wife, daughter-in-law, and Maratha Peshwin. But as she progresses, she separates herself from her spouse and discovers her own voice and position in the narrative. She tolerates her husband's infidelity with such grace and eloquence and manages to live in peace with Mastaani, his new Muslim wife. She feels the deep loss of her husband and has no one to confide in as her husband was the only companion she ever knew. However, when he too finds comfort in someone other than her, she is left alone with nowhere to go, hence making her a prisoner in her own palace. Priyanka Chopra plays this role wonderfully and breathes life into the character with her immeasurable talent.
Barfi- Jhilmil
Jhilmil has got to be one of Priyanka Chopra's most memorable characters. She plays an autistic young girl named Jhilmil Chatterjee, belonging to a wealthy family from Darjeeling, She is supposed to be the "black sheep" of her family. Her family is often embarrassed by her temper tantrums that they think brings shame to their family name. Barfi kidnaps her in order to attain a ransom amount that he needed to look after his father's hospital bills. However, shortly after attaining the ransom amount, Barfi's father sadly passes away and Barfi leaves her at the special care home she used to reside at. Jhilmil's character is one that comes with very, many layers. All she wanted from life was to spend her time with her maternal grandfather or Barfi, the only 2 people she ever found comfort in. Her love story with Barfi is probably the most heartwarming aspect of the film. Although there aren't many dialogues in the film, the love they share is depicted with such beautiful innocence that makes you swoon. This role was definitely one of Priyanka's best. 
The Sky Is Pink - Aditi Chaudhary 
Priyanka Chopra plays Aditi Chowdhary in the hit 2019 movie, "The Sky Is Pink" where she plays the role of a headstrong mother who would not let any harm in her children's way. The movie tells the story of her daughter Aisha Chaudhary, who suffered from pulmonary fibrosis, a terminal illness which led her to lose her life at the mere age of 18. Aditi was a character we see gently reflected in many of the maternal figures in our life. Someone who is overprotective, headstrong, resilient and will do anything for the wellbeing of her loved ones. She puts her daughter above all and is even willing to let go of the love of her life for the same. Aditi is a rather underrated character of Priyanka Chopra's and is one that deserves to be celebrated more! 
Fashion – Meghna Mathur
Meghna Mathur is one of Priyanka Chopra's earliest roles and one that put her on the map, might we add. She plays a young girl from Chandigarh in this Madhur Bhandarkar directorial whose only dream is to be one of India's leading runway models. She hails from a simple and conservative background in which her dad urges her to take the more serious route to become an accountant. This film shows audiences the dark underbelly of the Indian entertainment industry, specifically high fashion. It shows how toxic the industry can be and the kind of toll it can take on bright-eyed young talents who dream of nothing but stardom. An interesting aspect of Meghna's character in the movie is that you can see her alter ego in Shonali, the character played by Kangana Ranaut. Although lacking major similarities, it can be noticed that Shonali is everything that Meghna wants to be at the start of the film. However, Meghna surpasses her and watches Shonali's downfall from fame. She fears for herself as she worries she may end up the same way. However, after many lessons that she'd learned along the way, she realizes the mistakes that she'd been making through the course of her career and rectifies them. 
Dil Dhadakne Do – Ayesha Mehra
Ayesha Mehra is probably the most relatable character that Priyanka Chopra has ever played. An independent entrepreneur who found her way to the top by starting her own business at a young age but is unable to voice her opinions to her parents. She lives her life in an unhappy marriage and only expresses her discontent to her brother, Kabir (played by Ranveer Singh). The two siblings often complain about how they've been forced to take the worst decisions of their lives because of being forcefully pushed into it by their parents. Ayesha is still in love with her childhood sweetheart, Sunny (played by Farhan Akhtar) who she meets on her parents' 30th anniversary cruise. From not having her happy ending with Sunny to always being put in her place as a "woman" who is expected to be a dutiful wife and mother, Ayesha never stands up fro herself to get what she wants, which is a common occurrence in Indian society. 
Sonia Kapoor- Aitraaz 
Sonia Kapoor is one of the most pivotal roles of Priyanka Chopra's career and rightfully so. The star portrayed the character of a smart, manipulative villain early on in her career which is very unlikely for most Bollywood heroines to do. Priyanka portrayed a fearless, self-assured, affluent, and strong lady who is very career-focused and will do anything for name and fame. The film revolves around how she reunites with her past flame under odd circumstances and tries to seduce him, even though they are both married to different people. Sonia Kapoor was a 2000s icon who played the perfect sultry, sophisticated and charming woman, one who'd do anything to get what she wanted. A rather underrated role of hers as compared to her other blockbusters, we're absolutely gaga over her look in this film as well as the character she played. 
Susanna Anna-Marie Johannes- 7 Khoon Maaf
Priyanka Chopra took home the Filmfare award for Best Actress for playing this iconic role in the critically acclaimed film "7 Khoon Maaf" wherein she pays a needy woman desperate to find her perfect match. She finds herself going through a trail of men who are supposed to be ""The One" for her. However, due to some circumstance or the other, tragedy strikes and she finds herself killing all her ex-flames. Each of her husbands represent one of the 7 sins: envy, gluttony, wrath, pride, lust, greed and sloth. The movie is narrated by Arun to his wife Nandini. Sussana is Arun's beneficiary and he recalls the tale of her tragedies to explain just how bizarre her life was. The movie ends with Susanna meeting Arun where he tells her she has finally found her one true love, Jesus Christ and has decided to resort to a life of simplicity and become a nun. One of the many spectacular roles that Priyanka has played, this is one to be remembered for ages to come.
Neha-Dostana
The outfits that Priyanka dazzled in in this film are ones that will go down in history (quite literally her golden saree from the hit song "Desi Girl" is kept for display at the Nita Mukesh Ambani Cultural Centre) and are on every girl's wishlist. From the iconic gold monokini to the metallic saree designed by Manish Malhotra, this movie has it all. A funny lighthearted rom-com that's sure to put a smile on your face, PC's rom-com, India's sweetheart era is one that we all cherish dearly. This just shows the fabulous range that Pee-Cee has, she can quite literally do it all!
Alex Parrish- Quantico
Alex Parrish was Pee-Cee's first role in Hollywood and she absolutely killed it! She played the role of Alex Parrish, who joins the Federal Bureau of Investigation after completing the FBI Academy. Alex is a leading suspect in a terrorist attack on Grand Central Terminal. Initially, there were two timelines at Quantico: the present, when Parrish escapes from captivity to prove her innocence, and the past, when she and her other recruits were being trained at the academy and learning about their individual histories. From the second season's midpoint on, the show adopted a single timeline. A gripping storyline, stellar acting and top notch drama, what's not to love? We wish we could've seen more of Alex's life story. However, due to the show getting cancelled abruptly, we were stripped of the story of what was to happen to our favourite FBI agent.
Priyanka Chopra is an actress whose accolades not only speak volumes about her stellar career in the Bollywood industry but also tells audiences a lot about what she is like as an independent young woman who acts as a role mode to millions all over the world. Here's wishing her a very happy birthday today! May you keep dazzling like you always do!