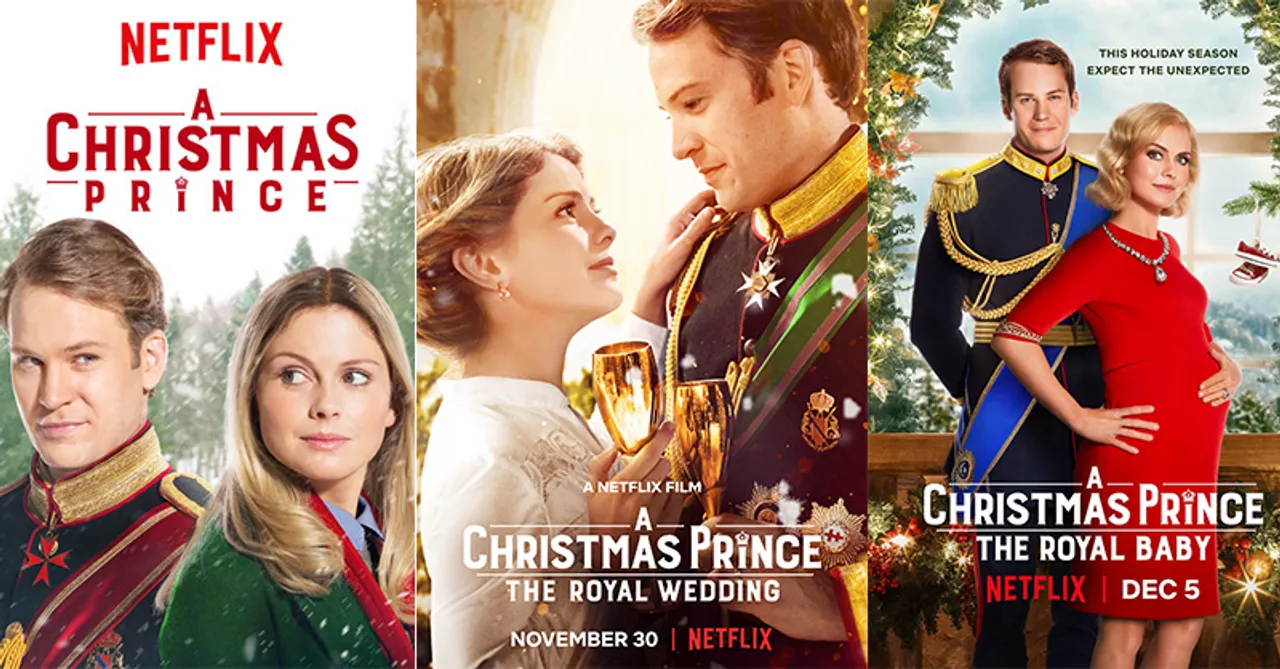 As far as Christmas movies go, A Christmas Prince trilogy doesn't really bring up any feelings that will stay with you for longer than 10 seconds.
If you're looking to watch American girl meets prince, gets swept off her feet, leaves everything behind, and marries him for a happily ever after, then A Christmas Prince trilogy is right up your alley with a bunch of other films made on the same peg almost ten years before the release of this one on Netflix. This holiday rom-com trilogy leaves you with a zillion questions because the plot has massive flaws throughout the series.
Cast - Rose McIver as Amber comes across like an animated version of a human being. Her character is one of those that looks good only on paper. Ben Lamb plays the role of Prince Richard, former playboy turned loving husband and King of Aldovia. The script doesn't do justice to either of these characters, leaving them to play done-to-death roles one just can't connect with throughout the trilogy. Even the supporting characters don't have any fleshed-out roles throughout this series.
Storyline - In the first movie, Amber is an amateur reporter from New York who is sent to Aldovia to cover a press conference that will announce the new King of Aldovia. She sneaks into the palace, which apparently doesn't have the concept of security guard or cameras, and pretends to be a Math tutor to the Princess only to get some scoop on this story. Like every rom-com ever, girl meets boy, she believes in him which magically makes him believe in himself overnight and he accepts the title of King of Aldovia, just before he goes down on one knee after having known Amber for all of one week, where she pretended to be someone she's not. The second movie focuses on Amber and Richard's wedding, Amber struggling to blend in with the royals, being asked to give up her career as a journalist/ blogger and her wanting to make changes in policies and the ways of the royals. The last one is solely focused on a missing treaty that a pregnant Amber, aka Queen of Aldovia, manages to locate all by herself because she's a self-proclaimed "investigative journalist'. This 600-year-old ancient treaty has to be signed before Christmas eve or a curse will befall the firstborn of the King and Queen. While nobody believes in superstition, everyone is desperately looking for it because nobody wants to take a chance when it comes to this baby.
Watch the trailers here!
What I didn't quite like - With classics like The Princess Diaries starring Anne Hathaway, A Christmas Prince trilogy doesn't stand a chance to match up and you can't help but compare the two, given the similarities. The scripts were boring and you will definitely struggle to hold back a yawn halfway through all three movies. The characters are one-dimensional, the plot has multiple flaws and neither is this trilogy dreamy nor does it give you the Christmas vibe. In my opinion, while the title of the movie is 'A Christmas Prince', all three stories are revolved around the female lead (which is good) but the Prince is more of a placeholder. The couple dynamics could have been explored and presented in a more romantic and powerful way, maintaining the vibe of a Christmas movie.
Also Read: #12DaysOfChristmasMovies – The Holiday on Netflix weaves multiple stories together in a wholesome manner
For more reviews, follow us on @socialketchupbinge