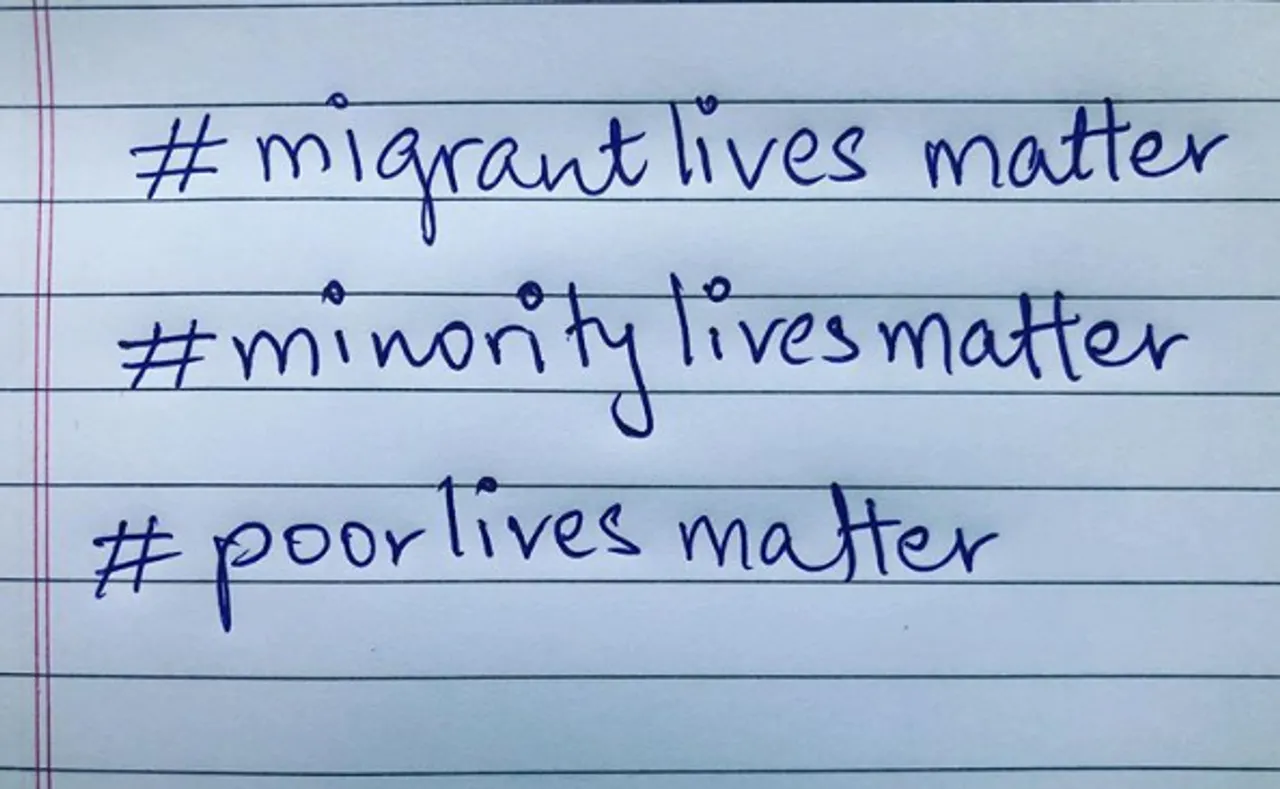 Abhay Deol shares a piece of advice with this eye-opening post as many Bollywood actors voice their opinions against the brutal homicide of George Floyd in the USA last week.
Last week, Minneapolis police officer Derek Chauvin kneeled on an African-American man, George Floyd's neck till he became motionless and eventually died. This incident enraged many across the globe. It provoked Bollywood stars to come forward and support  #BlackLivesMatter. However, the selective outrage has many including actor, Abhay Deol urging everyone 'to create actions and movements that are relevant to their own country' as well. He spoke about the same in his latest post on Instagram.
He rightly points out how all lives matter, be it migrant, poor or the minority. Bollywood celebrities condemned the death of Floyd and joined the movement to support #BlackLivesMatter. While it is important to raise your voice against racism and injustice, the lack of support from the same celebrities on matters that affect the Indian socio-political environment has left Netizens unhappy.
Here are some of the reasons that are earning celebrities major backlash for their actions. Firstly, for not taking a stand against police brutalities in their own country during the 2020 Delhi riots and Anti-CAA/NRC protests. The celebrities have been accused of practising 'selective activism' and not standing up against social issues like casteism or communalism in their home country.
Secondly, Twitteratis are calling out to these celebrities for their hypocritical behaviour in supporting the #BlackLivesMatter movement. While it is courageous and important to stand against the injustice, many of these celebrities have been a part of fairness creams or skin tone-lightening-cream endorsements in the past.
Thirdly, racism is prevalent against many groups in India. For instance, people hurling derogatory slurs like 'chinki', 'bahadur', 'momo' etc towards the folks from our Nothern Eastern states. These incidents also need to be addressed like any other racial discrimination issue. However, no one seems to be vocal about important issues such as these.
Director, Zoya Akhtar along with others also called out to this hypocrisy and selective activism.
So much respect for all the celebrities tweeting #BLACK_LIVES_MATTER. It takes courage to bring your cowardice to the fore when you tweet for American lives but can't tweet for Indian lives.

— Omar Abdullah (@OmarAbdullah) May 31, 2020
#BlackLivesMatter!?✊?#JusticeForGeorgeFlyod#GeorgeFloyd couldn't breathe as he was under the brutal knees of a racist cop. But we all breathe, so let's fight for justice.#Blacks in America & #Dalits in India are subjected to various forms of discrimination. #DalitLivesMatter pic.twitter.com/e0WLiKb7Tn

— pa.ranjith (@beemji) May 31, 2020
North Indians

On odd day - Black lives matter.

On even day - hey Chinki, Neplali, Bamboo! Hey Madraasi, Kali, Motu, Chamaar.#racism #RacismIsAVirus #RacisminIndia

— Karan Kumar (@karanakkhi) May 31, 2020
Had this #GeorgeFloyd debacle occurred in India, there would be mass protests IN SUPPORT of Officer Derek Chauvin. Not just that, but he'd be promoted & honored as a national hero... as we've seen time & again in India.

— sameera khan (@SameeraKhan) June 1, 2020
After Priyanka Chopra, now Kareena Kapoor Khan and Tiger Shroff raising their voice against murder of #GeorgeFloyd ; demand justice.

Wonder how many times in the past these celebrities have spoken against atrocities in India and other serious issues. ?

— Vaishnavi Vasudevan (@vaishnavi_1001) May 31, 2020
Bollywood celebrities like #PriyankaChopra, #SonamKapoor, & #DishaPatani took a break from endorsing products that tell you that dark skin sucks and you should be whiter, and posted vague platitudes on their social medias to show their support for the Black Lives Matter movement. pic.twitter.com/8vV8RnChnb

— Rayon (@rayonmag) June 1, 2020
Has privileged Indians including Bollywood celebrities started tweeting on #BLACK_LIVES_MATTER, #GeorgeFloyd?

It's kinda cool - do it do it .. may be next time, when there's a moblynching in India or migrants dying, they will have learned some empathy to tweet about that too.

— Manish Madan, Ph.D. (@Prof_Madan) May 31, 2020
A lot of Indians, read celebrities, are posting about the racist killing of #GeorgeFloyd in America. That, indeed should be condemned with all the strength. BUT are we equally concerned about casteist atrocities in India? Need to get vocal about it too. @priyankachopra

— Ankush Patil (@theankushpatil) May 31, 2020
Indian celebs are being called out. Those who remained silent on lynching of Muslims, attacks on students feel the pain of African Americans thousands of kms away. Plus some are tweeting all colours are equal while shamelessly giving ads for fairness creams
Exhibit A ?? pic.twitter.com/CROIdiaYeR

— Neha (@ShantiseAshanTi) May 31, 2020
What are your thoughts on the matter?