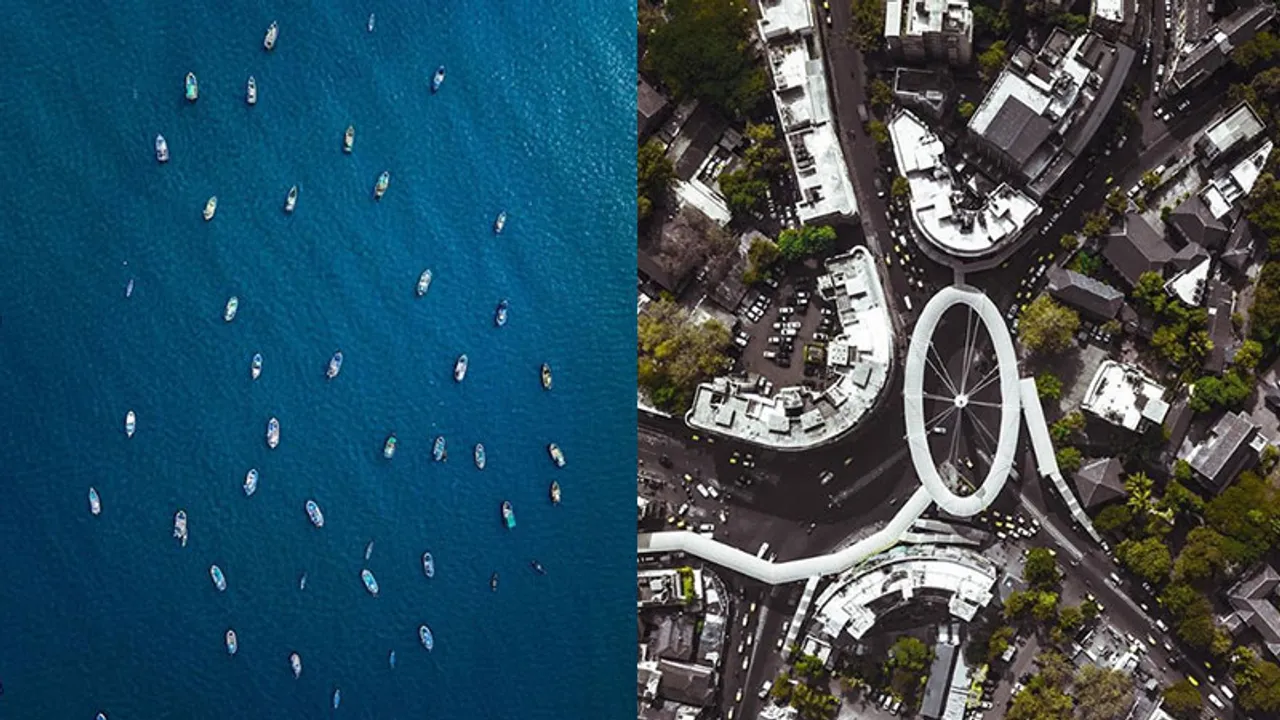 What started as a general interest soon took to the heart of Safwan Patrawala, a young Mumbaikar determined to capture the city from above, with a drone. 
While scrolling through Patrawala's Instagram profile, you will find that most pictures are that of the infrastructure of the city. "Whenever someone has to show Mumbai, the most prominent imagery is of the infrastructure. All I wanted to do was to document the city from above," he explains. It would be an easy assumption that being an aerospace engineering student helps him to better translate his vision into pictures, using a drone.
Earlier, whenever he visited any place, he tried to imagine how it must look from a bird's eye view, but often it wasn't possible to take the camera to a place from where a picture could be taken. Access to rooftops is limited and mostly possible only if you know someone in the building. Everything changed about over two years ago when he bought a drone. "It helped me capture the same things from a completely different perspective," he exclaims.
Not everything is as breezy though. Using a drone to click pictures is a tough task that requires practice and precision. How is it different from clicking pictures with a professional camera? Patrawala explains, "In case of a handheld camera, you just need to keep it steady. However, when it comes to a drone, there are three factors that need to be taken care of simultaneously — camera movement, drone movement and things flying around."
Happy to announce that we are launching the Online Registration Portal for #Drone Flying Permission, #DigitalSky from TODAY. The platform is now LIVE at https://t.co/35nWXNCVJ5#NewIndia #TransformingIndia

— Suresh Prabhu (@sureshpprabhu) December 1, 2018
Though the Directorate General of Civil Aviation brought out a set of rules last year in December, making it easier for people to register and get the required permissions, there is still quite a few hurdles faced by enthusiasts given the numerous procedures in the system, feels Patrawala. "Restrictions and procedures, though necessary, work as a deterrent because there are many categories and the rules are complicated and vague."
@DJIGlobal @DJISupport Unable to register my drone on https://t.co/gpQjFASFyr :( pic.twitter.com/iKQ47jwwxH

— BAT ?? (@RajvirSingh_) January 12, 2019
Patrawala works with multiple real estate players to capture the area, enhancing the appeal of such projects for prospective buyers. "I always ensure that the permissions are in place when it comes to client work," he says while admitting that there have been instances where he has flown without paperwork while working on techniques, for personal use. "On such occasions too, I took extreme care of the area and height, wasn't reckless."
Is drone photography a financially viable option? Patrawala feels that there is quite a long road ahead. "Pre-wedding and real estate are two areas with much potential but people are not aware of drone photography, which makes it a tricky option. For me, it started as a hobby. Now that I am able to earn as well, it's a different thing. Awareness about rules and permits is another issue — not enough people know the scope and the way to execute it!"