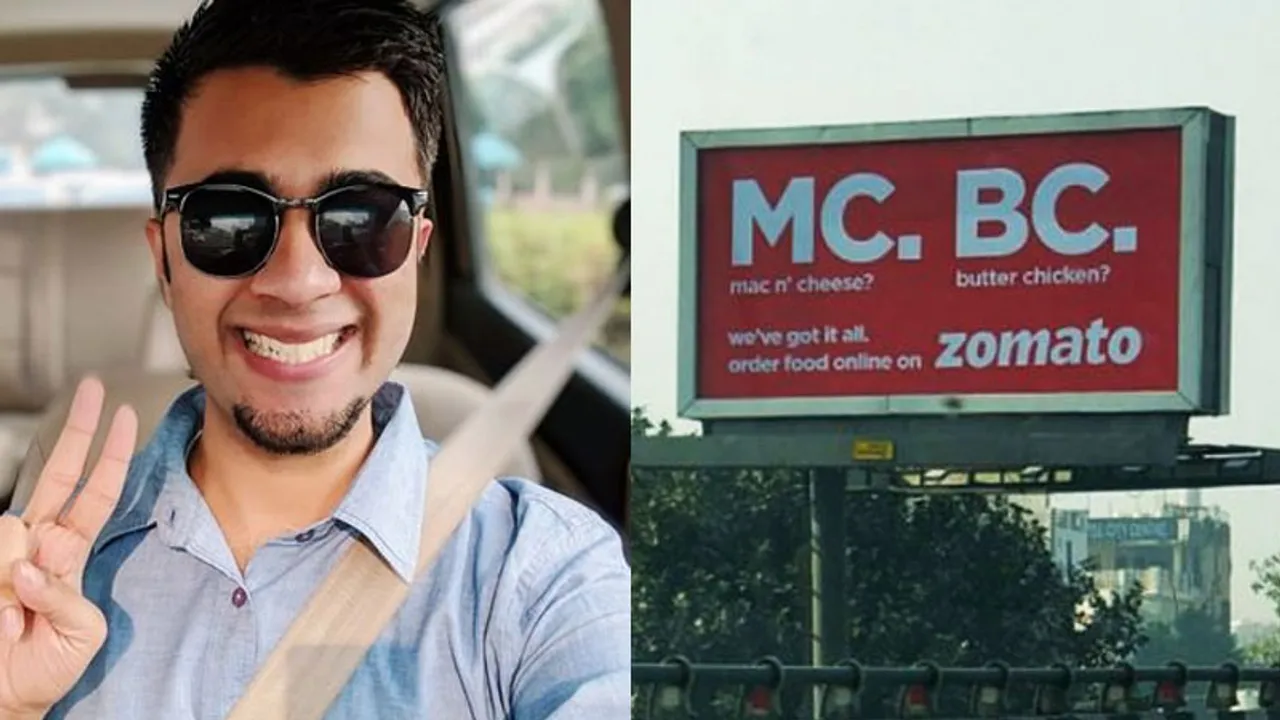 Sooooo, there was obviously a lot of hue and cry about the Zomato OOH campaigns that used abbreviations of some reactionary cuss words that are deeply embedded in the Indian psyche. Now meet the man who created them - Akshar Pathak, the not your average creative guy.
Now, functioning within the confines of a brand brief is both tricky and restrictive, but the man made it work and regardless of the way it polarized the social junta, and the side of it you landed on, it did achieve it's primary objective : being VIRAL. Akshar Pathak, when fully allowed to express his inner jester, has the ability to make you gawk at how funny he is, and obviously that has earned him 1.36mn Twitter followers.
Hey I told you he's not your average creative guy.
Hey guys, we at @Zomato (me mostly, I'm a great team player) have been working on some outdoor ads. If you spot one in your city, please share a picture with us (me). Thanks! ? ☺️ pic.twitter.com/sxl5qYpAuk

— Akshar (@AksharPathak) November 29, 2017
Did you find this cheap? Very cheap?
Cheap. Very very cheap. #Zomato pic.twitter.com/ixTjlHnuKI

— Rashmi Putcha (@RashmiPutcha) November 30, 2017
Or did you think Zomato was killing it, and this was, in all fairness, neat?
Zomato is killing it with their hoardings. Neat ?? pic.twitter.com/WTYfw4DJkS

— Jayesh Ughade (@jayeshughade) November 28, 2017
Not merely armed with a keen eye for the aesthetic, the man is hilarious and witty and consistent, mind you. Even I come up with the occasional rib tickler but that's like twice in a year, so, I understand how huge a deal it is. Puns, wisecracks, memes, one liners, comebacks. You name it and he's probably done it.
Check out some of the funniest Akshar Pathak Tweets that had me leaning back in my chair and grinning at the screen.
1. East or West, Bombay is the best.


Husband *rushing in*: "Where's my wife?!"

Doctor: *sighs* *places hand on his shoulder* "She's in a better place now"

Husband: "FIR SE MUJHE BINA BATAYE BOMBAY CHALI GAYI?!"

— Akshar (@AksharPathak) November 15, 2017
2. Isn't every Delhiite a Shankar Mahadevan now?
Delhiite: "I'm feeling breathless"

Delhiite # 2 *voice muffled behind mask*: "I'm also feeling breathless"

Delhiite # 3: *choking* "Breathless..."

*Shankar Mahadevan emerges from the fog* "Koijomilatomujheaisalagtatha jaisemerisaariduniyamein geetonkirut aur rangonkibarkhahai"

— Akshar (@AksharPathak) November 8, 2017
3. Do it. Tomorrow we will regret it.
Me: *drunk* "should I text her"

Brain: "no no no no no no no no no no don't even thin–"

Heart: pic.twitter.com/zj1Y0EQBox

— Akshar (@AksharPathak) November 6, 2017
4. Same
Milind Soman and I have SO MUCH in common.

For example:
- He's 50. I feel like I'm 50.
- He's always running. I'm also always running...late.
- He has starred in exactly zero hit movies. Just like me.
- He's dating and I'm als– okay never mind. Sorry, I wasted your time guys.

— Akshar (@AksharPathak) November 6, 2017
5. Can you Nath?
I called for a car. Uber sent sanskaar ? pic.twitter.com/yZFimgiwPT

— Akshar (@AksharPathak) November 5, 2017
6. 'Panj lakh da haiga' 
Christian weddings: Bride and groom have their vows.

Punjabi weddings: The whole extended family has wows. (For example: "wow dulhan da lehenga panj lakh da haiga wow" and "wow Mercedes GLA vich vidaai wow wow")

— Akshar (@AksharPathak) November 1, 2017
7. Things that create serial killers
Me: "Man, it's started getting cold outside."

Genius co-worker comes up with the an extremely witty and badass reply demonstrating creativity of the highest order: "Yeah bro..." *long pause* "Winter is coming"

— Akshar (@AksharPathak) October 25, 2017
8. Ask your charsi friends. 
Supreme court should also ban the sale of Gudang Garam cigarettes in Delhi. A friend of mine lit one back in 2011, and he's only finished smoking half of it till now. You'll say I'm exaggerating, but I'm actually not.

— Akshar (@AksharPathak) October 9, 2017
9. Sounds like an Ashutosh Gowariker movie script!
Year 2029 news bulletin

- Permanent human colony on Mars established
- There's only self-driving cars on the roads
- Scientists discover a cure for HIV/AIDS
- Kangana hits back at Hrithik Roshan after his latest statement

— Akshar (@AksharPathak) October 8, 2017
10. I can't. I literally imagined this.


Cops spot Vijay Mallya at a distance, smoking a cigar.

One cop proceeds to arrest him. The other holds him back, "chhod na, kya fayeda".

Mallya smirks. Blows letters with smoke that spell out ? B A I L ?

— Akshar (@AksharPathak) October 4, 2017
11. Mandatory Twitter 280 characters joke is mandatory.
Twitter (140 characters): "Hey guys, I'm Vijay"

Twitter (280 characters): "Vijay Dinanath Chauhan, poora naam. Baap ka naam Dinanath Chauhan. Maa ka naam Suhasini Chauhan. Gaon Mandwa. Umar 36 saal, 9 mahina, 8 din, aye aur yeh solva ghanta chaalu hai."

— Akshar (@AksharPathak) September 27, 2017
12. Mandatory bad pun that destroys friendships!
This is why I love window seats. You get to see all kinds of different clouds. pic.twitter.com/QQSFC4u7Ji

— Akshar (@AksharPathak) September 18, 2017
13. Le lo, le lo.
Your favourite blogger is gearing up for the Apple iPhone 8 launch. Writing some new and fresh jokes so be prepared to laugh your asses off. pic.twitter.com/As3QxgmjHi

— Akshar (@AksharPathak) September 12, 2017
14. Iss cheez pe nahi bolneka!
Me: "Yaar there's only front row mein seats available"

Friend: "Koi nahi, let's go it's a reeeeeally good movie"

<10 minutes later>: pic.twitter.com/AnikwJO2iI

— Akshar (@AksharPathak) September 11, 2017
15. Legit
When you want to take your girl for an Ashutosh Gowarikar movie pic.twitter.com/UE3JEp3vGF

— Akshar (@AksharPathak) September 8, 2017
Told ya he's hilarious. Do yourself a favour and follow him on all social media platforms. You shall not be disappointed!