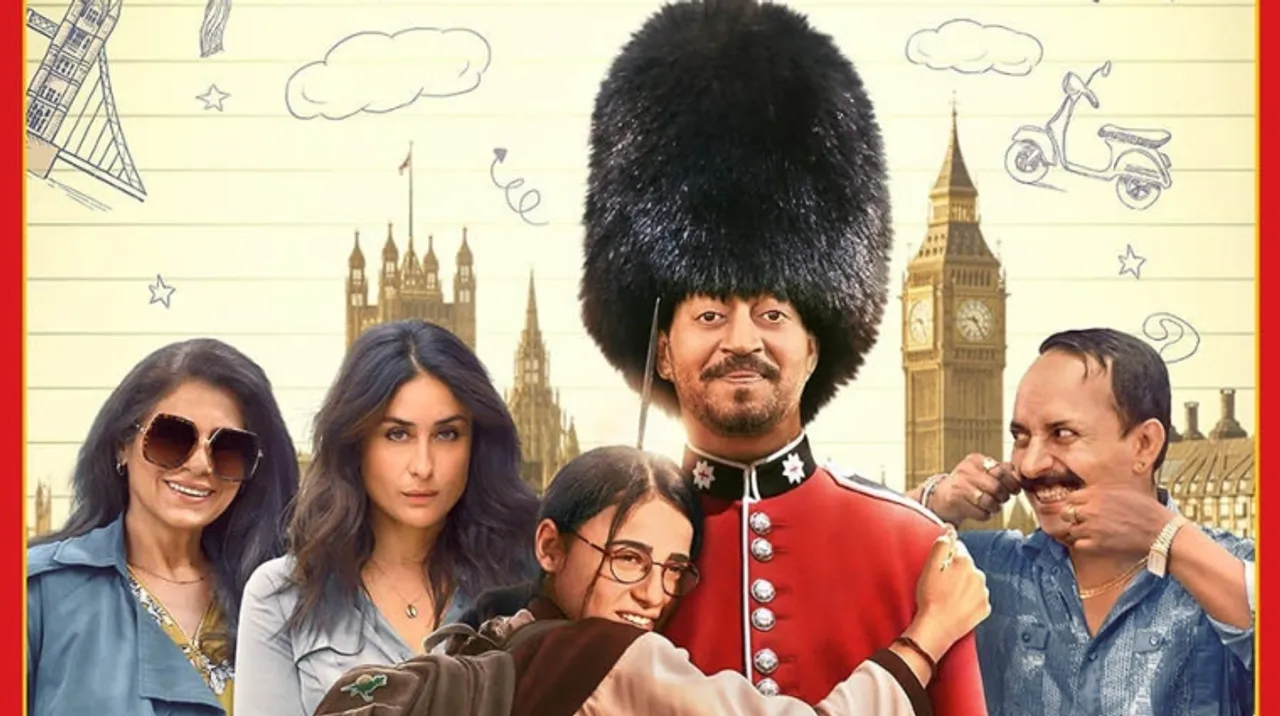 Angrezi Medium starring Irrfan Khan, Radhika Madan, Deepak Dobriyal, Kareena Kapoor and Dimple Kapadia is out. Check out the review here.
Angrezi Medium is the sequel of the 2017 release and massively appreciated film, Hindi Medium. Just like its predecessor, this movie also focuses on the plethora of troubles parents go through to give their children the best of everything, especially an education. The movie revolves around Champak and his daughter Tarika and her dream of studying abroad. What ensues is a whole world of troubles, mishaps and hilarious situations.
Irrfan Khan and Deepak Dobriyal's performances are commendable in the film. Irrfan looks every bit like an earnest father who is set to go to any lengths to give his daughter her dream. It is interesting to see him and Deepak share screen space and create hilarious moments with their impeccable timing. Radhika Madan as a teenager juggles being sweet, headstrong and rebellious quite well. Kareena Kapoor Khan and Dimple Kapadia are commendable even with the limited scenes they have in the movie. Director Homi Adajania has managed to draw true human emotions with the simplest of moments, making the characters relatable.
However, one major thing that doesn't work in the film's favour is the storyline. The situations created to highlight the troubles a father is willing to go through for his child are vastly overdone and take the sincerity away from the heart of the film in bits. But the actors certainly make the film worth a watch.
Here's what Twitter has to say about Angrezi Medium:
#AngreziMedium is slow pitch but entertaining movie ?, it will surely make you laugh ? at many scenes but some scenes looks average,
So this movie is average. And #coronavirusindia will effect on its business #AngreziMediumReview. ? ? And Half Stars,& Hindi medium was better

— Hill Boy Pranay Hardas ? (@pranay_hardas) March 13, 2020
"Angrezi Medium " should be added to the series of Baghbaan as after so many years my parents again said " Aisa hi krte h aaj kal ke bache , apne mummy papa ko chhod dete h"#AngreziMediumReview #Bollywood #angrejimedium

— Nishkarsh Sachdeva (@t_meme_machine) March 13, 2020
https://twitter.com/y4t1n/status/1238564618164936710?s=21
#AngreziMedium is a delight to watch only and only for #IrrfanKhan and #DeepakDobriyal acting. Films focuses on the message it wants to deliver but somewhere lacks in depth. Dialogues are great, comedy is good in parts.#AngreziMediumReview

— Yogesh Todankar (@yogesh1421) March 13, 2020
#AngreziMediumReview Irrfan powers this film with an incredibly convincing performance https://t.co/kiLMKzHEyF The supporting cast too belts out stellar portrayals #AngreziMedium pic.twitter.com/oAg0aJg5zJ

— Rummana Ahmed (@reachrummana) March 13, 2020
I cried n laughed at the same time. One of the most heart touching films I've seen recently! @irrfank is the most natural actor u will find in this world! Also loved @radhikamadan01 ?every actor in this film has done the most brilliant job!!! #angrezimedium #AngreziMediumReview

— Elnaaz Zoya Norouzi (@_iamnaaz_) March 12, 2020
#AngreziMedium is Heart touching father daughter relationship film which melts ur heart. @irrfank shines in his role. @radhikamadan01did fantastic job. #KareenaKapoorKhan did quite good job in her extended cameo. #AngreziMediumReview
Rating - 4 star @MaddockFilms @JioCinema

— Pankaj Pandey (@ZhakkasBolly) March 11, 2020
#AngreziMediumReview@irrfank is Soul #RadhikaMadan
is heartbeat #DeepakDobriyal is life each character done good job which means #HomiAdajania dirction was perfect full of emotions & comedy with important message some negative
points can be avoid for its innocent feel!
⭐⭐⭐🌟 pic.twitter.com/Ztvlezty2r

— hamad al reyami (@ReyamiHamad) March 13, 2020