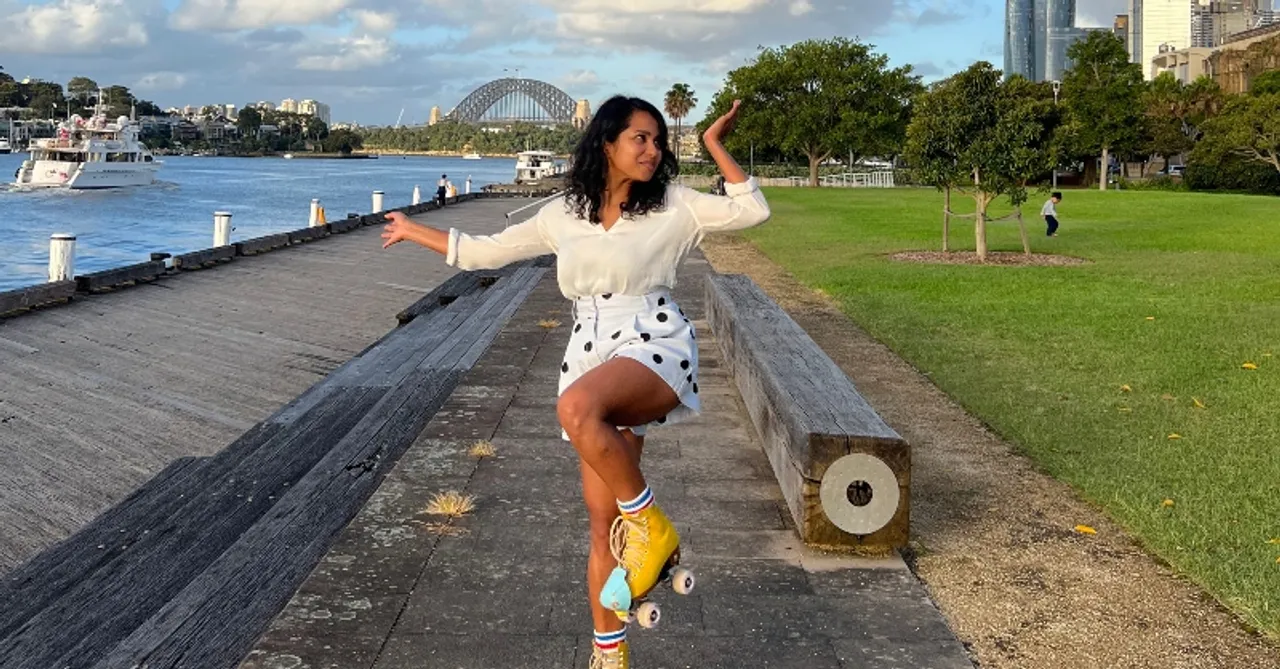 For today's Friday Follow, we spoke to Ankita Shetty aka Ankita Skatey who has been sharing her skating talent with the world.
The best part about the internet is that a random talent ends up on our social media feed and leaves us in awe of how amazing human beings can be. It's hard to not be excited about what these individuals do and how they continue to entertain us. Ankita Skatey is one such hidden and surprising talent that we came across on the internet and we cannot stop ourselves from scrolling through her page.
Ankita Shetty aka Ankita Skatey is a sweet gift that the internet gave us. She gradually slid into our feeds through her skating skills. Ankita is someone who belongs from Mumbai but now calls Sydney her home. With a career in Advertising, she always finds a way to be creative. "I'm creative by day and by night. I'm a serial hobbyist who loves to roller skate, paint, swim, dance, scuba dive, and do something new", she says.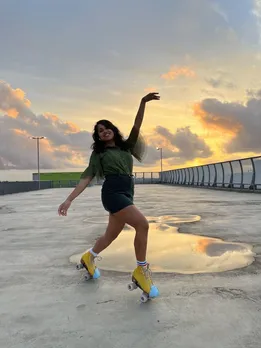 She was always obsessed with content creation. Talking about it she says, "I have always been obsessed with content but my content journey really began a few years ago when I co-founded Vitamin Stree with the talented Tara Kapur at Supari Studios." But her rollerskating content journey began only recently, in January 2022. It started with her making videos to track her skating progress which lead to her sharing them on social media to marry her passion for content and skating.
The idea of the popular short-video platforms has given Ankita the place to connect with a larger audience and meet her need to create more content. Considering how most of the platforms have a focused audience who enjoy vertical video content, her content involves videos that meet this need. "You will see me jumping on trends, trying out new features, and testing out different types of content and storytelling styles." Ankita also believes that these platforms are a great way to test and learn what her audience likes as well as what is most authentic to herself. When asked how her content has evolved since becoming an internet favourite she points out on the quality of her videos. That involves not just her videos but her skills as a roller skater too.
When you belong to the world of content creation that feeds us trends and challenges on a daily basis it is near impossible to not jump at the chance to create one of our own. And it's something that Ankita makes sure to not miss out on. Like every one of us, she spends quite a good amount of time on these short-video platforms. "My feed is full of rollerskating, food, feminist, fashion, finance content and so much more so I see such a variety of trends. I love dance trends because I can put a skate spin on them. I recently did the famous Lizzo 'About Damn Time' dance on my skates and it is so much fun!"
Talking about one of her favourites videos she said, "I shot it on Kangaroo Island in the South of Australia where there are barely any spots to skate, but somehow I found one!" She still finds it astonishing that she gets to share her passion with the world. "Never thought I'd be doing the famous roller skate strut on a ramp typically used to get on boats." She also points out the kind of comments she receives on her video on TikTok. She laughs at how these people troll her by saying she would fall into the water. "It's hilarious to see such unique reactions to your videos!" 
She understands the good and bad that come along with being part of the online content creation journey. One worst thing that she has noticed in her life as a creator is how she ends up comparing her videos based on how they perform. "You can't help but connect the success of a video with views and likes but it really shouldn't matter. You gotta keep creating what you love and be okay with it not all getting traction."
And she finds creating videos in the community to be the best part of it. "The roller community is so beautiful! I now have skater friends from all over the world, most of who I have never even met but they are the biggest cheerleaders in my comments and DMs."
While continuing to create content around something she enjoys, Ankita makes sure to follow other content creators too. She listed out her favourite and mentioned @Vitamin Stree, @NicoleConcessao, @salonikukreja @alokmenon @sejalkumar and @rida.tharanaa
One quote that always motivates you?
"I'm not big on quotes so I can't think of any. I stay motivated personally because I don't have any goals with my skating or content creation. I want to be consistent with both and that keeps me going. Removing the pressure of a specific goal makes it all about the fun."
Have you received any DMs from your followers that stayed with you?
"A lot of people are surprised that I started my skate journey at 30. I've gotten so many messages saying they are inspired now to start skating too which I can't help but love. I've gotten 2 DMs with photos of brand new skates they bought after watching my videos. I mean, nothing makes me happier than that."
If you had to describe your hopes for 2022?
"2022 is going to be about discomfort for me. Trying new things and getting out of my comfort zone when it comes to my personal life, creating content, my work and my travels. Whether I'm winning or failing, I will always have my 8 wheels with me."
Thank you, Ankita for showing us that it is never too late to learn a new skill and share it with the world!