Appropriate is a wildly subjective word, yet so many people try to enforce their version of appropriate upon others. Most often, women are at the receiving end of these 'appropriate or not' judgements that are meted out by all and sundry. Ruby Subramaniam, a Malaysia based artist, chose to tackle this head on.
It all began when Ruby spotted on a Facebook Group that 'warned' Hindu women of dressing 'appropriately' or get sprayed with aerosol paint. Surprisingly, a number of women agreed with the warning, concluding that women should dress safer.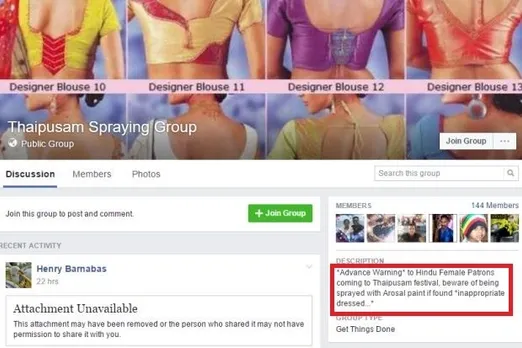 She reported the page too, but knew, something much bigger was needed. Ruby then chose to express her discontent with paint, not meant to threaten, or punish, but to empower. Pivoting her approach around the Tri-Devis of Hinduism, Saraswathy, the Creator, Lakshmi, the Preserver and Parvathy (Kali), the Destroyer, she created photo series depicting women as Indian Goddesses, pointing out the irony.
A powerful message, to the ones who worship women and at the same time deem it 'appropriate' to threaten them with consequences. Using the same platform where she first came across the warning, Ruby channeled her thoughts with paint and a photo series to send a strong message.
#ThisBodyIsMine is a collection of six artistic images; Ruby writes, "Giving a contemporary artistic spin to the elements present in each of the goddess, I hope to have more people understand the role of women in Indian culture." in the album description.
She signs off with a quote from writer, activist, feminist, the late Betty Friedan, "Who knows what women can be when they are finally free to become themselves?"
Effective much? We certainly hope so.