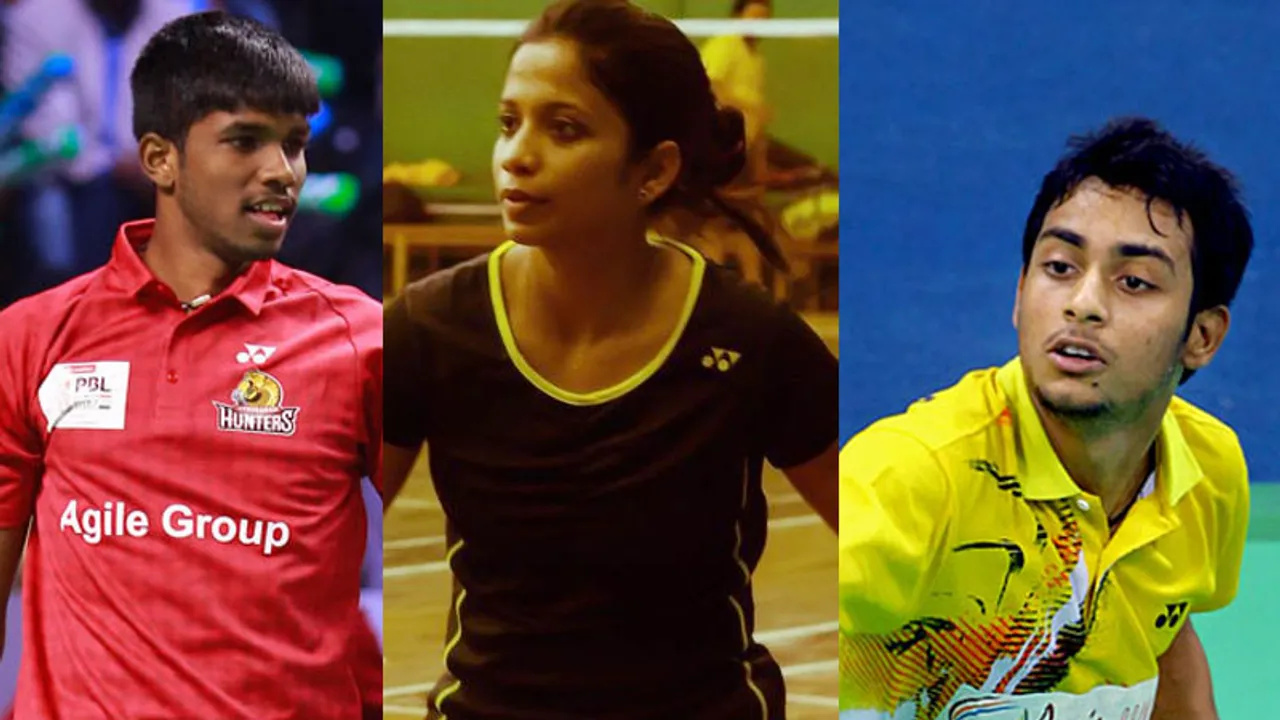 P.V. Sindhu, Saina Nehwal, Pullela Gopichand –these are a few names that have made the country proud by winning international laurels. They have stellar game, dedication and will to achieve glory. India has always been blessed with good sports personalities, and when it comes to talented badminton players we are lucky.
While the current lot of players have millions of hopes pinned on them, the newer and younger lot is also gearing up in full force to join them! And the way they are climbing higher each day, it won't be wrong to say that they're going to make India's footing in International Badminton even more stronger!
Here's a list of players that you NEED to know of:
1. Sourabh Varma: He became the Indian National Badminton Champion at the mere age of 19 and won his first international title that year at the Bahrain International Challenge. He also won lots of laurels in 2014 including the Malaysia Open Grand Prix. He is currently ranked 56 in the world.
Sourabh Varma reaches semifinals of Chinese Taipei Grand Prix #badminton with a win over Kento Horiuchi.https://t.co/C5PudDASwg pic.twitter.com/jx5marh39a

— Sportstar (@sportstarweb) October 14, 2016
2. RMV Gurusaidutt: He is the first Indian to win the Dutch Junior International (2008), and also won the Bahrain International Challenge that year. He won the India Open Grand Prix Gold in 2009. He has a bronze up his sleeve that he won in the 2014 Commonwealth Games!
RMV Gurusaidutt storms into Roud2 of #badminton Dutch Open with a straight sets win ! #Congrats @indiaforsports

— India For Sports (@indiaforsports) October 7, 2015
RMV Gurusaidutt wins bronze after beating Rajiv Ouseph of England in men's singles badminton at #CWG2014

— Newsroompost Hindi (@newsroompostind) August 2, 2014
3. Ajay Jayaram: He has been a part of most semifinals and quarterfinals of many international series, such as, World Championships held in London and the Li Ning Masters. He had the highest individual ranking of 21 in 2013.
4. Arundhati Pantawane: She is presently the third highest ranking Indian in the womens' singles badminton. She was a part of the Asian Games team of 2010 and won the Bahrain International Challenge in 2012.
The All India Senior Doubles Ranking Tournament 2018 took place in Lucknow and Alwin Francis/Nanda Gopal won the Men's Doubles while the Women's Doubles crown went to Rutaparna Panda/Arundhati Pantawane. The Mixed Doubles winners were Nanda Gopal K./Rutaparna Panda #badminton pic.twitter.com/HPemep6jwg

— The Bridge (@TheBridge_IN) March 19, 2018
Experienced #Nagpur shuttler Arundhati Pantawane continued her brilliant performance to reach the women's doubles and mixed doubles semifinals in the All India Senior Ranking Badminton tournament at Lucknow. @arundhatipantaw

— ProshunTOI (@ProshuncTOI) March 17, 2018
5. Aditi Mutatkar: She is only the third Indian to have won the Badminton Nationals in all age categories. She was ranked 27 in 2008 after reaching the finals of Bitburger Open in Germany, and also became the second player to reach the finals of the Grand Prix event that same year.
The theory of success and failure - Ex-national badminton champion Aditi Mutatkar decodes life and sports
Read : https://t.co/W7waLsvgt2 pic.twitter.com/YqJi2WdmiI

— SportsCafe (@IndiaSportscafe) November 9, 2016
6. Lakshya Sen: He became the number one junior singles badminton player in the world in February 2016 at the age of 16! He has also won the Senior India International Series Badminton Tournament and the All India Senior Ranking Badminton Tournament.
7. Sameer Verma: He was the first Indian player in 24 years to reach the finals of the Hong Kong Super series in 2016! He has won the Commonwealth Youth Games (2011), The Bahrain International Series (2013), and the Bangladesh Open (2015).
Sameer verma beats Christie to enter QF of Denmark Open. Barring unforced Error, Verma played a very fine Badminton. Now Srikant- Sameer Verma QF expected.

— Deepjyoti (@OneMatchPoint) October 18, 2018
PBL 4: Sameer Verma still unbeaten as Mumbai Rockets qualify for semifinals  https://t.co/6cppNEi96c

— bandranews.com (@bandra_news) January 6, 2019
8. Ruthvika Shivani: She won the Thailand Uber Cup in 2016 and is seen to have a lot of potential. She trains at the Gopichand academy since 2012.
9. Meet Satwik: He has a lot of International laurels under his belt at a very young age. He has won the gold in Badminton Asia Championship (2015), gold in Canada Open (2016), and bronze in Polish International Tournament.
You may see me struggle but u never see me quit.#satwik #indian #athlete #indianathlete #sports #photography #shotmyway #action #badminton #yonexbadminton #vodafonepbl #win #hardestsmasher #ahmedabadsmashmasters #fastestindian #game

Pc-@ankursalvi pic.twitter.com/sHhr8Cimfh

— Satwik SaiRaj Rankireddy (@satwiksairaj) January 6, 2019
10. HS Prannoy: He was part of the gold medal winning mixed team at the Commonwealth Games. He was ranked 11 in World rankings! He has also won the gold in South Asian Games.
Video: @PRANNOYHSPRI talks about his new @PBLIndiaLive team, why he chose badminton, his favourite shuttler and more.

Interview by @vinayakkm

Watch here: https://t.co/8tKFcKQMij pic.twitter.com/9aOtEHdlPN

— The Field (@thefield_in) December 20, 2018
These players are certainly portraying a great potential for India's future and we hope the keep making us proud by bringing the medals!