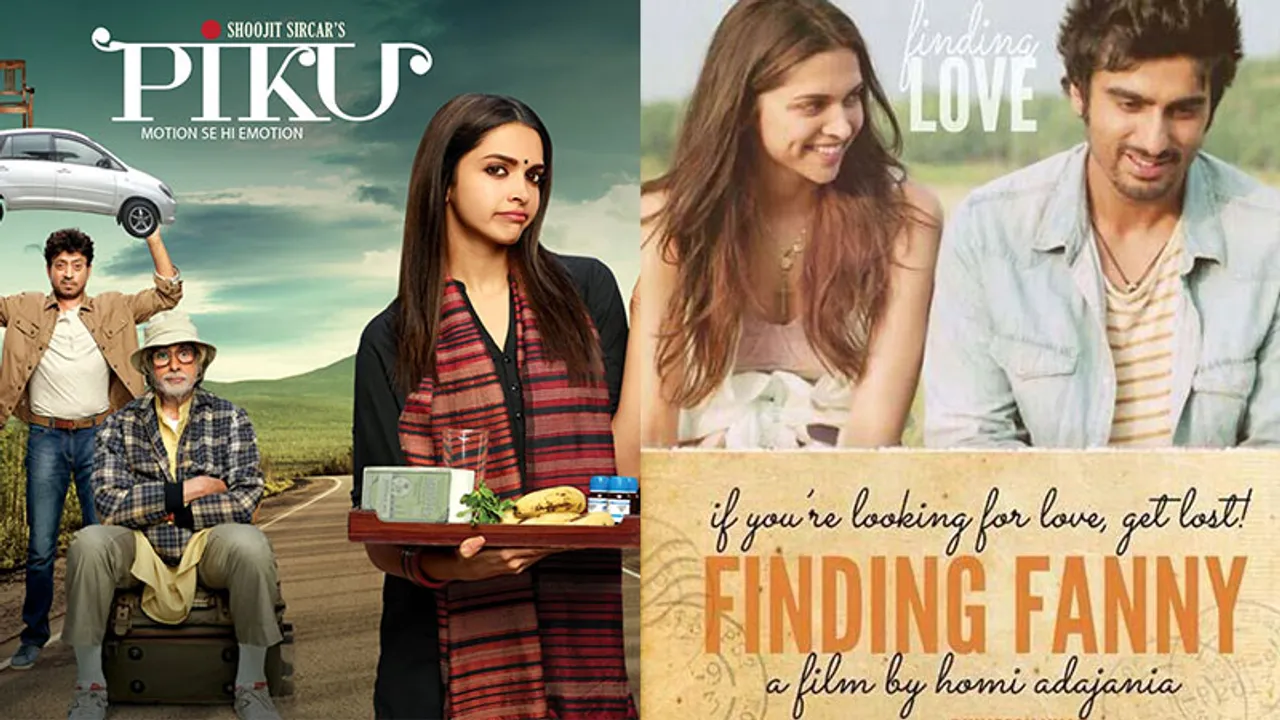 Ever since her ascension down the glittering stairs of Bollywood, Deepika Padukone has looked destined for greatness. As the 'Dreamy Girl' of Bollywood is about to turn 32 with the world at her feet, here are some of the best Deepika Padukone movies that I loved.
Within a decade of her time in tinseltown, she has created an enviable position for herself as the highest paid actress in Bollywood, hitting the bullseye in movies that have ranged from masala entertainers, rom-coms, to action packed blockbusters. My list of best Deepika Padukone movies encapsulates her journey in Bollywood right from her debut, her evolution as an actress to her eventual blossoming as a true performer.
Om Shanti Om, Piku, Love Aaj Kal and more, form the Deepika Padukone movies that I thoroughly enjoyed. Let's revisit the trailers and raving reactions that these movies have received and incorporate some Deepika into our weekend plans!
Piku
Can you imagine how difficult it must be to stand out in a film you're starring in with Amitabh Bachchan and Irrfan Khan?
Deepika Padukone nails her part perfectly in this critically acclaimed film from Shoojit Sircar.
Piku is my favorite movie???

— Satyajit Sethi (@SatyajitSethi5) January 3, 2018
Bajirao Mastani
One of Sanjay Leela Bhansali's dream projects that finally moved forward, albeit not with the cast he initially had in mind, but with a cast he must have felt glad to work with.
Ranveer Singh, Deepika Padukone, and Priyanka Chopra deliver one of the most intense historical dramas Bollywood has ever witnessed, armed with an enthralling soundtrack and rich visuals.
2 years of Bajirao Mastani it was .... My fav movie for lifetime ... @RanveerOfficial @deepikapadukone

— Rajnandini_Rj (@Rj_Krystleholic) December 19, 2017
Finding Fanny
Let me say this. Naseeruddin Shah, Pankaj Kapur, Dimple Kapadia and to top it off, a beautiful Deepika Padukone in a completely offbeat, yet enjoyable film directed by Homi Adajania.
The film was sent to the Busan International Film Festival, and due to it's offbeat status, enjoyed a small but significantly successful release and reception.
Finding Fanny gave us a cool new pairing, a stellar cast, terrific cinematography & Homi written all over it. @deepikapadukone as Angie was love❤️❤️
Finding Fanny ~ 2014#10YearsOfDeepikaPadukone pic.twitter.com/jHANpsot1e

— Sha ?We Support ᴾᵃᵈᵐᵃᵛᵃᵗᶦ (@shampac) November 9, 2017
Tamasha
One of the best Deepika Padukone movies if you wish to look at a mature and layered performance from the actress, also the music, composed by A.R. Rahman is definitely a treat.
Although the film received mixed revies, Tamasha was praised for Deepika Padukone and Ranbir Kapoor's acting skills.
Started the new year by watching #Tamasha; doesn't get better than this @LisaMohanty #ImtiazAli @deepikapadukone ; this movie continues to grow on you...obsessing over agar tum saath ho ?@TamashaOfficial

— xfiles (@xfiles_s) January 2, 2018
Om Shanti Om
A debut with Shah Rukh Khan of all people, is pretty much everything that a newcomer could ask for. Making a mark in your debut film against one Shah Rukh Khan is difficult as it is, let alone Shah Rukh Khan playing two characters.
Om Shanti Om was a delightful debut from Deepika Padukone as Shantipriya and Sandi, and remains one of the most entertaining masala entertainers Bollywood has churned out.
i love you. just watched om shanti om for the 10000 time. best actor everrrr @deepikapadukone

— jass (@grandesmuch) January 3, 2018
Love Aaj Kal
The early days when Deepika was paired against Saif Ali Khan in Imtiaz Ali's directorial debut, and impressed one and all with her performance as Meera, even managing to look effortlessly graceful in the process.
Hey it actually is one of her strongest, most resilient characters ever. Also, personally, I love this movie.
Deepika Padukone's character Meera in Love Aaj Kal was her strongest ever. Here is why https://t.co/cFUODEjp6e

— HollyBollyBuzz (@hollybollybuzz) September 25, 2017
Yeh Jawaani Hai Deewani
Deepika owned her look in the movie with the nerdy glasses, and a comparitively deglam look. Yeh Jawaani Hai Deewani was one of the highest grossing movies in 2013 and boasts of a number of peppy tracks that remain a crowd favourite.
I can safely say that this movie inspired more than one of my friends to buy those duffel bags and set out to travel in the snowy mountains. One of the most popular rom-coms from recent times!
@SonyMAX is giving a perfect end to 2017 with Yeh Jawaani Hai Deewani it's really a good movie to watch at this time as it's a year end which makes us to remember everything we did with our best friends great memories. @deepikapadukone @DharmaMovies #GoodBye2017

— Jay Rungta (@JRungta) December 31, 2017
Chennai Express
So this time, Rohit Shetty added Shah Rukh Khan and Deepika Padukone to his already hit formula of comedy, action and flying cars to create Chennai Express, a film that surpassed 3 Idiots to become one of Bollywood's highest grossing blockbusters EVER.
A comic caper with some exaggerated action sequences thrown in for good measure, Chennai Express like most Rohit Shetty films is enjoyed thoroughly once you agree not to pair it with logic.
Chennai Express loads of fun repeat viewing too! @iamsrk @deepikapadukone

— Cricketwallah (@cricketwallah) December 28, 2017
Cocktail
Paired once again with Saif Ali Khan, with whom she has developed an uncanny chemistry, Deepika Padukone delivers what I personally feel, a performance that saw her become a better actress than she previously was. Cocktail, released in 2012 was a another rom-com, it earned Deepika a Smita Patil Award for her breakthrough performance as Veronica Malaney.
Oh yeah, if you enjoy watching Saif Ali Khan, this film features the classic version of him that he effortlessly portrays. Something like the Jai from Love Aaj Kal, with a beard of course. Also, there's Boman Irani, and one of the most embarrassing scenes Saif might have ever shot for.
#Cocktail, in my opinion, is one of the best #Bollywood friendship films out there currently. @deepikapadukone, @DianaPenty & #SaifAliKhan's on-screen rapport was so strong & convincing. I always learn something new from this movie! Thanks so much for this @homiadajania ????

— Anuj Radia (@TheAnujRadia) December 5, 2017
So, these are my weekend plans. What about your?
Also, Happy Birthday Deepika! May you live to be a 100 and keep creating more of such amazing works.