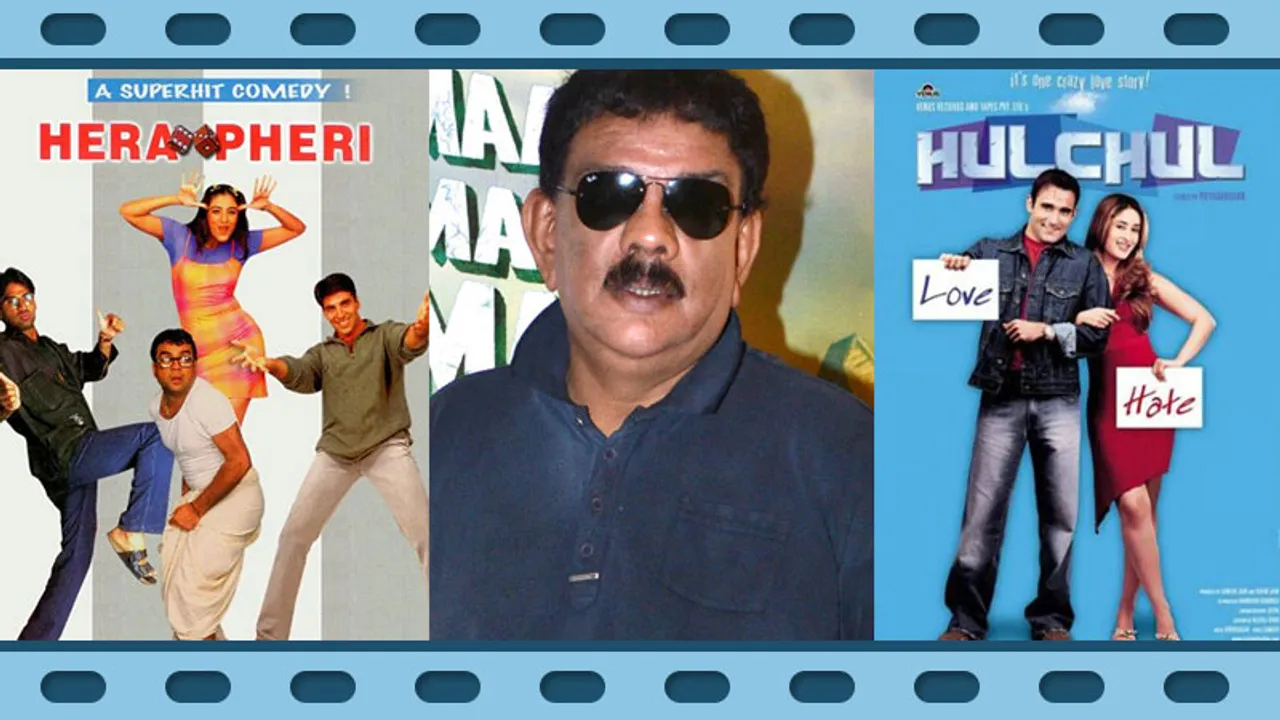 One of Indian cinema's most acclaimed and diverse moviemakers, Priyadarshan, the man who has directed superhit blockbusters not just in Hindi, but Malayalam, Tamil and even two films in Telugu. On his birthday, let us revisit some of the best Priyadarshan comedy films.
Having worked with the likes of Malayalam superstar Mohanlal, frequent collaborators Akshay Kumar and Paresh Rawal, the team which gave us one of Bollywood's most iconic comedy films, Hera Pheri and more. Priyadarshan is not only a diverse regional and Hindi film director, but has also directed multiple commercial advertisements for Coca Cola, Parker Pens, Nokia, and more. Having directed over 90 films, the list of best Priyadarshan comedy films has many choices as the filmmaker is a specialist in the genre.
Social Ketchup's list of best Priyadarshan comedy films includes timeless comic capers such as the obvious Hera Pheri, Hulchul, Bhool Bhulaiya and some of his acclaimed comedy films from down South.
I'm sure you have watched all of these films, but if you haven't, a short glimpse into these films will give you reason enough to binge watch some of Priyadarshan's best work.
Bhool Bhulaiya
Hands down one of the best comedy scenes I have watched in my entire life. Rajpal Yadav owned this short role, whereas Akshay Kumar's comic timing as usual, was on point.
Hulchul
One of the most Paresh Rawal scenes in the history of Paresh Rawal scenes, Hulchul also stars Akshaye Khanna, Arshad Warsi, Sunil Shetty and other frequent Priyadarshan collaborators.
Hera Pheri
Common decency dictates that I post the link to the entire film because it is one big comedy scene in itself but, piracy is not cool so let's just make do with a few scenes here.
Garam Masala
Although the premise of the movie might seem laughable, and barely plausible, once again, Akshay Kumar and Paresh Rawal carried the entire movie on the back of their comic timing and chemistry.
Bhagam Bhaag
A movie with all the elements of coemdy that one could possibly gather, Bhaagam Bhag starred Paresh Rawal, Akshay Kumar, Govinda, Rajpal Yadav and more.
&list=PLxR757mHkKpT0heXv1VlpkioBXlXEO7-f
Chup Chup Ke
A comedy of errors, Chup Chup Ke boasts of some of Rajpal Yadav's best work as he was forced to polish shoes, wash clothes and what not. The movie was otherwise not-so-special but had enough comedy scenes for you to not be bored out of your mind.
Kilukkam
Priyadarshan's 1991 collaboration with Malayalam cinema superstar Mohanlal is considered one of the best comedy films to be released in the language and enjoyed a stint of over a year in theatres down South.
Malamaal Weekly
A cult classic, Malamaal Comedy contains an ensemble cast of Bollywood's most famous comic actors not including the leading men, but Paresh Rawal, Rajpal Yadav, Shakti Kapoor, Asrani and many more!
Thenmavin Kombathu
Another one of Priyadarshan's classic comedies from Malayalam cinema, Thenmavin Kombathu stars Mohanlal once again and was the recipient of multiple National Awards and Kerala State Film Awards.
Hungama
Another film where Rajpal Yadav, having only one of his minor roles, steals the show with his act in the latter half of the film. Also boosted by the brilliant performances of Paresh Rawal, Shakti Kapoor and the late Razzak Khan who played Babu Bisleri.