Vicky Kaushal and Dharma take us on a ride full of cliches trying to bring in a scare among the audience. Keep scrolling to read the review for Bhoot Part One: The Haunted Ship.
A new instalment of a very unrealistic college story from Dharma is not going to be the only thing that scares us. With Bhoot Part One: the Haunted Ship, Dharma Production has actually entered the horror genre. While half of its job is done with the good looks of India's current heartthrob who makes every girl's heart skip a beat, Vicky Kaushal as the lead, Dharma has tried really hard to scare its Indian audience with the story. It has turned out to be a fact that Indian horror movies usually fail to scare us, and although the trailer of the movie made our hopes go high it failed to hit the bull's eye.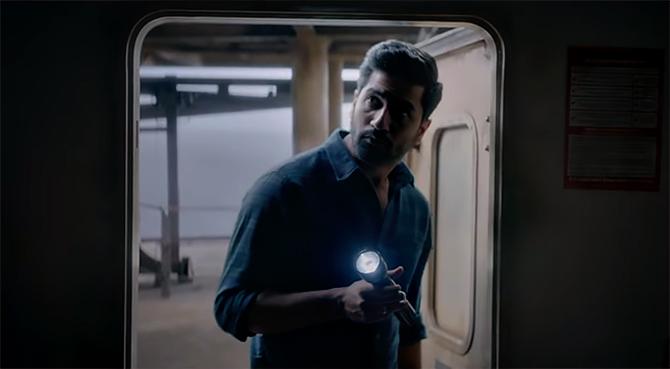 Vicky who plays an officer with a devasting past that he wants to get over is on a mission to find the secret behind a mysterious ship, Sea bird that washed onshore out of nowhere. The movie then revolves around his encounter with the unusual and his efforts to make it out alive.
What you can expect from the movie you ask? A very handsome Vicky Kaushal (you can stop drooling now), a ghost (of course), a ghost going against the force of gravity and climbing every possible place she can, drama. Basically you can expect all the elements of a horror movie you already knew. You can also have some laughs in between, which is for sure not what the scene intended to be like. The movie that has a good first half with a lot of jumps and scares ends up killing the vibe in the second half. The way it is shot is what makes the movie worth watching. And when you leave the theatre, you will definitely question Dharma's idea of releasing the second part.
Here's how Twitterati reacted to the movie:
#Bhoot only saving grace is @vickykaushal09 …not scary ?

— Tara (@FanRonakshi) February 21, 2020
So the verdict is out by audience both #Bhoot n #ShubhMangalZyadaSaavdhan r carrying MIXED reviews which makes it yet another DISAPPOINTING day at box office. @ayushmannk will carry his film to put up respectable total due to his goodwill but @vickykaushal09 film seems to losing

— Shubham C (@Shubham26383793) February 21, 2020
#BhootTheHauntedShip #Bhoot
The movie is a direct attack on the Ghost community. Ghosts can't trust humans anymore. @vickykaushal09 has tried his best. The first half was tolerable. But the second half is comedy. Even Ramsey movies were better.

— 2_mysoul (@2mysoul1) February 21, 2020
Critics reviews for #Bhoot is very poor if compares to #ShubhMangalZyadaSaavdhan .Word of mouth for #BhootTheHauntedShip is mixed and it well performed in multiplexes specially in NCR,MUMBAI but other regions are dull. So it can opened around 4.5-5.6cr(estimates)

— Vikas Nishad (@avikasnishadd) February 21, 2020
*#OneWordReview…*
*#Bhoot: DULL.*
*Rating: ⭐️½*
*Fails to live up to its title… Weak writing… Lethargic pace… Few scares… Exhausting second half… Unconvincing backstory… #VickyKaushal is the only plus… https://t.co/mEz6Aa5pY1

— Mithlesh Nishad (@MithleshNisha14) February 21, 2020
Have got scared just by reading the reviews of Bhoot…A case of the reviews scaring more than the movie ??? #Bhoot #bhootreview

— Rachna Chhabria (@RachnaChhabria1) February 21, 2020
#Bhoot Honest #Review ?
If u r a @vickykaushal09 fan then go for it. #VickyKaushal has acted in such a way that you will be scared to see his acting, you will feel so natural. But the #movie has been made by #Dharma ?
Some scenes are frightening but the movie is not so scary.

— Pragnya Prasad (@pragnyaprasad) February 21, 2020
#Bhoot Review: Ekta Kapoor serial type Story & Great Acting by Vicky Kaushal

— Ŕìà (@I_m_Ria) February 21, 2020
#Bhoot Review : Absolute Trash! No story, no proper horror, no screenplay and Stupidiest possible climax.
Avoid even on free ticket + Pepsi + Cheese Popcorn

My rating : ½⭐#BhootPartOneTheHauntedShip

— DK BOSE (@DevKumarBose) February 21, 2020
Do you plan on watching the movie? Tell us in the comments below.