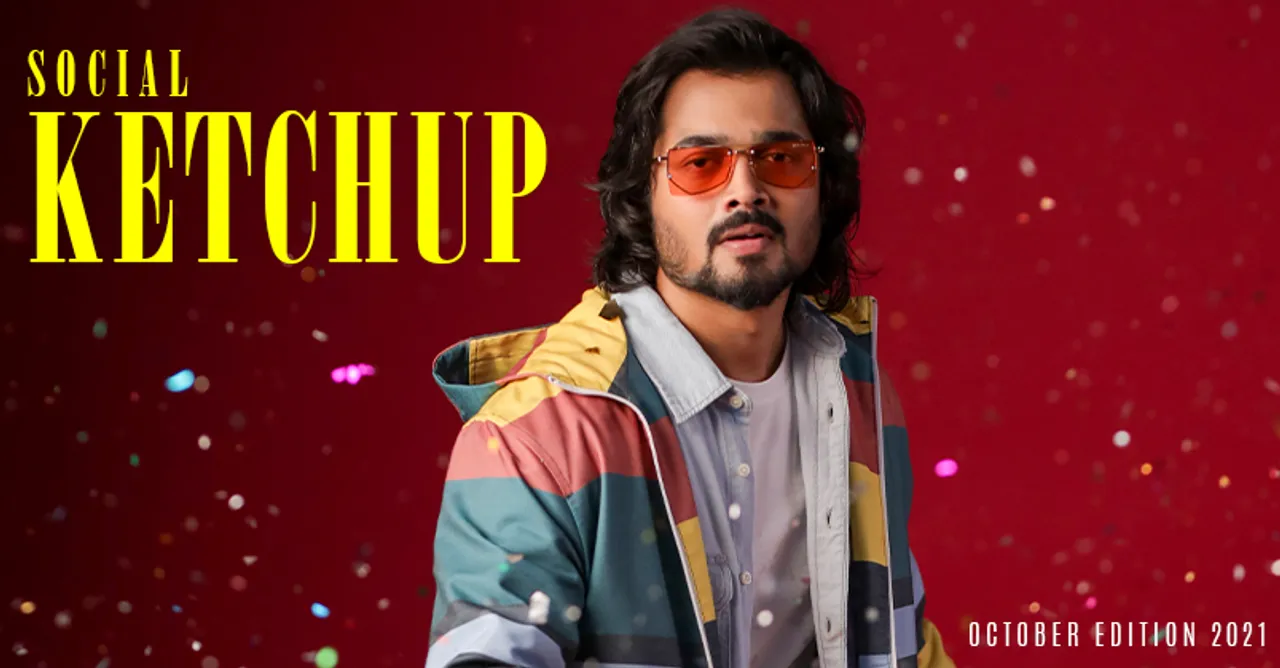 Bhuvan Bam gets candid with Social Ketchup Ed, Mrinil Mathur Rajwani, on building the BB ki Vines Universe; donning multiple hats for Dhindora in front of and behind the camera, and more.
Contrary to the title, Bhuvan Bam is one of the most humble creators I have ever met. With the aura that can make his presence felt and sweep the floor from under his fan's feet, Bhuvan entered the shoot location courteously and introduced himself to everyone he met. I remember someone mentioning 'aap ko kaun nahi janta' and he replied, 'kya pata kisi ko mera naam na pata ho.' A down-to-earth person who has managed to paint the sky. From the go, he charmed the team with his wit, modesty, intellect, and his million-dollar smile. 
But it's true that he is a man who needs no introduction. He is an aspiration and a dream for many. I won't be wrong to say that Bhuvan is the poster boy of the Content Creation Industry. One of the most popular YouTubers, Bhuvan is an actor, comedian, singer, songwriter, and musician, and with his latest web show, Dhindora, he has aced roles like a writer, screenplay, and more. It is commendable, how in just 6+ years, he has managed to achieve several milestones as a creator and made a place for himself globally. With the new show, Dhindora, Bhuvan with his family and friends - Babloo, Janki, Banchoddas, Sameer Fuddi, etc (characters that he plays on his YouTube Channel) has become the talk of the town, but one can only imagine what goes behind putting these characters together, one dialogue at a time. Bhuvan has taken the characters born out of social media and made them the hero of the show, proving the power of good content. 
We chatted with him about how he managed to give birth to these characters, taking us through the process of giving them color and storyline, with more deets on Dhindora.
Mrinil Mathur:  To the team at Social Ketchup and me, Bhuvan Bam is the poster boy of YouTube Content Creation in India, you are the dream every Content Creator in India would love to live, but I want to know from you, how did it all begin? What was that moment of epiphany when you realized that you have truly arrived?
Bhuvan Bam: BB ki Vines, I suppose, started with a notion, a random idea that I had in my thoughts. It was all in good fun. It was a joke in the media about the strange question the media asks and it happened during the Jammu & Kashmir floods. So, I believe that's how I came to the decision to make videos on the internet. That was the time, I had no idea that YouTube existed. I used to post videos on Facebook until someone suggested that I try YouTube because it has a larger audience in India and you might also be able to make money.
MM: From what we as an audience see, there is nothing BB can't achieve; you grew from 1 Million Subs to 10 Million Subs in 2018, You won the Global Entertainer of the Year in 2019 at Cannes World Blogger Awards, You have appeared as an actor in a TVF Web Series, Short Films, launched your own songs. How have you managed to build so much in a span of 6 Years?
BB: Let's not count six years. Let's begin the journey, which had already begun away before that. It's been a lot of contemplation with a lot of sleepless nights. Too many meals have been skipped in order to write the perfect script or make the perfect video and I believe the people deserve credit because they've stuck with me and showed tremendous support, whether it's by sharing the videos or admiring what I've done.
MM: You create both comedy content and music on your channel; what difference does Music make in your life?
BB: See, jokes cannot be written every day. They cannot be written all the time. So my escape route from all the comedy is music. I have started my journey with music and I enjoy doing music, frankly, more than comedy and music makes me happy. 
MM: We have all seen and witnessed your success story, could you tell us about some of the failures that have made you stronger and contributed to this stellar growth?
BB: I mean, there have been ups and downs. It happens with everyone, but failure is not being able to get anything you want. It's also what you've expected and it doesn't go the way you want it. There are videos that haven't done well in the past, and I've learned a lot from them. And that's how I've gone ahead.
MM: In some of your interviews, you mentioned there is an excitement and joy you find in chasing milestones, whether it was 1 Million Subs for the Gold button back in the day or your first trip to the US. What are some of the milestones you are chasing at the moment? Dhindora what next?
BB: There are no milestones. The current thing, the current vision right now is Dhindora. Really hoping that people like it, people accept it the way they have appreciated my work in the past. it is kind of a leap of faith you can say. There are no distant plans right now. Dhindora is something which I'm mostly looking forward to. 
MM: Speaking of your eccentric style of playing multiple characters in your videos, what inspired you to craft these characters? How do you make sure that each of these characters has a distinct personality? How do you work on character sketches and traits before introducing a character?
BB: I think it's all about observation. I love to travel. I love meeting new people and that's how I pick up traits from every person I meet and then combine the taste together to form a character. Not every time it happens, but most of the time it has worked for me. The majority of my characters are inspired by people I've met in metros, shopping malls, and markets. It's basically observation and how quickly you can grasp someone straight and how you enact them out. Because every character is an exaggerated version of someone. That's how you do it to make it even more fun. 
MM: How difficult it is to play so many characters, can you take me through the process?  
BB: It's difficult in a way that you have to make them look different from each other. Firstly, the face, because it's very tough To make the face look different with each character and especially with Dhindora. I think the makeup team has done a wonderful job because they've worked a lot on the appearances of the characters. For example, for mommy's character, I had to wear a bra. I had to wear butt pads to make her look different. Similarly, with the father character, I had to wear a wig. I had to put up a beard and then I had to wear a fake punched stomach. And with Titoo's mom also, there's a different wig. And that's how you create characters. And of course, how they walk, making a character walk differently is a challenge. It has taken me immense practice over these six years, I have practiced them and I have lived those characters and therefore I am comfortable now playing them on a bigger screen.
MM: How close are these characters to Bhuvan Bam? Do you sometimes find it hard to separate yourself from the characters you play?
BB: I think I'm successful enough to keep these characters out of my life. I hope so. At times, The people who are closest to me, they can get irritated if I get my characters in real life, which is habitual. You can't escape cause you've been shooting with those characters for so much time that those characters have started living with you. I think I have been successful enough in keeping those characters away from my life and I hope I continue doing so or they put me into deep trouble. 
MM: From an actor in a Web series to producing a full-fledged Web series, tell us what's the Dhindhora all about? How different is Dhindora from the content/series you share otherwise?
BB: See Dhindora is something which I have envisioned for a long time now and it's my way of telling the world that the creators can produce quality content, like other OTT platforms on YouTube and it was a conscious decision from the team, from me to put the web series out for free. We had the opportunity to take the web series to a different OTT platform who were paying us more than what we have but we chose to stay loyal to our fans, to the people who watch BB ki Vines. And it would have otherwise been unfair to the people because the characters have been born out of YouTube. So, I think people deserve to watch them for free on YouTube. Dhindora is completely different from other series because I'm playing 10 characters in the series. Apart from the other co-actors, most of the characters are played by me.
MM: How did the thought of Dhindora come into action?
BB: I think Dhindora was born out of a story, born out of my personal experiences. After a lot of discussion with the team, after a lot of discussion with people around, I decided that let's create a movie, but as we started writing the show, we realized, this cannot be. So, we decided to do a series and give people the weekly episode so that they can enjoy it for the next eight weeks. That's how it came into action. I always wanted to move out of the four walls that people have the habit of watching me and create a full-fledged production. The Series was the main goal. And hence, Dhindora was our first step towards it.
MM: Tell us something that no one knows about you.
BB: If I tell you something that no one knows about me, then they will come to know, So I am skipping this part. 
MM: How do you unwind?
It takes different techniques to unwind. Most of the times when I have to unwind, I sleep, I take breaks. I just sleep for hours and hours and tell people to not bug me or if my friends are free then I take a drive along with them and that's how the unwinding happens in my case.
Read the entire interview here!
Also Read: Bhuvan Bam's Dhindora raises many bells and whistles with its premiere episode release
For more entertainment, follow us on @socialketchup