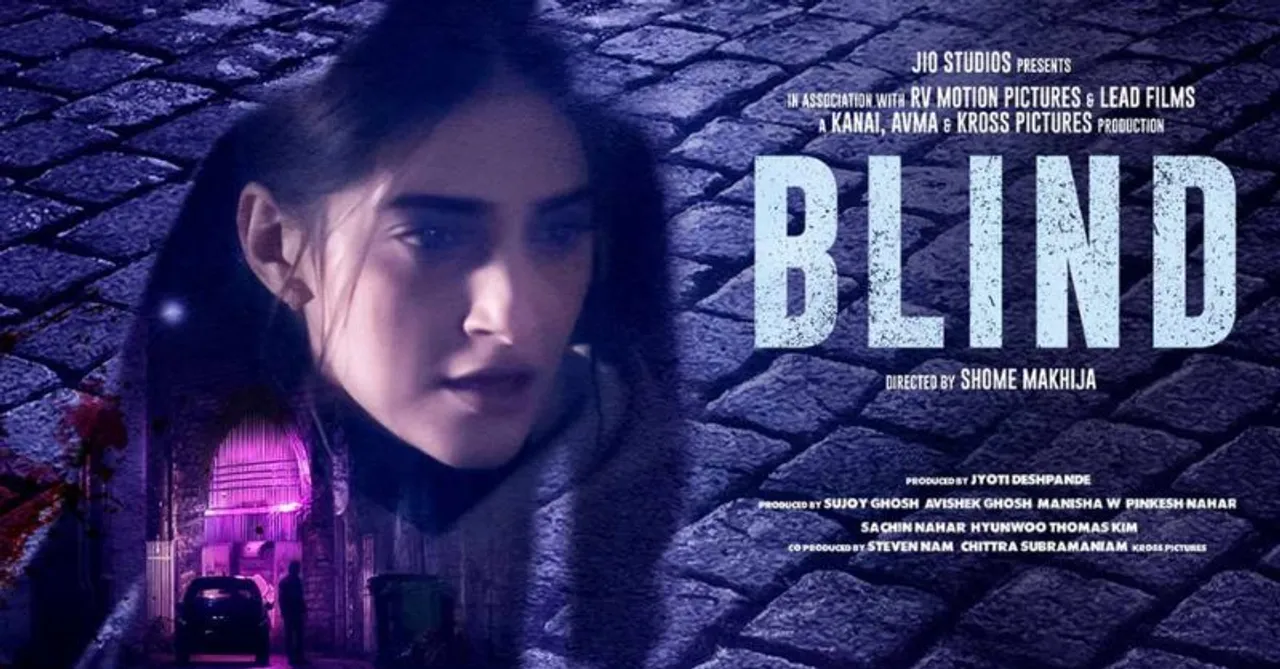 Sonam Kapoor's OTT debut Blind premiered on Jio Cinema on July 7 and Janta had a lot to say about the movie!
Blind is an adaptation of the 2011 Korean film with the same name starring Sonam Kapoor, Purab Kohli, Shubham Saraf, Lillete Dubey, and Vinay Pathak. Sonam Kapoor's Bollywood comeback and OTT debut is about a visually impaired woman, Gia (Sonam Kapoor) who gets tangled in a heinous crime. She inadvertently enters a deadly game of cat and mouse with a dangerous criminal played by Purab Kohli. Blind also explores Gia's grief, her journey of rebuilding her life and redemption.
From calling it a passable remake to a below average movie, Blind gets a lot of mixed reviews from the Janta. Sonam Kapoor finally gets recognition for choosing the roles that make her look good as an actor but receives bad reviews for her acting skills.
Also Read: Disappointed Janta calls Vidya Balan's Neeyat "wannabe copy of Knives Out!"
This is what they had to say!
#Blind on Jio Cinema
It's an adaptation of the 2011 Korean film with the same name starring Sonam Kapoor.
If the movie's title is Blind then, as in a game of cards, I would suggest don't ask for a show. Just pack up & go. It's a soul-less remake.
Phir na kehna, I didn't tell you pic.twitter.com/rGo9DKPgEU

— Dhunji S. Wadia (@dhunji) July 8, 2023
#Blind is a passable remake of the 2011 South Korean film (also remade as Netrikann)

I was surprised by the conviction of #SonamKapoor as Gia but #PurabKohli really steals the show

The screenplay is routine & only elevated due to the performances. Elsa tho has my heart ❤️ pic.twitter.com/Kbci2YCZYa

— ANMOL JAMWAL (@jammypants4) July 7, 2023
@sonamakapoor, you have outdone yourself. You were powerful, vulnerable, scared and courageous all at once. Your body language, your approach, amazing! #blind #sonamkapoor @Shomemakhija @ga pic.twitter.com/wI2tZeqYN1

— sort of magic ✨ (@SwastickBasu) July 6, 2023
After watching #Blind Sonam Kapoor as Gia Singh gives a nicely performance. The film has been staged well & has good production design. A few scenes in the film have been executed nicely. Sonam gets the features of the blind character that she plays right. @sonamakapoor 👍 pic.twitter.com/HRwsQ7hwml

— I. Khan (Isâ __ Isaac) 🇮🇳 (@khanetl) July 7, 2023
#Blind movie review
It is a easily forgettable movie #SonamKapoorAhuja performance is exactly what we expect from #SonamKapoor
The one who played the role of killer did a good job & the cop also
BGM is boring
Story is copied
Overall a average movie #BlindOnJioCinema pic.twitter.com/QKiYJCNHTY

— MOVIE WATCHER (@moviewatcher001) July 7, 2023
#Blind - Below Average. Very predictable thriller. Sonam Kapoor's performance is just ok.

— Shree Prakash R (@shreeviews) July 8, 2023
#Blind
A typical remake of Korean Film, #SonamKapoor Performance is average.
Story is simple and it's a thriller crime drama.
Not impressed.
Rating ⭐⭐

— Iam Mukkesh 🇮🇳 (@iammukkesh) July 8, 2023
#sonamkapoor forgot that blind people too can have expressions! Pathetic. What a wasted comeback👎🏻 #Blind #blindmovie #blindmoviereview

— sahiba chhabra (@sahibachhabra20) July 6, 2023
Female lead role mile to koi b movie sign kar lene ka man ho jaye wo theek hai par karna nahi chahiye... #blind #poorplot #poortreatment #sonamkapoor

— niraj (@nirajkdewani) July 9, 2023
#Blind on #JioCinema is nice.
Although #SonamKapoor's acting can be improved, it's good to see she is choosing good scripts, and not scripts where she has to be an object in the background.

— mehhhh (@mehhhhhhhh0) July 8, 2023
Have you watched the movie yet? Tell us in the comments below!
For more binge-centric content, follow us @socialketchup.