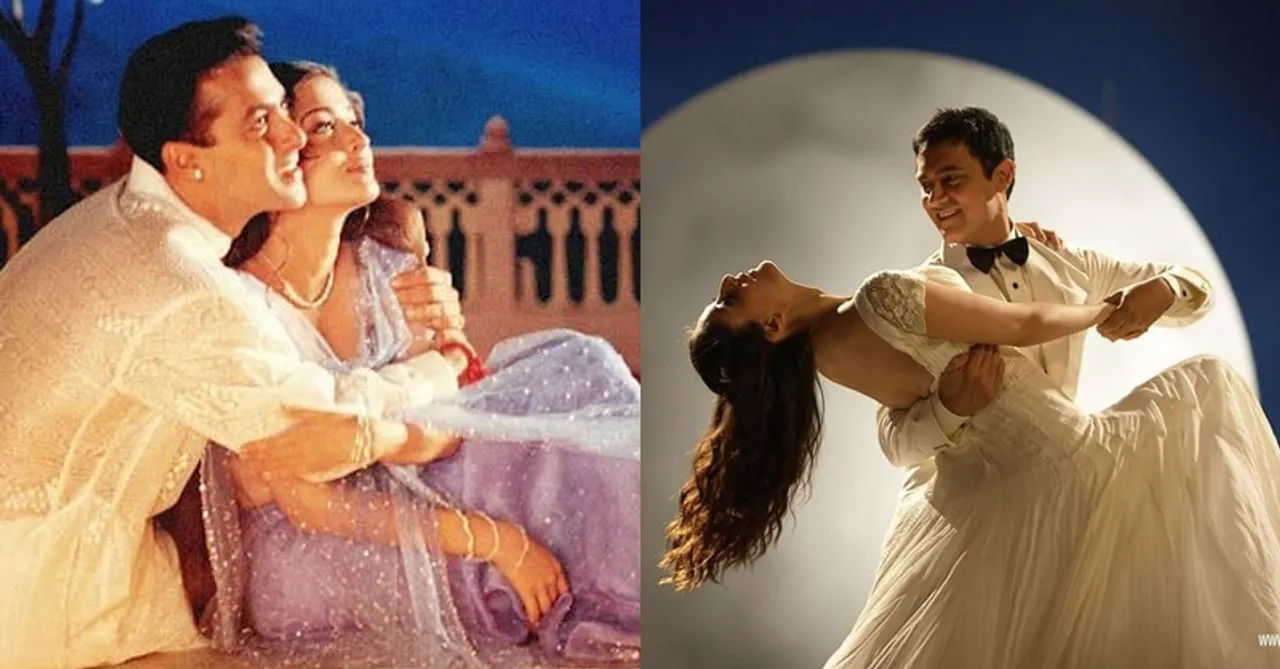 There's a very romantic relationship between the moon and Bollywood, so much so that these movies and songs gave the moon the spotlight and made it the main character.
Do you also talk to the moon when you're alone or bored, cause SAME! Growing up I always wondered what living on the moon would feel like! When I hear 'moon' the first thing that pops up in my head is cheese. I loved how cartoons made me think there was actual cheese on the moon. But that was when I was little, my perception of the moon has quite changed over the past years and as I grew up I started to look at the moon differently, and Bollywood helped me in so many different ways to understand 'chand'.
The moon is the picture of love; it shines brighter than the surrounding stars and clouds. It's everything you see and everything you mean. Bollywood movies have never disappointed us by using the moon in their scenes. Romanticizing the moon in movies and songs will never be enough. Bollywood writers and shaayars found a new meaning to the moon and gave cinema the masterpieces no one asked for. The moon will always be beautiful and has certainly left a mark in Bollywood movies and songs that no one will ever forget.
Here's how Bollywood took us over the moon with these amazing movie scenes and songs about the moon.

Biwi No. 1
What's a classic Bollywood movie without a Karwa Chauth? Salman tries to celebrate Karwa Chauth with both of his ladies and fails miserably as Karishma finds out about the affair. It starts funnily and towards the end, it gets emotional. Although the moon is the subject here, Tommy saves the day.
Hum Dil De Chuke Sanam
A beautiful moment where Aish is looking straight at the moon and thinking about Salman. The way the chand plays a catalyst in their chemistry is impeccable. And not to mention 'Chand Chupa Baadal Main', which technically taught us how to romance. Am I right or am I right?

Baghban
The most emotional depiction of Karwa Chauth is where the elderly couple, Amitabh and Hema Malini, celebrate Karwa Chauth over the phone and get emotional. The dialogue delivery of both of the actors just spells perfection.

3 Idiots
'Ambar ka Chaand Jamin Par Itaraake ga raha' plays while a huge moon is in the background, outshining Aamir and Kareena takes our heart away.

Kabhie Khushi Kabhie Gham
A perfect depiction of how a Punjabi kudi celebrates Karwa Chauth with her family. In the song, Bole Chudiyan, Kajol is seen celebrating Karwa Chauth in the most Bollywood way possible.

Chandni Chowk to China
A levitative romance between Akshay and Deepika while the moonlight is shining on them, made us levitate in our emotions. The song is just so perfect it gives me chills while listening to it. I don't know about you but my standards are high now.

God Tussi Great Ho
In a classic moon scene from Bollywood, Salman tries to confess her feelings to Priyanka through the song while telling her that the pretty moon reminds him of her! We should get more of Salman-Priyanka movies.

Saawariya
A little flirty scene between Ranbir and Sonam while everyone waits for the moon to show up as its Eid, But the way Ranbir is looking at Sonam, yeah, I don't think he cares about Eid!
What's your favorite lunar moment in Bollywood? Let us know in the comments below!
Also Read: 12 Bollywood songs about the moon that romanticized every living being
For more recommendations follow Social Ketchup Binge @socialketchupbinge