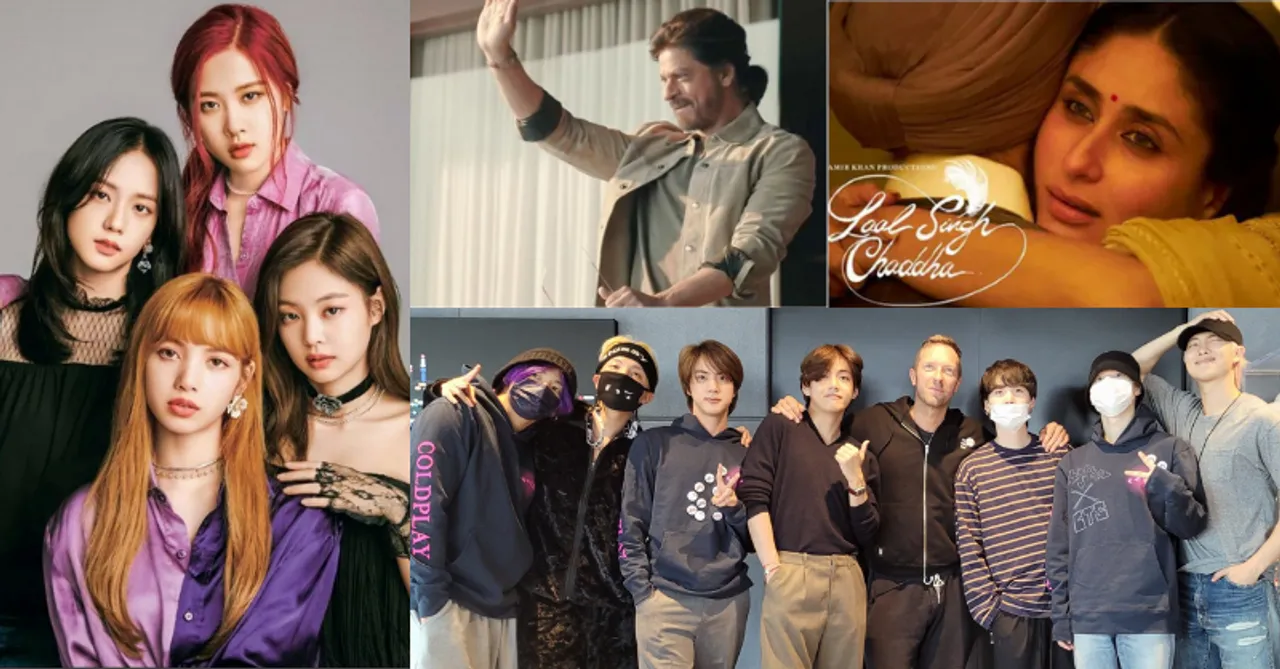 SRK might soon come on screen, K-pop bands BTS, BLACKPINK were rocking in the entire world and a lot more happened over the weekend.
This weekend a lot has happened in the entertainment industry from MTV VMA's to SRK announcing that he's coming soon on Disney+ Hotstar. K-pop band BTS has been rising stars that we know by now but this time BLACKPINK broke a record. The band became 'the most subscribed YouTube artist' beating the record of Justin Bieber, who recently won 'The Artist of the Year' at MYV VMAs. BTS won the Best K-Pop at the MTV VMAs and they've also confirmed the news of a collaboration with the British band, Coldplay. Other than these K-Pop bands rocking the world and SRK's announcement, there's an old photo of Deepika and Katrina from their modeling days that is doing rounds. And Kareena Kapoor Khan has resumed shooting for Laal Singh Chaddha. While singer Britney Spears announced her engagement, Vidyut Jammwal also announced his.
All of this and much more happened over the weekend in the entertainment industry.
Bieber wins Artist of the Year, BTS wins Best K-Pop at MTV VMAs
Justin Bieber was named Artist of the Year at the MTV Video Music Awards 2021. The singer also won the Best Pop award with Daniel Caesar and Giveon for their song 'Peaches'. Boy band BTS won the Best K-Pop award for their song 'Butter'. Singer Olivia Rodrigo bagged Best New Artist, Song of the Year, and Push Performance of the Year awards.
SRK started in Disney+Hotstar ad #SiwaySRK and announced that he might be coming soon on the platform
SRK, the Badshah of Bollywood has been missing from the screens for a long time now. While there have been reports that SRK is currently busy shooting for different projects, he starred in Disney+Hotstar ad #SiwaySRK and hints that he might be coming on the OTT platform Disney+ Hotstar. He tweeted, "Picture toh abhi baaki hai..mere doston.."
K-Pop group BLACKPINK becomes most subscribed YouTube artist
YouTube announced that K-pop girl group BLACKPINK has surpassed singer Justin Bieber to become the most subscribed artist on the platform with 65.5 million subscribers. Bieber has 65.1 million subscribers, followed by the K-pop boy band BTS which has 57.7 million followers. The top five channels also include DJ Marshmello with 53.8 million and singer Ariana Grande with 49.6 million subscribers.
AR Rahman, Gulzar to create the soundtrack for Subrata Roy biopic
Academy Award winners, composer AR Rahman and lyricist Gulzar will be working together to create the soundtrack of the biopic on business tycoon Subrata Roy. Roy is the chairman of Sahara India Pariwar and was barred by the Securities and Exchange Board of India in 2010. The duo has previously worked together on 'Slumdog Millionaire', 'Dil Se..', 'Yuvvraaj', and 'Guru'.
Have to take dancing lessons from her: SRK as Gauri shares mom's video
SRK's wife, producer-designer Gauri Khan, recently wished her mother Savita Chhibber on her birthday. She shared a video of her mother, wherein she is seen dancing to the song 'Daddy Cool', and wrote, "There is no one who can match your steps...happy birthday mom." Reacting to her post, SRK wrote, "Have to take dancing lessons from mom-in-law."
Conor McGregor & Machine Gun Kelly get into a fight on MTV Awards red carpet
Irish MMA fighter Conor McGregor and American rapper Machine Gun Kelly were involved in an altercation on the red carpet of MTV Video Music Awards. Photos surfaced of the incident that showed McGregor and Kelly being separated by security after reportedly nearly coming to blows. "I only fight real fighters...I don't even know the guy," McGregor later said.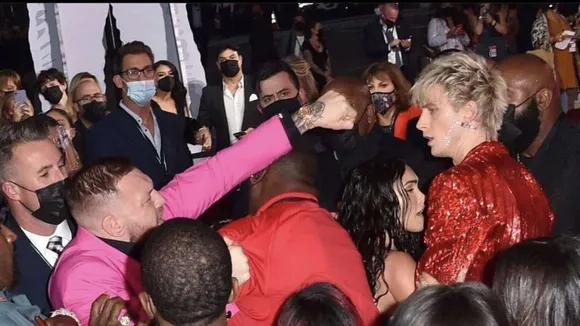 Britney gets engaged to boyfriend Asghari
American singer Britney Spears got engaged to her boyfriend Sam Asghari after more than four years of dating. Britney shared a video of herself with Asghari following their engagement and wrote, "I can't f***ing believe it." Pictures of her four-carat diamond ring that surfaced online show the word 'lioness' engraved inside the band of the ring.
Farah says Kartik Aaryan looks like Kumar Gaurav, the actor responded
Actor Kartik Aaryan uploaded a picture on Instagram on Thursday morning, following which director Farah Khan commented, "So cute.. looking like Kumar Gaurav from Love Story." The actor responded to her comment saying, "Banao phir kuch mujhe leke. Kartik is currently shooting for his upcoming thriller film 'Freddy', directed by Shashanka Ghosh.
Old photo of Deepika Padukone & Katrina Kaif from their modeling days goes viral
Actor and former model Marc Robinson has shared a throwback picture featuring himself along with actors Deepika Padukone and Katrina Kaif. Shared on Instagram, the photo also features Sophie Choudry and Tarun Arora among several other models. "Back in the day at a fashion show for Tommy Hilfiger," Marc wrote in the caption.
Being Hollywood's 'It Girl' gave me anxiety: Jessica Chastain
'Zero Dark Thirty' actress Jessica Chastain on Saturday said that being called Hollywood's 'It Girl' made her feel anxious, calling it a "death sentence as an actress". "Every time someone said that I thought, oh no, because you have such a short life," Chastain added. The actress will receive the Tribute Actor award at the Toronto International Film Festival 2021.
Jamie Lee Curtis wins Lifetime Achievement award at Venice Film Fest
'Freaky Friday' actress Jamie Lee Curtis on Wednesday was honored with the Golden Lion for Lifetime Achievement Award at Venice International Film Festival 2021. The 62-year-old is known for horror films, including the 'Halloween' series and 'Prom Night'. Curtis is also the recipient of a BAFTA Award, two Golden Globe Awards, and a star on the Hollywood Walk of Fame.
Actor Vidyut Jammwal gets engaged to fashion designer Nandita Mahtani
Actor Vidyut Jammwal has revealed he got engaged to fashion designer Nandita Mahtani on September 1. Jammwal, who is known for his roles in action films like Commando, took to Instagram to share a picture of himself rock-climbing with Nandita and wrote, "Did it the COMMANDO way...01/09/21." He shared another picture of himself with Nandita from the Taj Mahal.
It was difficult: Abhishek Banerjee on filming romantic scenes
Actor Abhishek Banerjee, who will be next seen in 'Ankahi Kahaniya' said that through the show he got an opportunity to explore the romantic side of his personality. He added, "I...knew that it's going to be very difficult because...from whatever training I've got...I was nowhere close to playing a romantic hero." "This is....something out of comfort zone," he said.
Dwayne, Emily's 'Jungle Cruise' to release in India on Sept 24
Dwayne Johnson and Emily Blunt starrer 'Jungle Cruise' is all set to release in Indian theatres on September 24. The Jaume Collet-Serra directorial will be available in English, Hindi, Tamil, and Telugu for the Indian audience. The action-adventure film has already been released internationally and a sequel is in the works as per reports in the international media.
The Queen's Gambit wins 7 awards on Day 1 of Creative Arts Emmys
Netflix miniseries 'The Queen's Gambit' swept the first night of the Creative Arts Emmys on Saturday bagging seven awards. The show won Outstanding Period Costumes and Outstanding Period and/or Character Makeup (Non-Prosthetic), among others. Disney+ show 'WandaVision' won in the categories Outstanding Production Design For A Narrative Program (Half-Hour) and Outstanding Fantasy/Sci-Fi Costumes.
Jayalalithaa wanted Aishwarya Rai to play her role in Thalaivii: Simi
Actress Simi Garewal took to Twitter to share her thoughts on Kangana Ranaut-starrer 'Thalaivii'. S​​imi said Kangana was the right fit for the role of former Tamil Nadu Chief Minister, J Jayalalithaa. She tweeted, "Although I don't support Kangana Ranaut's radical comments, I do support her acting talent." She added that J Jayalalithaa wanted actress Aishwarya Rai to play her role.
Kareena Kapoor Khan resumes shooting for Laal Singh Chaddha
Actress Kareena Kapoor Khan resumed the shooting for her film 'Laal Singh Chaddha'. She took to Instagram Stories and shared pictures after she reported back on the sets of the film. In one picture, she's getting her makeup done while in the second picture, she and her team pose for the camera. "Back with my loves," she captioned the photo.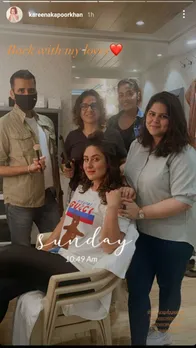 'Mad Max: Fury Road' prequel 'Furiosa' release delayed to 2024
Warner Bros has pushed the release of 'Furiosa', George Miller's prequel to 'Mad Max: Fury Road', by a year. The film, which was originally scheduled to release on June 23, 2023, will now hit screens on May 24, 2024, the studio announced on Friday. 'The Queen's Gambit' star Anya Taylor-Joy will play the titular role in the upcoming film.
Coldplay, BTS team up for song 'My Universe' releasing on Sept 24
British rock band Coldplay on Monday announced their collaboration with K-Pop group BTS for the upcoming song 'My Universe'. The track, which has been sung in both English and Korean, will release on September 24. In February, BTS had covered Coldplay's song 'Fix You' on MTV Unplugged which the latter shared on Twitter with the caption 'beautiful' written in Korean.
AIADMK demands deletion of non-factual scenes about Jayalalithaa, MGR in Thalaivi
The opposition AIADMK in Tamil Nadu on Friday objected to certain references about party stalwarts- the late MGR and J Jayalalithaa- in the latter's multi-lingual biopic 'Thalaivi' and wanted the scenes deleted. For instance, one scene showed MGR seeking a Minister post in the first DMK government. Senior AIADMK leader D Jayakumar said he was never after such posts.
Alia, Kareena & Taapsee react to rape crimes reported across India
After journalist Faye D'Souza shared the news on the Sakinaka rape case as well as other rape crimes that have taken place across India, several celebrities reacted to the same. Actress Alia Bhatt wrote, "Wtf is going on? This is infuriating." Kareena was also heartbroken over the news, while Taapsee wrote, "News today...every day...goes like this."
Hope you are all caught with the entertainment world through this OTW roundup on ENews!
For more entertainment, follow us on @socialketchupbinge