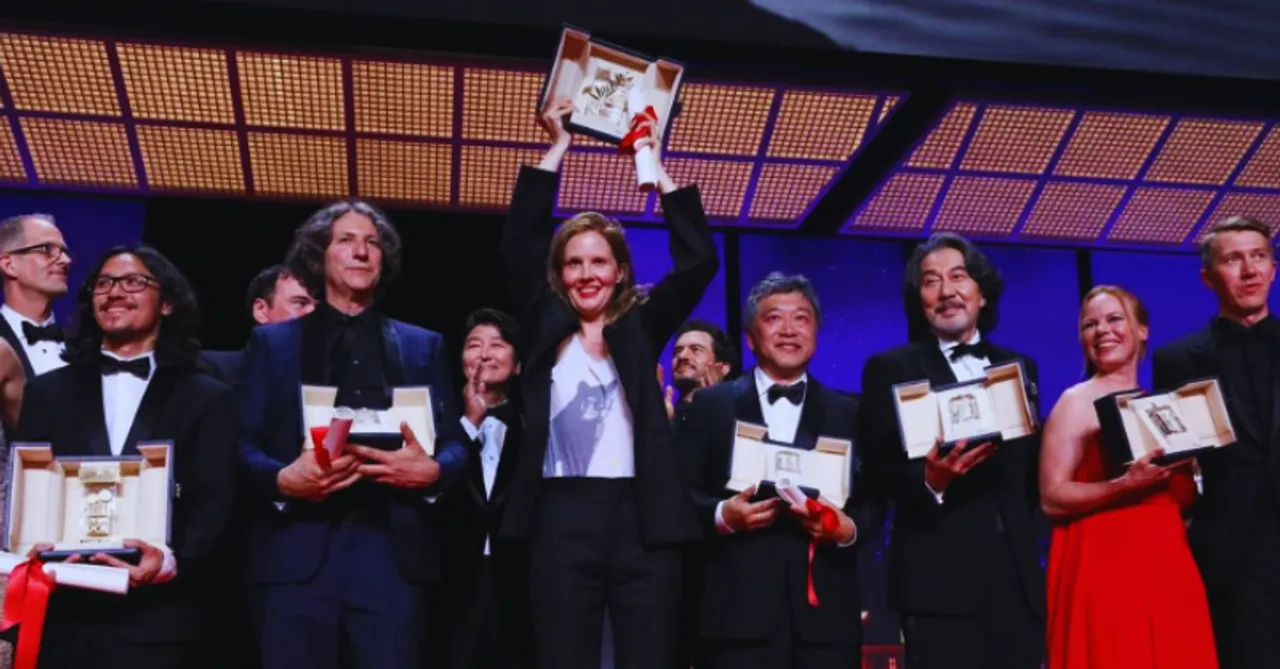 Cannes 2023 last day witnessed the closing ceremony and awards night with the Palme d'Or being won by Anatomie D'Une Chute for Justine Triet!
As the 76th Cannes Film Festival came to a close after 10 days of film screenings and drop-dead gorgeous red-carpet looks, the final winners were announced. The world-renowned film festival had 21 films with 21 filmmakers that were part of the main competition. But alas had only 1 Palme d'Or to give away and considering the fierce competition, everyone was eager to know who it would go to. The French Riviera shone the brightest in celebration of cinema with all the jury members, filmmakers, artists, and so many more holding their breath for the unfolding of Cannes 2023 last day!
This year the festival theme was "Back to the future of Cinema", and 7 female filmmakers were in competition for the Palme d'Or. We saw many of the big leagues and global celebrities like Ken Loach to Martin Scorsese coming back to this prestigious festival. But to everyone's surprise, Justine Triet, the third woman in Cannes history to won a Palme d'Or for her movie Anatomy of a Fall.
The Jury that decided the winners comprised of the president of the jury, Ruben Ostlund (director and 2022 and Palme d'Or winner of 'Triangles of Sadness'), Brie Larson (Hollywood actress), Maryam Touzani (Moroccan director), Denis Menochet (French actor), Rungano Nyoni (British-Zambian screenwriter and director), Atiq Rahimi (Afghan author), Damián Szifrón (Argentine director and screenwriter), and Julia Ducournau, (Director of the Palme d'Or winner 'Titane' in 2021).
Here are the highlights and winners list from Cannes 2023 last day:
Justine Triet won the Palme d'Or for her gripping courtroom drama Anatomie D'Une Chute aka Anatomy of a Fall. In her speech, she criticized French President Macron for his 'repression of protests'.
The Grand Prix went to The Zone of Interest by Jonathan Glazer. The Prix Du Jury went to KUOLLEET LEHDET aka Fallen Leaves by Aki Kaurismaki. Both of these are Jury awards given to films for special mentions for their incredible original work. These are the highest honors after the Palme d'Or.
The award for Best Director goes to Tran Anh Hùng for LA PASSION DE DODIN BOUFFANT aka The Pot-Au-Feu.
The Caméra d'Or (Best Cinematography) award went to BÊN TRONG VO KEN VANG aka Inside The Yellow Coccon Shell, the first film by Thien An Pham presented at the Directors' Fortnight.
The award for Best Screenplay went to Sakamoto Yuji for KAIBUTSU aka Monster by Kore-Eda Hirokazu.
Best Actor was received by Koji Yakusho for Perfect Days by Wim Wenders.
Best Actress went to Merve Dizdar in KURU OTLAR USTUNE aka About Dry Grasses by Nuri Bilge Ceylan.
The Short Film Palme d'or winner was 27 by Flóra Anna Buda.
Jane Fonda, Quentin Tarantino, Orlando Bloom, and many more graced the red carpet to wrap and bid adieu to the festival!
For more such content, follow @socialketchupbinge