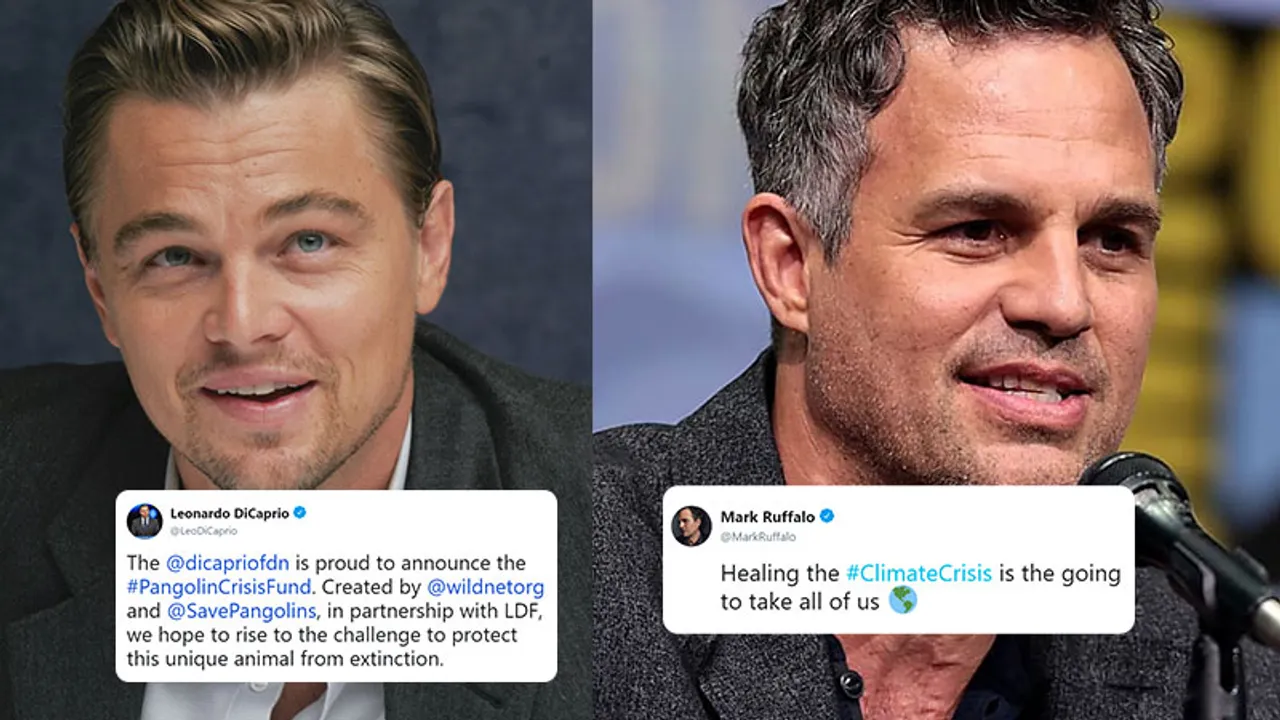 While we are busy scrolling through on our screens, looking at which celebrity said what, what is the latest fashion trend, who got into a controversy over something inconsequential, we forget to look at something that really needs our attention –environmental degradation.
The earth is facing the brunt of our mistakes (that we are still making) and before you will know what has hit you, we will lose everything that is good and essential for the human race. Fortunately, we have a few celebrities that are using their power, status, and money in the right direction and are working for a better environment. Tony Stark, a.k.a, Robert Downey Jr. said in a conference recently that he plans to use Artificial Intelligence and advanced technology to help save our planet; his new initiative is called 'Footprint Coalition'.
Robert Downey Jr.'s "Avengers" character Tony Stark is a genius bent on using technology to save the world.

Downey took the stage Tuesday at Amazon's re:MARS artificial intelligence conference to announce his real-life plan to do just that. https://t.co/IlLo0XgXdf

— ABC News (@ABC) June 6, 2019
"Between Robotics and Nanotechnology, we could clean up the Planet significantly, if not totally, in 10 years" - Robert Downey Jr

Robert is out here bringing Tony Stark to life, A legend. pic.twitter.com/tC5ApHbWAH

— Robert Downey Jr UK (@RDJUKNews) June 6, 2019
Here are some celebrities you should follow (if you're not already) to understand the gravity of this imminent danger:
1. Leonardo DiCaprio: The Titanic heartthrob is one of the most active celebrities when it comes to saving the planet. In 1998, he launched the Leonardo DiCaprio foundation to help save the most endangered animals and places.
The @oneearth model shows pathways to limiting the world's warming at 1.5 degrees. We can't have a safe climate without reforestation and agroforestry. Read more: https://t.co/olThlGGPSn via @NexusMediaNews #OneEarth pic.twitter.com/WoxaiQKML7

— Leonardo DiCaprio (@LeoDiCaprio) May 28, 2019
The sunken warships of Bikini Atoll have become unexpected arks of #coral biodiversity. Read about the #Reefscape team's groundbreaking discoveries via @greg_asner @ASU_GDCS @asnerlab @dicapriofdn. https://t.co/negcmdQK3Q

— Leonardo DiCaprio (@LeoDiCaprio) May 25, 2019
The @dicapriofdn is proud to announce the #PangolinCrisisFund. Created by @wildnetorg and @SavePangolins, in partnership with LDF, we hope to rise to the challenge to protect this unique animal from extinction. https://t.co/bwUWNl7i2d

— Leonardo DiCaprio (@LeoDiCaprio) May 24, 2019
Focusing on never-before-seen solutions to the environmental crisis, #IceOnFire, which I produced and narrated, premieres June 11 at 8PM on @HBO. pic.twitter.com/My1hldLBHg

— Leonardo DiCaprio (@LeoDiCaprio) May 22, 2019
2. Mark Ruffalo: One of the reasons we love Hulk, is his support for environmental protection. He is strongly against Keystone XL pipeline, and the effects of the oil and gas industry on the environment.
It's not just about the environment. It's about justice. @AOC, @NydiaVelazquez, & more agree: it's time to #PassTheCCPA. There are 2 weeks left in the NY legislative session.

Let's pass the Climate & Community Protection Act, @NYGovCuomo ➡️ https://t.co/UH2RKT97sD https://t.co/1otaHss4ME

— Mark Ruffalo (@MarkRuffalo) June 4, 2019
Conservation starts in our own backyards. Let's re-plant coastal ecosystems! Wetlands absorb carbon, protect us from storms, and cost less than seawalls ? Check out the op-ed on the #UrbanOcean written @ayanaeliza, the founder of the @UrbanOceanLab ⬇ https://t.co/5DrBsXzBAj

— Mark Ruffalo (@MarkRuffalo) May 28, 2019
Proud to support @turtletweets on #WorldTurtleDay for fighting to protect wild land, wildlife, our climate, & to conserve some of the world's most endangered & spectacular species: turtles! ?

To donate and find out more about their campaign ➡️ https://t.co/JJHMlsxQP2 pic.twitter.com/O2zYUZjncx

— Mark Ruffalo (@MarkRuffalo) May 23, 2019
3. Dia Mirza: The beautiful diva is the UN Environment Goodwill Ambassador and is one of the most vocal Indian celebrities on this issue.
Start with making your organisations zero waste and single use plastics free. Reduce consumption of air conditioning, encourage personal action from all to segregate waste at home, encourage the use of public transport. #SDGsImpactChat #BeatAirPollution https://t.co/PF3dZRDZvP

— Dia Mirza (@deespeak) June 5, 2019
Trees are natural air purifiers and sequesters of carbon! As we celebrate #WorldEnvironmentDay with action - planting indigenous trees, we hope that more people will come together to #BeatAirPollution. @UNEnvironment @UNinIndia @SDG2030 #SDGImpactChat #ClimateAction #BreatheLife pic.twitter.com/4mAk9OvY6L

— Dia Mirza (@deespeak) June 5, 2019
4. Ellie Goulding: This melodious singer has been one of the most active members of the #BeatAirPollution movement.
I won't give up and neither will you. Remember nobody can do everything but everyone can do something. Take action with me and @unenvironment
Let's #BeatAirPollution pic.twitter.com/LwdOedrGrC

— Ellie Goulding (@elliegoulding) June 5, 2019
Join the mask challenge and #BeatAirPollution https://t.co/QQS8vLeyEf @UNEnvironment pic.twitter.com/yYVE5VfUL9

— Ellie Goulding (@elliegoulding) June 4, 2019
5. Shailene Woodley: The Divergent series star has been very outspoken about the importance of recycling and the co-founder of the foundation 'All It Takes' that teaches young people to work more towards environment protection.
??????Kids striking against climate change: "We're fighting for our lives" - National Geographic https://t.co/81XhFfxXHP

— Shailene Woodley (@shailenewoodley) March 16, 2019
unless we want more wildfires like what we've witnessed in california, more hurricanes like what puerto rico, florida, and texas have endured, and unless we're willing to "wait and see"… https://t.co/RCR6gVH0VU

— Shailene Woodley (@shailenewoodley) December 4, 2018
6. Beyonce: The youth icon and pop star has a charity called 'BeyGood' that raises awareness and funds about the needs of the planet.
Mothers in Burundi want to provide clean, safe water for their children. Let's help them, together: https://t.co/zxxNOtfq2Z #BEYGOOD4BURUNDI pic.twitter.com/olLsohhvvB

— BEYONCÉ (@Beyonce) June 30, 2017
Today is World Humanitarian Day.
Another Day to #Beygood#TheWorldNeedsMore http://t.co/FVEZo9dzpA

— BEYONCÉ (@Beyonce) August 19, 2013
7. Adrian Grenier: The actor is UN Environment Goodwill Ambassador, co-founder of a foundation called 'Lonely Whale' and has supported 19 charities.
I'm ditching single-use #plastic water bottles FOREVER. This is my pledge to join @LonelyWhale and #HydrateLike a MOTHER! No single-use plastic.

Join me in the movement for #CleanSeas ? https://t.co/GzvmnE8kIR @UNEnvironment pic.twitter.com/9sAyxlR10a

— Adrian Grenier (@adriangrenier) June 4, 2019
It's #WorldWildlifeDay ?????join me in celebrating this year's theme of #LifeBelowWater with the #WildForLife and #CleanSeas campaigns.

My kindred marine species is a sawfish. ? Join me and find yours here: https://t.co/k3Q0jatuKy@UNEnvironment pic.twitter.com/7fmmQDB4n8

— Adrian Grenier (@adriangrenier) March 3, 2019
8. Gisele Bundchen: This super model was named the Greenest International Celebrity in 2011 and is also member of the Rainforest Alliance.
Air pollution is a global emergency affecting everyone. It's a silent killer with approximately 7 million people worldwide dying prematurely every year from air pollution.
To help #BeatAirPollution I'm committed to… https://t.co/TXxZgLlnws

— Gisele Bündchen (@giseleofficial) June 5, 2019
UN's report stated that roughly 1 million plant and animal species are on the verge of extinction due to human activity and that has disastrous implications for all of us. An analogy that Noah Greenwald used to… https://t.co/5zmHVhv58o

— Gisele Bündchen (@giseleofficial) May 22, 2019
Have you ever thought of not having access to fresh clean water? Today, an estimated 1.2 billion people live in areas with water scarcity and over 4 billion are already experiencing… https://t.co/FsoVroqkl7

— Gisele Bündchen (@giseleofficial) March 22, 2019
9. Arnold Schwarzenegger: Apart from being extremely talented at what he does, he is also very vocal about the climate crisis and what we can do.
"We aren't asking you to flip the switch overnight," @Schwarzenegger says. "We are asking you to stop lying to the people about climate change and pollution, and to offer them solutions instead of bullshit."

— Edward-Isaac Dovere (@IsaacDovere) May 28, 2019
Many studies of the recent times have shown that there are a number of cities that will drown, animal and bird species that will go extinct, and there might not be a habitable planet left for the future generations. The climate is truly facing a crisis because of us. And if we can perish, we can also revive it.
It is high time we join hands and work towards saving the only planet that we can call home. It is high time we 'heal the world, make it a better place –for you and for me and the entire human race'.