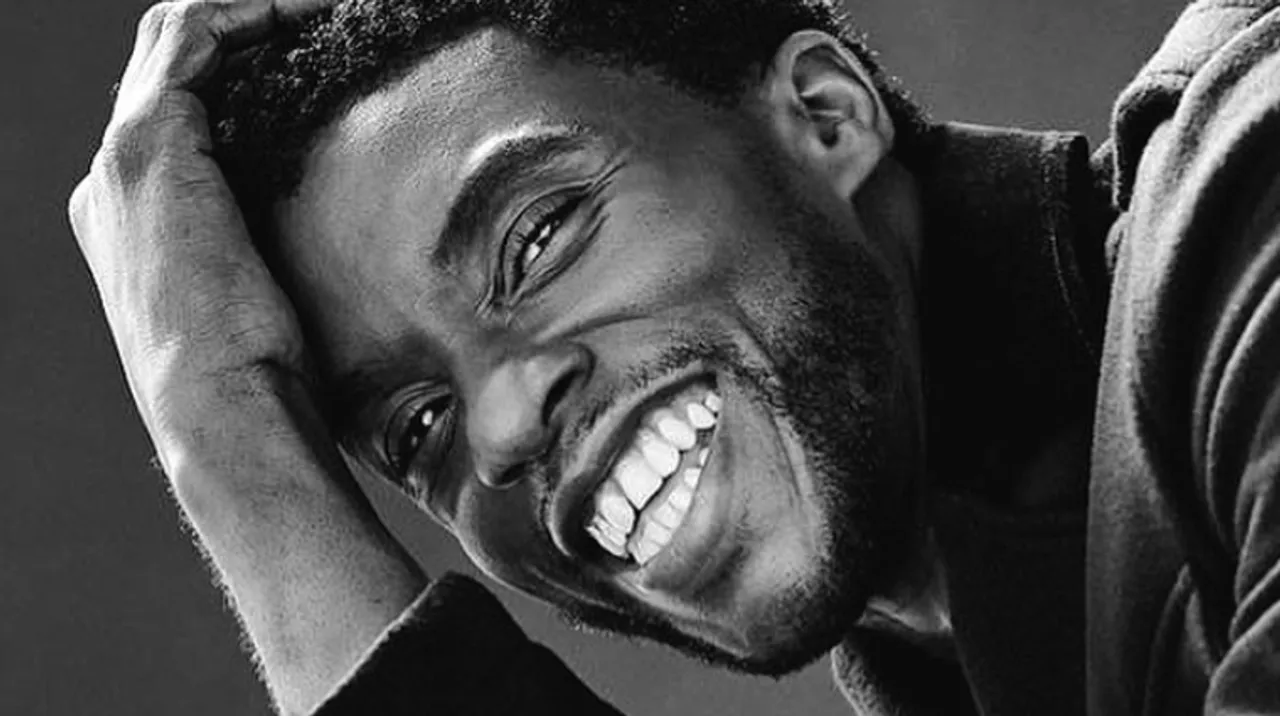 The famous Blank Panther actor, Chadwick Boseman passed away on Friday due to colon cancer at the age of 42.
Fans and well-wishers across the globe were devastated after the news of the Get On Up star passing away broke on Friday. Chadwick Boseman was a talented young actor who has been part of some great movies like 42, Da 5 Bloods, Marshall and was one of the most popular MCU characters too.
Boseman died at his home in the Los Angeles area with his wife and family by his side, his publicist Nicki Fioravante told, The Associated Press. The actor was diagnosed with colon stage III cancer four years ago and had never spoken publicly about the same.
He was a true fighter who worked through and gave the best of his works while undergoing chemotherapy. Movies like Da 5 Bloods, Marshall, August Wilson's Ma Rainey's Black Bottom and several more were filmed in-between his treatment. 
The actor who had played characters based on real-life individuals also ruled the fictional world as the King of Wakanda and became a major part of the Marvel Cinematic Universe with Black Panther. With its black-led cast, the movie was rich in culture and also became one of the top-grossing Marvel movies at the time. He became the icon for many children of colour across the world. His legacy shall continue to inspire fans all over.
People share their love for the Chadwick:
It's time, my son. You will come home at last ... and you can meet me. "

Thanks for everything, Chadwick Boseman (2018)#WakandaForever pic.twitter.com/9vph7V0ozw

— Younis (@1998_younis) August 29, 2020
#WakandaForever bruh this shit got me going like a fucking kpop stan but I really just don't care pic.twitter.com/0uMGiKrySe

— 🌙Wakanda Forever!🌙 (@MrSukiSan) August 29, 2020
These are some truly dark times we are living in. Another beautiful soul gone too soon. Tomorrow isn't promised, please be compassionate, for everyone is fighting a battle we know nothing about. Rest in peace, superhero. #WakandaForever 💔😔 pic.twitter.com/Jd2KZJhDi0

— Team Sidharth Shukla (@SidsEndeavours) August 29, 2020
This man gave us black Panther and Avengers, while battling cancer.
😢
The biggest cultural moment in cinematic history. Forever grateful ❤️🙏🏾
Rest easy King. #WakandaForever pic.twitter.com/QfGx2RQFll

— Ghost (@meven_07) August 29, 2020
This little scene with Chadwick Boseman has more meaning now#WakandaForever pic.twitter.com/eyrnfqENj0

— Oni (@TheOtakuGamer_3) August 29, 2020
"To be young, black and gifted..."

Thank you. We miss you already. #WakandaForever #RipChadwickBosman pic.twitter.com/D9q8IzGavM

— The Grey Area Podcast (@GreyAreaPod) August 29, 2020
RIP to this great actor and motivator Chadwick Boseman. Hollywood and the world will miss you. #WakandaForever pic.twitter.com/gyaSGfTOvm

— Ubong Finkak 🇳🇬 (@UFinkak) August 29, 2020
They're in heaven celebrating their success & reminiscing about all the good times right now. I honestly cannot believe this. RIP Chadwick Boseman. #WakandaForever pic.twitter.com/6naPYL2jDl

— NaUghtY cHorA 😎 (@sahilrja232) August 29, 2020
Our hearts are broken our thoughts are with Chadwick Boseman's family. Your legacy will live on forever. Rest in Peace#WakandaForever pic.twitter.com/wfVPENdSVF

— lunita|7 (@versacevelezxx) August 29, 2020
it is truly sad we have lost Chadwick Boseman today. he was truly remarkable, a better human then the vast majority. you will be missed greatly. i do not feel i am capable of drawing humans well enough to honor him so here is a panther instead. #WakandaForever #RIPBlackPanther pic.twitter.com/utsbVnTlJd

— CopperIrisArt (@HannaEPape) August 29, 2020
Literally was talking with @xofergie about the impact of the MCU on our culture when my husband texted me that Chadwick Boseman had passed. I can't even comprehend the strength, sacrifice, dignity, and compassion that this man showed to all. #WakandaForever pic.twitter.com/GJp9iAtL3Q

— Victoria Blaze (@victoriablaze7) August 29, 2020
His legacy will live on 'FOREVER'.