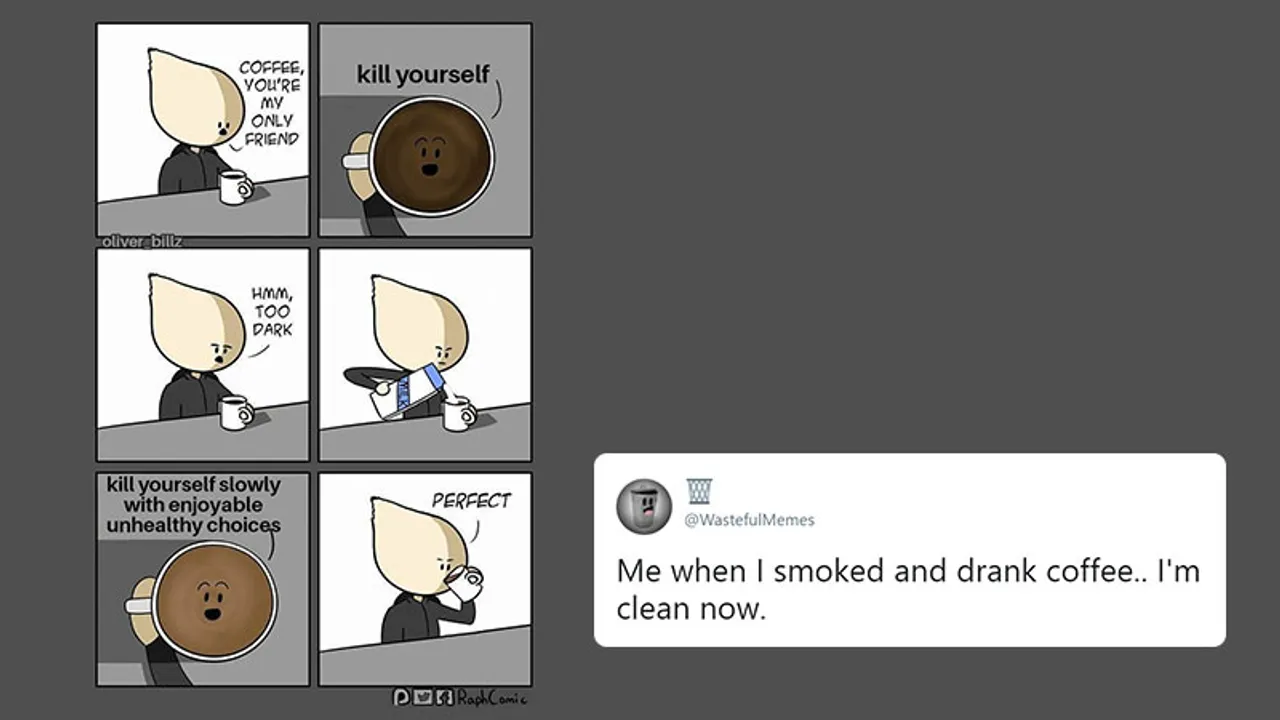 Coffee and humour are perhaps the most commonly sought after survival tools. Coffee memes are thus the weapons in your armoury. Let's unleash them, shall we?
There is nothing like a cup of freshly brewed coffee to spice up a morning, no matter you are looking forward to a dreadful morning or trying to get over a terrible hangover. From the first sip to the last drop, the elixir refreshes every nerve ending you own. When such a concoction is mixed with humour, can there be a better way to begin your day?
Just a true friend
Me when I smoked and drank coffee.. I'm clean now. pic.twitter.com/RIBowTnfi3

— ? (@WastefulMemes) April 8, 2019
Do you too?
Walking up to the counter at a new coffee place

https://t.co/Tmhdgyh82K

— chloe (@ChloeQueues) April 5, 2019
I, Me, Myself
Im Pikachu coffee meme today pic.twitter.com/hOBy27rYi2

— Danni ? (@queen0fpuns) April 4, 2019
Politically correct, anyone?
We got a new coffee machine in the office the other day. Already made a meme of it. pic.twitter.com/K1oqMYwOSk

— Tiny ?FWA Fiasco (@KeyyOtter) April 3, 2019
Same, friend, same.
when the 17th cup of coffee doesn't give me energy and fills me with more of the same pure uncut anxiety as the first 16 cups pic.twitter.com/yrdLPRhErT

— Matt Bellassai (@MattBellassai) January 10, 2019
NOOOOOO!!!
I know I'm getting old when the first thing I do when waking up, is pour a cup of coffee and put on the news....

?? pic.twitter.com/5P3zZognnR

— Santana??? (@SantanaLAX) December 13, 2018
Oh, the horror!
When u forget about a cup of coffee and the first sip is getting too close to lukewarm pic.twitter.com/VK2JAQgoxv

— Fireball Roberts ? (@peterberkes) October 24, 2015
We have all had *those* days
You know it's a busy day when you're brought over a 2nd cup of coffee before you've had time to drink the first! pic.twitter.com/IHM78C3CLe

— Ben Ebbrell (@Bebbrell) July 16, 2014
Mature thoughts only
You know you are getting old when more interested in the first cup of coffee tomorrow than the last beer tonight. pic.twitter.com/8kqbyNfcEE

— Leadfeet (@MyLeadFeet) September 22, 2013
That got real too fast
One cup of coffee isn't nice, it's essential. Once you surpass the first cup, that's when things really start lookin up.

— Justin Wolf (@Theprancingwolf) July 2, 2014