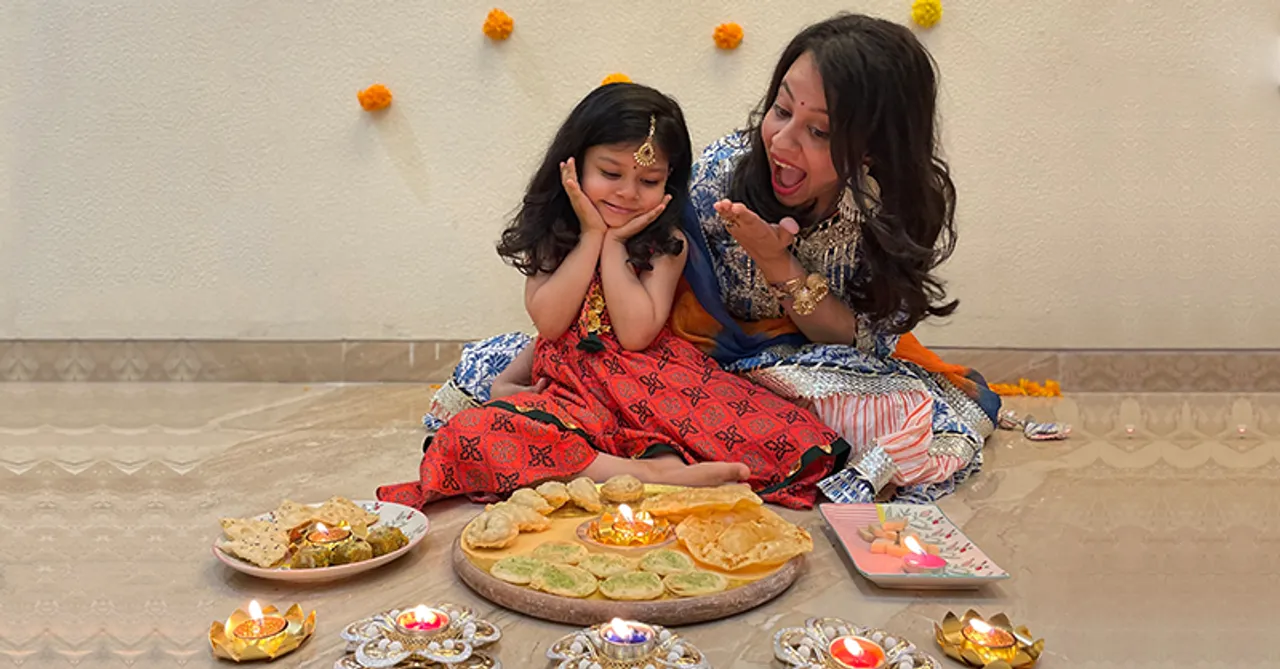 The creative force behind @adventuresofshanaya, Dhara Dharmil Vora is an ex-pre-school teacher, mom, and wife! Today, she shares recipes of some of her favourite Diwali snacks that she's grown up gorging on!
In most Indian homes, Diwali starts way before the actual festival! It begins with cleaning every nook and cranny of our homes weeks prior to the Festival of Lights, shopping for new clothes and gifts for friends and family, but most importantly, it begins in our kitchens by making those all-important Diwali snacks and sweets. If you've not eaten a ton of Diwali farsaan and put on a respectable amount of weight, have you even Diwali-ed? 
When I was growing up, making these sweets and snacks was a social activity of sorts with my grandmom and mom roping in my brother and me to help. Though my motivation to join in was the opportunity to sample everything fried,  baked, roasted, and steamed when sometimes when mom wasn't looking, I grew to love the process of making these yummies too!
From crispy chakris to decadent ghughras, rich satpadis to spicy chorafallis, our Gujarati kitchen would become a laughter-filled assembly line of sorts around this time of the year. Big stainless steel dabbas would be packed to the brim with these goodies, most of which have long shelf lives and can be enjoyed for weeks. If we'd make something that was meant to be offered as prasad to the gods first, I  would have to resist my temptation to sneak a bite. Sometimes, I'd manage to wrangle out a piece anyway and would hastily eat it under the dining table before an adult would catch me in the act. The aromas that would fill the house all through the month with the mava roasting, sugar syrup boiling or of the rich ghee in which the satpadis would be frying, would make us salivate all day long. 
Of all the sweets, ghughra has always been my favorite. It's a traditional fried pastry filled with nuts, cardamom, and mava, and fried in ghee. Not only does it taste divine but it also looks supremely pretty with these little folds lining its semi-circular shape. Now, to fold the dough and pinch it into these pretty patterns is an art, and it's one I'm still trying to master. Here's how you can make them!
Ingredients for Ghughra

For stuffing:
1 cup mawa
3/4th cup sugar
1 cup crushed cashews, almonds and pistachios
1/2 tbsp cardamom powder and jaifal
2 tbsp ghee
For the dough:
1 1/4th cup maida
1 tbsp ghee
water (as and when required)
Process:
Add Mawa and saute it for a minute over medium heat till it changes its color slightly. Remove it in a big mixing bowl and keep it aside.

Add grounded dry fruit, sugar and cardamom powder. Mix it very well. Let the mixture cool down completely.

Take one cup of mava and add 4 cups of grounded dry fruit powder
Take one dough ball and roll it about the size of a puri. Place the stuffing in the middle of the rolled puri. Close the puri in a half-moon shape and keep twisting the ghughra around the edges.
Another Diwali favorite would be nimki, a diamond-shaped savory snack best had with a cup of tea. With Shanaya, I hope to pass on not just my love for stuffing my face with these heavenly snacks but also the fun attached to make them ourselves in our own kitchens. They might take considerable time and effort but I hope this tradition is not lost on her when she grows up. Here's how you can make them!
Ingredients for Nimki:

1 cup maida
Salt according to taste
1 tbsp black til
3 tbsp oil
Process:
Add salt in maida, then add some black til and add some oil in the maida to make it soft.
Make a hard dough and make some small balls out of it.

Make a very thin roti and then cut it in half, fold it into a triangle shape, and deep fry it.
My secret ingredient: Add 1/2 cup of ghee in oil when you deep fry it.
Now, Shanaya and I are going to sneak in one more ghugra when no one is looking and relish it without guilt and with lots of shared love and laughter. This Diwali, hope you're redefining traditions with yours too!
Also Read: Here's what you can wear this Diwali ft. Isha Borah