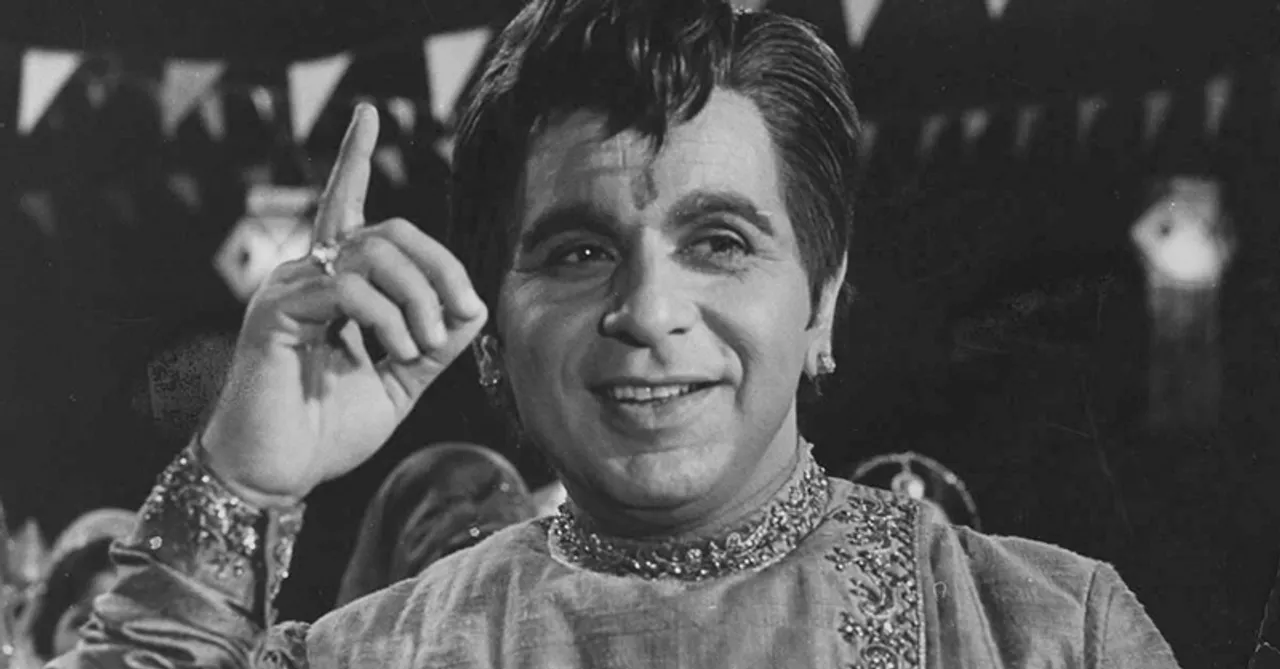 Dilip Kumar passed away today, at the age of 98 due to a prolonged illness and was laid to rest with full state honours.
We were first introduced to Dilip Kumar in 1944 as Jagdish in Jwar Bhata and while his debut film was a flop, this superstar only went on to give us one iconic performance after the other in Kranti, Ram aur Shyam, Shakti, Andaz, Qila, Babul, Mughal-E-Azam, Mazdoor, Devdas, Mashaal, honestly, this list is endless. Ideally, the first Khan of Bollywood, Muhammed Yusuf Khan aka Dilip Kumar lit up the screen with his presence and captivated generation after generation with his pauses and eyes that spoke a thousand words.
His presence alone made songs like 'Madhuban Me Raadhika Naache Re' and 'Suhana Safar Aur Yeh Mausam Haseen' so popular that 90's kids have grown up listening to these. Before he kickstarted his acting career, Yusuf Sahab worked as a scriptwriter in Bombay Talkies in 1942. A man known for his attention to detail and a soft-spoken voice not suited for the big screen, this legend was the first actor in Bollywood to receive the Filmfare Award for Best Actor. He went on to receive this award eight times in the span of his career. It's true! Today marks the end of an era, one where we breathed the same air as this iconic man we call Dilip Kumar.
Remembering Dilip Kumar, here's what people had to say!
And era has gone
His name is #DILIPKUMAR
He Will be remembered in golden pages in the history of indian cinema for centuries to come 🎥
RIP saheb 🙏🏽 pic.twitter.com/nf82Uj6deL

— Subhash Ghai (@SubhashGhai1) July 7, 2021
T 3958 - An institution has gone .. whenever the history of Indian Cinema will be written , it shall always be 'before Dilip Kumar, and after Dilip Kumar' ..
My duas for peace of his soul and the strength to the family to bear this loss .. 🤲🤲🤲
Deeply saddened .. 🙏

— Amitabh Bachchan (@SrBachchan) July 7, 2021
— Anil Kapoor (@AnilKapoor) July 7, 2021
How could one man be both method actor and magician?

Ah, the immaculate restraint of Dilip Kumar. His minimalist performances, his casual effortlessness. He changed our cinema by allowing it to take a breath.

Alvida, Yusuf saab. You taught our leading men to lead. pic.twitter.com/VVFfhpww4s

— Raja Sen (@RajaSen) July 7, 2021
#Dilipkumar was family , a pillar of strength, a legend in his field and an amazing human being. I have lost another father today. May his soul rest In peace pic.twitter.com/8cj7GN8E4z

— Priya Dutt (@PriyaDutt_INC) July 7, 2021
You were my childhood hero - the sole inspiration for me to get into films. From an Actor to an Institution you effortlessly crossed into Immortality decades ago. Today as you start your final journey let me say - never ever will there be another like you Sir. #DilipKumar pic.twitter.com/I09DYIlgIj

— Raj Babbar (@RajBabbarMP) July 7, 2021
The legend lives on!! There is and there will always be a part of #DilipKumar Saab in every Indian actor for generations to come! His performances were like magic. Thank you Sir for those amazing moments i could spend with you! You taught me so much about life, living & acting! pic.twitter.com/edlguQez9i

— Anupam Kher (@AnupamPKher) July 7, 2021
#Legend #Institution but most importantly role model for actors across seven decades, #DilipKumar Saab passing away is a big loss. Condolences to Sairaji & family . #RIP pic.twitter.com/v4cFvxhf14

— Boney Kapoor (@BoneyKapoor) July 7, 2021
RIP to the OG legend!
Yusuf Saab's story was as dramatic & filmy as a movie.. a shining light goes out and takes with it some of the best bits of what #Bollywood was… 🙏🏽#DilipKumar saab 💔 pic.twitter.com/Kbk7mBvqQ2

— Swara Bhasker (@ReallySwara) July 7, 2021
Dilip Kumar Ji will be remembered as a cinematic legend. He was blessed with unparalleled brilliance, due to which audiences across generations were enthralled. His passing away is a loss to our cultural world. Condolences to his family, friends and innumerable admirers. RIP.

— Narendra Modi (@narendramodi) July 7, 2021
Dilip Kumar summarised in himself a history of emerging India. The thespian's charm transcended all boundaries, and he was loved across the subcontinent. With his demise, an era ends. Dilip Saab will live forever in the heart of India. Condolences to family and countless fans.

— President of India (@rashtrapatibhvn) July 7, 2021
To the world many others may be heroes. To us actors, he was The Hero. #DilipKumar Sir has taken an entire era of Indian cinema away with him.
My thoughts and prayers are with his family. Om Shanti 🙏🏻 pic.twitter.com/dVwV7CUfxh

— Akshay Kumar (@akshaykumar) July 7, 2021
Rest in Peace Dilip Kumar ji!
There will never be another like you.

Your contribution to Indian cinema is unparalleled and you'll be missed dearly. My heartfelt condolences to Saira Banu ji & the family. 🙏🏼 pic.twitter.com/9yw80eTegZ

— Sachin Tendulkar (@sachin_rt) July 7, 2021
Crestfallen at the passing of a beacon in cinema.Deeply anguished to learn about the demise of veteran actor Dilip Kumar ji.His inimitable style of acting will remain engraved among film lovers for generations. My heartfelt condolences to Saira Banu,his family & millions of fans.

— Mamata Banerjee (@MamataOfficial) July 7, 2021
Thank you for giving us iconic performances that go on to be timeless for each of us! RIP!