This weekly roundup on entertainment will catch you upto speed with everything that happened, from Dune at VFF to Aparna Sen's The Rapist at BIFF.
This week's entertainment roundup covers from Dune film receiving an 8-minute at Venice film festival to Aparna Sen's film The Rapist entering the Busan film festival. Deepika Padukone posts a fun quirky video behind the scenes as Angelina Jolie opens about her marriage with Brad Pitt. Alia Bhatt and Ayushmann Khurrana both wrap up the shoots of their current respective film while the quite accredited French actor Jean-Paul Belmondo passes away aged 88. Villanelle from Killing Eve AKA Jodie Comer is all set to star opposite Joaquin Phoneix in the film 'Kitbag' while Mrunal Thakur joins Aditya Roy Kapur in Hindi remake of Tamil film 'Thadam'.
All of this and much more are just here at this weekly roundup!
'Dune' gets an 8-minute standing ovation at Venice Film Festival
Director Denis Villeneuve's sci-fi film 'Dune' received an eight-minute-long standing ovation during its world premiere at the Venice Film Festival, a report by The Hollywood Reporter said. Oscar-winning Chinese director Chloé Zhao, a jury member at the film festival, rushed through the aisles and hugged Villeneuve. The movie stars Timothée Chalamet, Zendaya and Jason Momoa among others.
Aparna Sen's 'The Rapist' to premiere at Busan Film Festival
National Award-winning director Aparna Sen on Monday announced that her film 'The Rapist' will have its world premiere at the 26th Busan International Film Festival. Sen also revealed that 'The Rapist' has been nominated for the Kim Jiseok Award. The film, which features Konkona Sen Sharma and Arjun Rampal, is a part of the 'A Window on Asian Cinema' section.
Never thought my life's story could be shown on screen: Shankar Mahadevan
Composer-singer Shankar Mahadevan spoke about the documentary film based on his life, titled 'Decoding Shankar' that won two awards at the Cannes World Film Festival. When asked the composer if he saw this coming, Mahadevan said, "I never thought that my life's story could be captured in a book or on the screen in a film."
French actor Jean-Paul Belmondo passes away aged 88
French actor Jean-Paul Belmondo passed away at the age of 88 in his Paris home, confirmed his lawyer's office on Monday. The actor, who was nicknamed Bébel by audiences, was one of the country's biggest box-office stars in the 1960s and 70s. Belmondo was considered the leading face of the French New Wave after the critical and commercial success 'Breathless'.
Jason Momoa shares the first look of his new costume for 'Aquaman 2'
Actor Jason Momoa recently unveiled the first look of his new costume for his upcoming film 'Aquaman and the Lost Kingdom', the sequel to the 2018 film 'Aquaman'. "Second round. New suit. More action," he wrote while sharing the picture. Actress Amber Heard will reprise her role as Mera in the upcoming sequel, which is being directed by James Wan.
I get scripts where it's written 'Tripathi's signature nod here': Pankaj Tripathi
On the occasion of his 45th birthday, actor Pankaj Tripathi spoke about the memes made on his signature neck movement in 'Mirzapur'. He said, "People making memes are very creative. They observe small things and give it a whole new interpretation." "I got a script for a television commercial…where it was mentioned 'Tripathi's signature nod here'," he added.
'Killing Eve' actress Jodie Comer to star opposite Joaquin in 'Kitbag'
'Killing Eve' actress Jodie Comer will star opposite Oscar-winning actor Joaquin Phoenix in Ridley Scott's 'Kitbag'. "I just jumped at the chance to work with Ridley and his team…and the idea of working with Joaquin, who's someone who I hugely admire," Comer said. She'll play Josephine alongside Phoenix's Napoleon Bonaparte in the historical drama about the military leader and emperor.
Film shoots are not always a smooth thing, there are tough days: Deepika
Deepika Padukone on Saturday shared a video of herself talking about her favorite thing about a shooting day. She said, "I look forward to meeting the team I'm going to work with." "Especially on film, because it's not always…a smooth thing. Sometimes, you've tough days," she added. "But…when you've a fun team…you kind of go through a day," said Deepika.
Saif Ali Khan on Vikram Vedha remake and working with Hrithik Roshan
The Hindi remake of Tamil film 'Vikram Vedha' is all set to go on floors in October, Saif Ali Khan said. The actor, who'll be seen alongside Hrithik Roshan in the remake, also spoke about his co-star and said, "Hrithik is…a phenomenal actor…and dancer. He's a general force of cinema…so I've to get up early and pull up my socks."
Actress Jennifer Lawrence expecting her first child with husband Cooke Maroney
Oscar-winning actress Jennifer Lawrence is set to welcome her first child with her husband, art gallery director Cooke Maroney. A representative for the 31-year-old actress, who will next be seen in Adam McKay's film 'Don't Look Up', confirmed the news to People magazine on Wednesday. Jennifer and Cooke tied the knot on October 19, 2019.
Will miss shooting for 'Doctor G': Ayushmann as he wraps the shoot
Actor Ayushmann Khurrana has wrapped up the shoot of his upcoming film titled 'Doctor G'. He took to Instagram Stories on Saturday to share the news and wrote, "Will miss shooting for 'Doctor G'." Directed by Anubhuti Kashyap, the film will also feature actresses Rakul Preet Singh, Shefali Shah and Sheeba Chadha.
Big Bang Theory star Cuoco, Karl Cook announce separation after 3 yrs
Hollywood actress Kaley Cuoco, known for 'The Big Bang Theory', and her husband Karl Cook have announced their separation after three years of marriage. "Despite a deep love and respect for one another, we've realised our current paths have taken us in opposite directions," they said in a joint statement. They further said there's "no anger or animosity" between them.
Hrithik Roshan dedicates Teachers' Day to Indian Paralympians
Hrithik Roshan on Sunday took to Twitter to dedicate Teachers' Day to the "unstoppable spirit" of the Indian participants at the Paralympics. Notably, India bagged 19 medals at the Tokyo Paralympics, marking their highest ever tally. "Each…participation, every representative on the field, and the winners gracing the podiums teaches the life lesson to dream, believe and achieve," Hrithik wrote.
Women should refuse to have sex with men to protest abortion law: Bette Midler
Amid controversy over the ban on abortion after six weeks of pregnancy in US Texas, Hollywood actress and singer Bette Midler suggested that women should refuse to have sex with men to protest the law. "I suggest that all women refuse to have sex with men until they are guaranteed the right to choose by Congress," she tweeted. Bette is quite vocal on Twitter over the controversy over the ban on abortion after six weeks of pregnancy in US.
Alia Bhatt wraps up 'Darlings' shoot
Alia Bhatt has finished shooting for her upcoming film titled 'Darlings', which also marks her debut as a film producer. Taking to Instagram on Tuesday, she shared a video showcasing behind-the-scenes stills and clips from the shoot. "It's a wrap!! We've done our best to make a film that we're hoping you'll love! See you at the movies," she wrote.
Fatima Sana Shaikh to star with Vicky Kaushal in 'Sam Bahadur'
Actress Fatima Sana Shaikh has been approached to play a pivotal role in Meghna Gulzar's directorial 'Sam Bahadur' which features Vicky Kaushal in the titular role, as per a report. Reportedly, Shaikh likes the part and the actress and filmmakers are in advanced talks. The film is currently in pre-production and expected to roll early next year, the report added.
Learning from you has been a blessing: Esha to mom on Teachers' Day
On the occasion of Teachers' Day, actress Esha Deol shared some throwback pictures and a note for her mother, actress Hema Malini on Instagram. Esha wrote, "From my first step as a tiny dancer to who I'm today as a mother, it's all because of you. The knowledge…and the discipline I have learnt from you has always been a blessing."
Angelina Jolie opens about her relationship with her former husband Brad Pitt
In an interview with 'The Guardian', actress Angelina Jolie has talked about her relationship with Brad Pitt openly. She feared for the safety of her whole family during her marriage to Brad Pitt. "It took a lot for me to be in a position where I felt I had to separate from…father of my children," she added about their divorce. The duo are battling over custody of their children. Angelina Jolie also revealed that she fought with him when he worked with convicted rapist producer Harvey Weinstein in the 2009 film 'Inglourious Basterds'. The actress said she was 21 when Weinstein allegedly attempted to assault her but she managed to escape. "I never…worked with him again. It was hard for me when Brad did," Jolie added.
I wasn't the first choice for the film: Anil Kapoor on 20 yrs of Nayak
As 'Nayak: The Real Hero' completes 20 years of its release on September 7, actor Anil Kapoor said, he wasn't the first choice for the film. He added, "I pursued Shankar (director) after 'Nayak' was passed up by both Aamir Khan and Shah Rukh." "We had no clue it would gain the kind of traction that it did," he added.
Mrunal joins Aditya Roy Kapur in Hindi remake of Tamil film 'Thadam'
Actress Mrunal Thakur will star alongside actor Aditya Roy Kapur in the Hindi remake of the Tamil film 'Thadam'. Mrunal, who will essay the role of a cop in the film, said that playing a cop has always been on her checklist. She added, "When I heard the story…I instantly knew that I needed to be a part of this film."
Actor Riz Ahmed says he lost 10 kg in 3 weeks for the role, says 'won't recommend it'
Oscar-nominated actor Riz Ahmed, speaking to IndieWire, revealed that he lost 10 kg in three weeks to play the role of a British-Pakistani rapper suffering from a degenerative autoimmune illness. "I wouldn't recommend it to anyone. I had a professional dietician working with me, but it was really grueling and took me emotionally to an intense place," he stated.
TV needs more natural acting, less melodrama: Drashti Dhami
Actress Drashti Dhami has said that one of the things that should change about the television industry is that there should be more natural acting and lesser melodrama. "I've done TV for 12 years where I was asked to be loud," the actress said. On OTT, the director asked her to stop doing "too many things", the actress added.
We have stopped celebrating villains in Hindi films: Nikitin Dheer
Actor Nikitin Dheer, who played the antagonist Thangaballi in Chennai Express, said that people have stopped celebrating villains in Hindi films. He added, "I…hope that comes back to life, so that young actors…can aspire to be the next Amrish Puri." "People never treated Amrish ji as villain, they loved him as 'Mogambo'…Villains can be celebrated again," he said.
Rapper Cardi B welcomes second child with Offset
American rapper Cardi B on Monday took to Instagram to share a picture of her second child that she has welcomed with rapper Kiari Kendrell Cephus, professionally known as Offset. The 28-year-old singer-rapper captioned her post, "'9/4/21". The musicians already have a daughter together, Kulture Kiari Cephus, whose age is three.
Sidharth Shukla's family released an official statement after his demise, request privacy
Late actor Sidharth Shukla's family have released an official statement after his demise. "Sidharth valued his privacy…hence we request you to allow our family the privacy to grieve," the statement read. The family also thanked Mumbai Police for their "sensitivity and compassion". "They've been like a shield, protecting us and standing by us every minute of the day," it added.
Kim Sharma makes her relationship with Leander Paes official
Actress Kim Sharma has made her relationship with tennis player Leander Paes official. Kim took to Instagram to share a picture of herself with Paes. She shared the photo with a Nazar amulet emoji and a couple kissing emoji. Kim and Paes' dating rumors began when they were spotted holidaying together in Goa a few weeks back.
You'll be missed: Dwayne Johnson on Michael K Williams' death
Hollywood actor Dwayne Johnson took to Instagram to pen a tribute to actor Michael K Williams after his death, saying that Williams will be missed. "A real pleasure to work with you and call you a friend," the actor wrote. Williams was found dead in his New York penthouse apartment on Monday afternoon due to a suspected drug overdose.
I'm confident Liger will bring audiences back into theatres: Vijay Deverakonda
Speaking about his upcoming film, 'Liger', actor Vijay Deverakonda said that 'Liger' is going to be a full-on big-screen experience. He added, "We've worked very hard on the action sequences. They're like nothing audiences have seen before." "I am confident 'Liger' will bring audiences back into theatres," he said. Directed by Puri Jagannadh, the film also stars actress Ananya Panday.
Feel sensitive about representation: Benedict Cumberbatch on playing a gay man
English actor Benedict Cumberbatch has said that he feels very sensitive about representation, diversity, and inclusion in portraying homosexual roles onscreen. The actor plays a gay cattle rancher named Phil in the upcoming movie 'The Power of the Dog'. Cumberbatch added that his own sexual orientation as a straight man should not stop him from taking on any parts.
Fortunate to have finished 3 new films in the pandemic: Ayushmann
Ayushmann Khurrana, who wrapped up the shoot of 'Chandigarh Kare Aashiqui', 'Anek' and 'Doctor G' amid the COVID-19 pandemic, said, "I'm fortunate to have managed to finish three films in…pandemic." Calling his upcoming films "diverse and disruptive", he said such films trigger conversations about important issues. "I hope they'll contribute towards bringing people back to…theatres," he added.
'Gangubai…', 'RRR' & 'Attack' to release in theatres, clarify makers
Pen Studios has issued a statement refuting reports that 'Gangubai Kathiawadi', 'RRR' and 'Attack' will release on OTT platforms before cinemas. Pen Studios Chairman Jayantilal Gada called the reports "untrue" and said the films will be releasing in theatres. 'Gangubai Kathiawadi', 'RRR' and 'Attack' have been directed by Sanjay Leela Bhansali, SS Rajamouli, and Lakshya Raj Anand respectively.
Marvel Studios' 'Eternals' to release in India on November 5
Marvel Studios' 'Eternals', starring Salma Hayek, Angelina Jolie, and Kit Harington, will hit the theatres in India on November 5. The upcoming film will be available in English, Hindi, Tamil, Telugu, Kannada, and Malayalam. 'Eternals', directed by Oscar-winning filmmaker Chloé Zhao, will also feature Kumail Nanjiani, Richard Madden, and Barry Keoghan, among others.
Sequel to Amitabh, Emraan's 'Chehre' in the works
A sequel to the recently released film 'Chehre', which featured Amitabh Bachchan, Emraan Hashmi, and Annu Kapoor, is in the works. Producer Anand Pandit, while speaking about the sequel, said, "We're looking for a suitable story." "We always planned it as a story that can be taken forward, that's why we've opted for an open ending," director Rumy Jafry said.
Bobby Deol wins Best Actor OTT Star for Aashram at Lions Gold Awards
Bollywood actor Bobby Deol bagged the Best Actor OTT Star award for his web series 'Aashram' at the 27th Lions Gold Awards 2021. The actor was felicitated by the Governor of Maharashtra Bhagat Singh Koshyari. Other winners included actress Debina Bonnerjee who won the Social Media Influencer award, Elli AvrRam for Best Dance Performance, and Krishna Shroff for Fitness Enthusiast.
I love India, it's like being on Mars: Stranger Things actor David Harbour
'Stranger Things' actor David Harbour, speaking about his 2019 holiday in India, said that he loves the country, adding that it felt like being on Mars. "All of India was a highlight for me. I've never been to a country like that," Harbour added. The actor called India a magical land, saying that he can't wait to be back.
Mohanlal teams up with director Shaji after 12 yrs, shoot to begin in Oct
Malayalam actor Mohanlal has collaborated with director Shaji Kailas, after a gap of 12 years, for a new film. He shared the news on Wednesday and said that the upcoming project will go on floors in October this year. Mohanlal and Shaji last worked together in 2009 for the action-thriller film 'Red Chillies'
'Midnight Delhi', 'Hum Bhi Akele Tum Bhi Akele' to screen at IIFFB
Anshuman Jha-starrer 'Midnight Delhi' and 'Hum Bhi Akele Tum Bhi Akele' will be screened at the India International Film Festival of Boston 2021. 'Hum Bhi Akele Tum Bhi Akele' will be the closing night film. 'Midnight Delhi', which has reportedly been stuck with the CBFC for the past year, will also be screened at the Chicago South Asian Film Festival.
'Shang-Chi…' star Liu shares pic from the time he used to model for stock photos
'Shang-Chi and the Legend of the Ten Rings' actor Simu Liu, who used to model for stock photos, shared one of his stock photos on Twitter. It showed the actor laughing while pointing to a laptop screen, which he captioned, "Me laughing at the people who thought we'd flop." Simu is the first Asian to headline a Marvel superhero movie.
'Heeramandi' won't resemble film 'Pakeezah': Sanjay Leela Bhansali
Filmmaker Sanjay Leela Bhansali said that his show 'Heeramandi' won't resemble the film 'Pakeezah' in look or mood. He added, "There is no similarity in the plot except the tawaif (courtesan) angle. 'Heeramandi' would be my tribute to one of my favourite films 'Pakeezah'." "We already have 'Pakeezah'. There is no need for another," Bhansali said.
Phoebe exits 'Mr and Mrs Smith' series due to creative differences
Actress Phoebe Waller-Bridge has reportedly exited the forthcoming series based on the 2005 movie 'Mr and Mrs Smith'. According to Variety, the 'Fleabag' star left the project due to creative differences with fellow star and executive producer Donald Glover, with whom she previously worked in 'Solo: A Star Wars Story'. The team will now recast Phoebe's role in the project.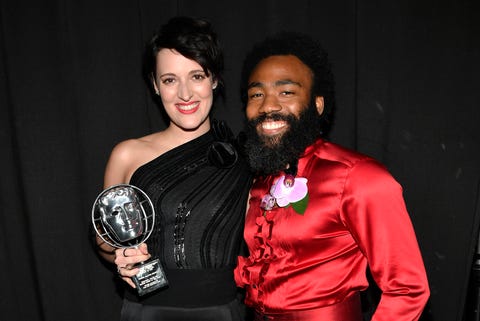 'Emily in Paris' star Lily Collins gets married secretly
'Emily in Paris' actress Lily Collins on Tuesday announced her marriage to American director Charlie McDowell and shared pictures of the secret wedding on social media. "What started as a fairytale, is now my forever reality," the British-American actress wrote. The couple got married on September 4 in Colorado where Collins wore a long-sleeved hooded lace gown by Ralph Lauren.
Hope you are all caught up by now and a Happy Ganesh Chaturthi to you all!
For more entertainment content follow us @socialketchupbinge