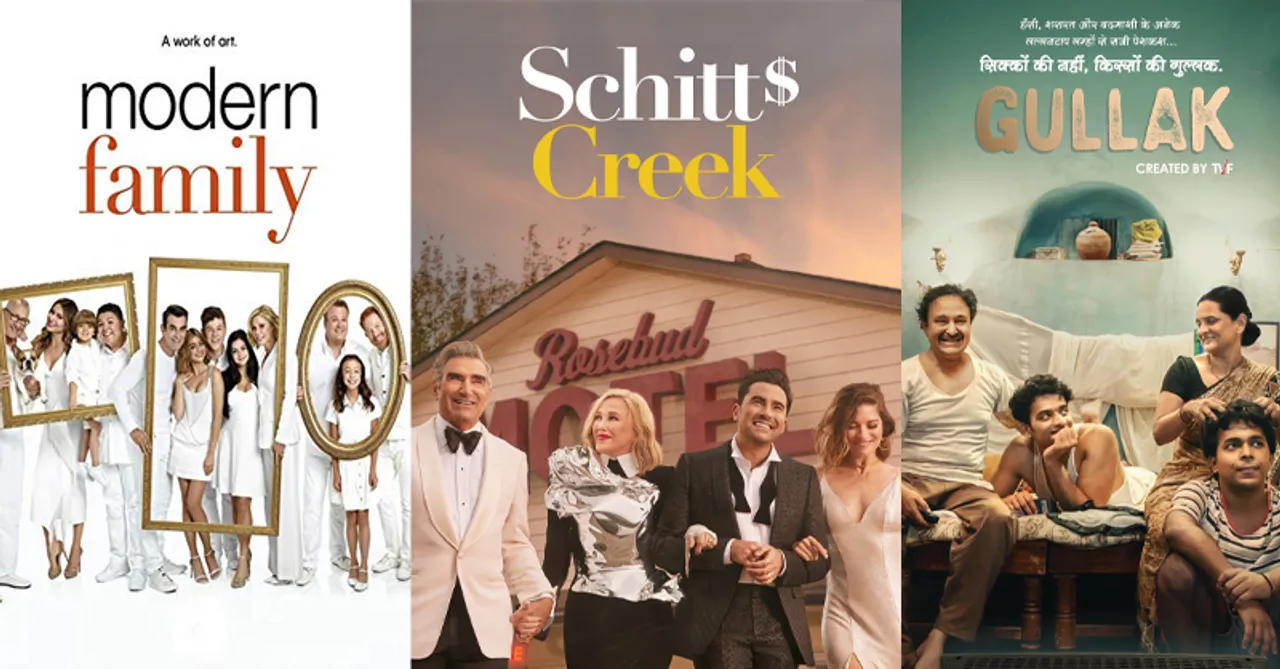 These Dysfunctional family shows on Tv give these shows an edge and make them an interesting watch.
The families on TV shows have to be a tad dramatic and dysfunctional cause if they are squeaky clean then who would want to watch them. Also, these families whether shown in drama, thriller or comedy represent the reality of the families universally all around the world. Every family, in reality, is just as dysfunctional in their own unique ways just as the families in the shows are. And that is why these shows make be an interesting watch. There are countless Dysfunctional family shows seen on TV and OTT, but today we are looking at a handful of the best/most dysfunctional ones.
Take a look at some of these dysfunctional family shows:
Schitt's Creek
A married couple with two grown-up children suddenly go bankrupt and the only remaining asset they have is an ugly small town named Schitt's Creek.
Gullak
Set in the by-lanes of Delhi, this show revolves around the most relatable and disarming tales of the Mishra Family which could be just any other middle-class family in India.
Bridgerton
It's the Regency era in England, and the eight close-knit siblings of the powerful Bridgerton family attempts to find love. Filled with the rules and regulations of society watch their tussle as a family for love.
Mirzapur
Akhandanand Tripathi made millions exporting carpets and business of illegal local guns and became the mafia boss of Mirzapur. His son Munna, an unworthy, power-hungry heir, stops at nothing to continue his father's legacy. While Guddu and Bablu, heirs of another innocent middle-class family get involved in this all.
Dark
In this mystery-drama series two children go missing in a small German town. And its sinful past is exposed along with the double lives and fractured relationships that exist among the four families as they search desperately for their kids. 
This is US
Kevin, Kate and Randall, three siblings, and their parents Jack and Rebecca, go through unique personal struggles at different intervals of life as they try their hand to find happiness and get over a tragedy from their past.
The Umbrella Academy
Six surviving members of the clan out of seven adopted by billionaire industrialist Sir Reginald Hargreeves, who creates the Umbrella Academy work together to solve a mystery surrounding their father's death, but divergent personalities and abilities again pull the estranged family apart, and a global apocalypse is another imminent threat. 
The great Indian dysfunctional family
The series revolves around the relationships between the two brothers and their families, heartbreaks, and breakdowns, and some secrets along the way.
Riverdale
Archie, Betty, Jughead and Veronica with their respective families tackle being teenagers in a town that is rife with sinister happenings and blood-thirsty criminals.
The Crown
The series starts with an inside look at the early reign of the queen, who ascended the throne at age 25 after the death of her father, King George VI. As the decade's pass, personal intrigues, romances, family drama, and political rivalries are revealed that played a big role in events that shaped the later years of the 20th century.
Black-ish
A man tries to get his family to mingle with their neighbors and form a rapport with them in an effort to fit in and find his place in society.
Game of Thrones
Nine noble families wage war against each other in order to gain control over the mythical land of Westeros. All fight to sit on the throne that rules all. Meanwhile, a force is rising after millenniums and threatens the existence of living men.
Breaking Bad
Walter White, a chemistry teacher, pure and simple. He discovers that he has cancer and decides to get into the meth-making business to repay his medical debts. His priorities begin to change when he partners with Jesse, a druggie.
Mad Men
Set in the 1960s, Donald Draper, the creative director at Sterling Cooper in New York, tries his best to maintain a balance between his exceptional professional life and wavering personal life.
The Sopranos
Tony Soprano, an Italian-American mafia head based in New Jersey, struggles to manage his family and criminal life. Hence onfides his affairs to his psychiatrist Jennifer Melfi.
Modern Family
Three modern-day families from California all of them hailing from the same lineage. Different generations try to deal with their kids, quirky spouses, and jobs in their own unique ways, often falling into hilarious situations.
Khichdi
In an eccentric Gujarati joint family, which lives in Mumbai, the idiosyncratic members are only united by their desire to separate from each other.
Sarabhai Vs Sarabhai
Monisha, who gets married into the rich Sarabhai family, lives opposite to her in-laws. However, there is a constant conflict between them due to her middle-class background. And in all this family conflicts bring out the hilarity in situations.
Two and a Half Men
Charlie Harper is a jingle writer who leads a hedonistic, carefree life. Everything changes when his good-for-nothing brother, Alan, and 10-year-old nephew, Jake, move into his Malibu beach house.
Gilmore Girls
Lorelai Gilmore, an independent young woman, shares a close bond with her willful daughter, Rory. However, her relationship with her own mother is strained. Generations of women in a family and their lives.
These families and their lives will definitely make you fall in love with yours more. If you haven't seen any of these dysfunctional family shows, go binge-watch them today.