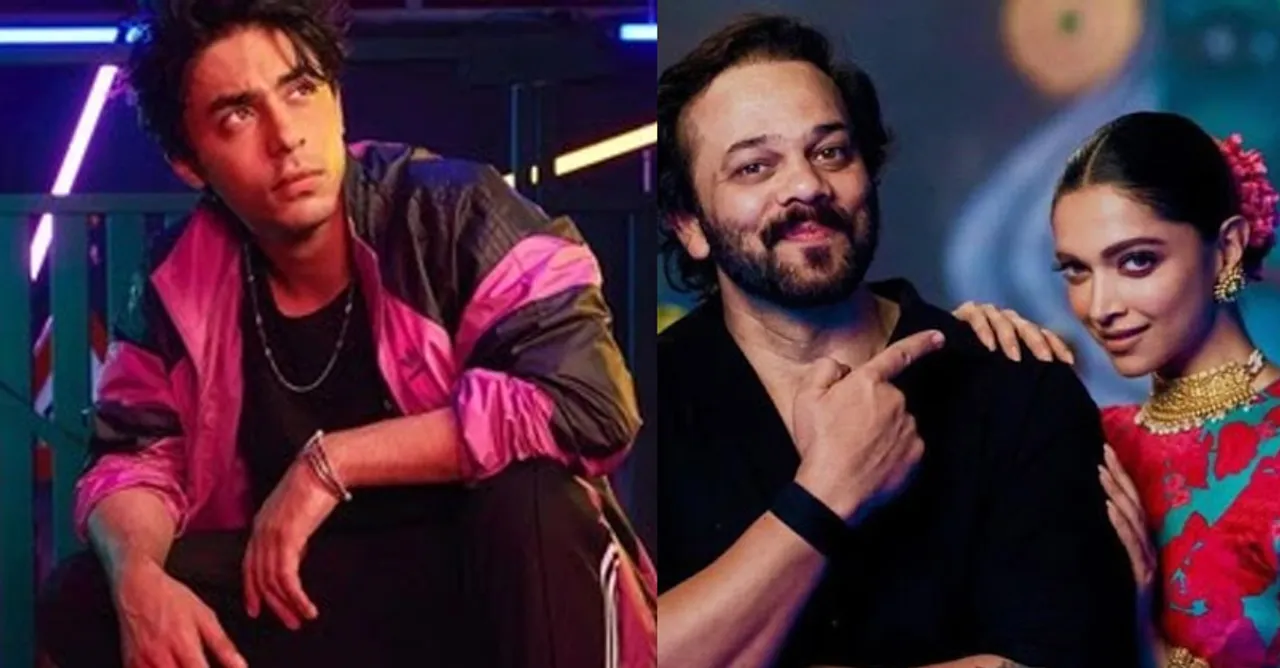 From every project that is currently in the works to new teasers and collaborations, E: Round-Up is here to update you about everything that happened in the entertainment industry this week!
E: Round-Up is back again to bring you highlights from this week. Starting with Shahrukh Khan's son Aryan Khan who is ready to make his directorial debut under his father's production house. If you're a fan of Rohit Shetty movies then get ready for its newest installment coming up that features Deepika Padukone as well. Sara Ali Khan and Aditya Roy Kapur will be seen as a new on-screen pair in Life in a Metro's sequel. Oscar Winning director Bong Joon-Ho's upcoming film starring Robert Pattinson has released its first teaser. Read all of this and more in our E: Round-Up!
Check out what happened throughout the week!
Sara Ali Khan and Aditya Roy Kapur to team up for Anurag Basu's "Metro…In Dino"
Sara Ali Khan and Aditya Roy Kapur will feature in Anurag Basu's upcoming anthology, titled 'Metro...In Dino', which will also feature Neena Gupta, Pankaj Tripathi, Konkona Sensharma and Anupam Kher. The film is a tale of the people and for the people. The film's music will be composed by Pritam.
Aryan Khan announces his directorial debut under Shahrukh Khan's production house
Shah Rukh Khan's son Aryan Khan took to Instagram to announce his directorial debut under Shah Rukh's production house Red Chilies Entertainment. Sharing the picture of a script next to a clapboard, Aryan wrote, "Wrapped with the writing...can't wait to say action."
Deepika Padukone to unveil trophy during 2022 FIFA World Cup final
Deepika Padukone will unveil the 2022 FIFA World Cup trophy during the final, which is set to take place on December 18. Earlier, Nora Fatehi performed at the FIFA Fan Fest in Qatar. Deepika had also represented India at the Cannes Film Festival as one of the jury members earlier this year.
Mirzapur's cast wraps up shoot for season 3
Ali Fazal took to Instagram and announced the wrap of his series 'Mirzapur season 3'. He shared a picture from the set and wrote, "To my...dearest and loved team, thank you so much for the love and hard work you brought to the world of Mirzapur." 
Akshay Kumar shares details about his OTT project
Akshay Kumar shared that his OTT debut project will be more on the science fiction side. He said that the project, which was earlier titled 'The End', will have a lot of action in it. He added the shooting of the series will commence next year. 
Robert Pattinson's upcoming film, Mickey 17's teaser unveiled
The upcoming sci-fi film, directed by Oscar-winning South Korean filmmaker Bong Joon Ho, stars Robert Pattinson in the lead. It is currently under production and will be released in theaters on March 29, 2024. In the film, he will reportedly play a disposable employee on a human expedition sent to colonize a fictional ice world. Each time he 'dies', a new version of himself is generated along with a few of his memories.
Rohit Shetty confirms that Deepika Padukone will play a cop in Singam 3
Rohit Shetty will reunite with Deepika Padukone after their successful collaboration on Chennai Express. The director-actor pair will work together for Singham 3 in which Deepika will be playing a cop. The film is expected to go on floors next year.
V of BTS joins Park Seo-Joon and Choi Woo-Sik in an upcoming variety show
On December 6, V recently participated in the filming of tvN's new entertainment program 'Seojin' with directors Na Young Seok and Jang Eun Jung, which was conducted in Mexico in strict secrecy. The variety show consists of them running a restaurant where they will cook for the customers and serve them as well. It also features popular K-drama actors like Park Seo-Joon and Choi Woo-Sik.
Basil Joseph wins the best director award for Minnal Murali at the Asian Academy Awards 2022
The superhero film has bagged director Basil Joseph the award in the Best Direction (Fiction) category at the Asian Academy Awards 2022, held in Singapore. Basil Joseph, in his speech, expressed that he is thrilled to be representing India via his Malayalam feature at the Asian Academy Awards 2022.
Jackie Chan confirms that Rush Hour 4 is in the works
The previous Rush Hour film was released almost 15 years ago and since then the much-awaited fourth installment of the film has been delayed. But things are finally looking up for Rush Hour fans as Jackie Chan confirmed at a recent event that the film is going to go on floors soon.
Michelle Yeoh to star in Wicked movies as Madame Morrible
Michelle Yeoh has joined the star-studded cast of Jon M. Chu's 'Wicked' franchise. She was recently seen in the film 'Everything Everywhere All At Once' and she will be playing Madame Morrible in the series. The two-part feature adaptation is headlined by Ariana Grande and Cynthia Erivo and is set to release on Christmas 2024 and 2025.
Wonder Woman 3 canceled new heads take control over DC Studios
Gal Gadot-starrer 'Wonder Woman 3' has reportedly been canceled after new DC Studios heads James Gunn and Peter Safran turned down director Patty Jenkins' current storyline for the third installment. Recently, Gadot tweeted, "Can't wait to share her next chapter with you." As per reports, Gunn and Safran have also canceled the 'Man of Steel' sequel.
Universal Pictures brings Mark Manson's best-selling book 'The Subtle Art of Not Giving a F*ck' to life
Universal Pictures has released the trailer for Mark Manson's self-help book 'The Subtle Art of Not Giving a F*ck' which sold more than 15 million copies.  According to the film's official synopsis, the new movie is "a cinematic documentary designed to help us become less awful people" with some unvarnished truths, delivered via R-rated language.
Al Pachino starrer Hunters has announced its second season
Amazon Studios released the new teaser for the second and final season of Hunters. After an accident derails their exploits in Europe, the Hunters must band back together to hunt down history's most infamous Nazi, Adolf Hitler, who's hiding in South America. Meanwhile, a look to the past reveals Meyer Offerman (Al Pacino) encountering a dangerous threat that could unravel his secret and expose his true identity, with explosive reverberations for our Hunters.
Well, that wraps up our E: Round-Up, hope you enjoyed all the updates!
For more entertainment content follow us @socialketchupbinge