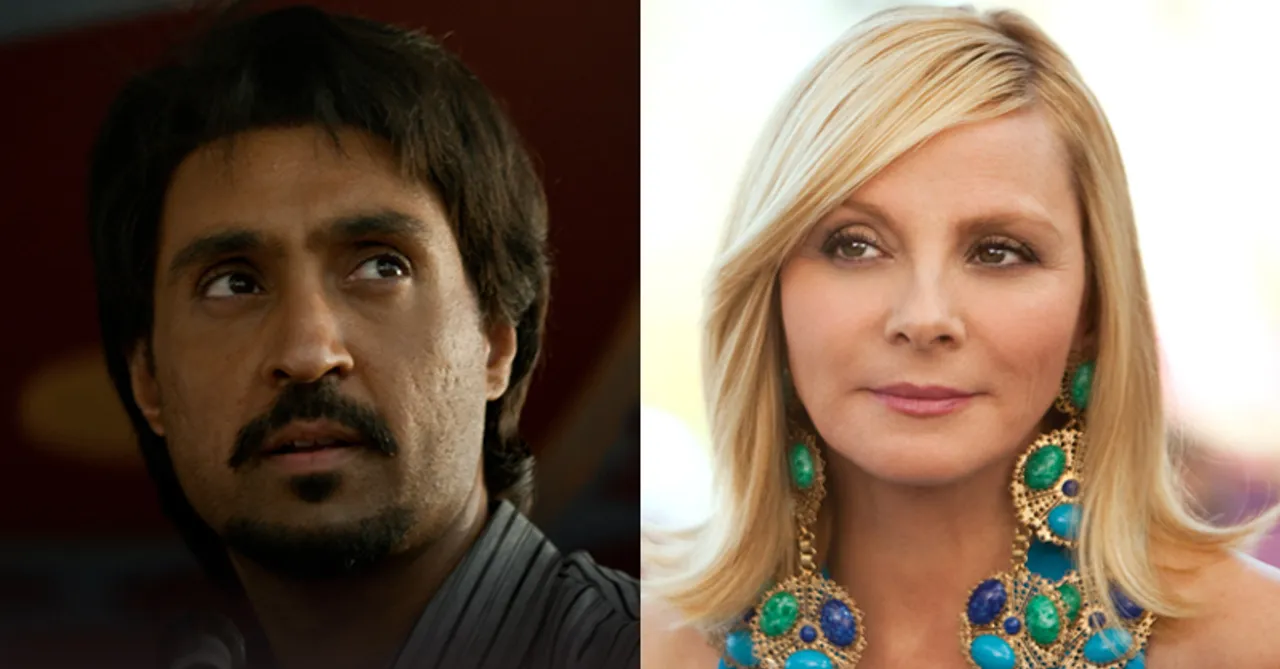 The E-Round up is back for another week filled with updates of the entertainment world just for you!
We are back with our E Round up for this week to update you on every major highlight that happened through the week. Celine Dion cancels the rest of the world tour as she suffers from Stiff Person Syndrome. Ranveer Singh sets foot in Hollywood as he signs contract with a Hollywood agency. Sex and the City fans will get another chance to see all four of their favourite girls in one frame very soon! Our hearts melted and nostalgia hit us when we saw the cast and crew of the iconic rom-com Yeh Jawaani Hai Deewani reunited on the occasion of its 10 year anniversary and shared pictures on their social media. Diljit Dosanjh will be seen as Punjabi singer Amar Singh Chamkila in Netflix's new biopic of the same name.
Also Read: From Night Manager II to Marvel's Secret Invasion, Prime Video and Disney+Hotstar releases in June bring us so much to look forward to!
Read about all of this and more that happened through the week!
Randeep Hooda starrer Swatantrya Veer Savarkar teaser released
The teaser for Swantantrya Veer Savarkar was unveiled on May 29. Randeep Hooda who is not only playing the titular role in this film but also will be his very first directorial. The film revolves around the life of the revolutionary activist, politician and writer. The film is slated to release later this year.
Netflix drops the first look of the biopic on Punjabi singer Amar Singh Chamkila which will star Diljit Dosanjh as the main lead
Netflix's upcoming biopic Amar Singh Chamkila, depicts the true story of a Punjabi song who was massively loved by his fans. He rose to fame from absolutely nothing in 1980s. Diljit Dosanjh and Parineeti Chopra will be seen as the main leads. Directed by Imtiaz Ali and the music is by none other than A.R. Rahman, this looks like a title worth looking forward to.
Kim Cattrall aka Samantha from Sex and the City to make a cameo in the new season of And Just Like That
Sex and the City fans were over the moon to know the OG gang from the series will be seen together for a brief moment in the second season of And Just Like That. After swearing never to play Samantha on screen again due to a disagreement with the show's main lead and her on-screen best friend Sarah Jessica Parker, Kim Cattrall will surprisingly be seen in the finale episode of And Just Like That. The show recently also shared its latest trailer and will be streaming starting June 21.
Ranveer Singh is set to embark on his Hollywood journey after signing with WME talent agency
Ranveer Singh signs with a Hollywood agency William Morris Endeavour to start his journey with Hollywood. After becoming a prominent name in Bollywood for over a decade, Ranveer Singh is all set for Hollywood as well!
Hollywood project with Philip John begins with Samantha Ruth Prabhu in lead
As more and more celebrities are steeping into Hollywood, Samantha Ruth Prabhu too signs a Hollywood project with Philip John. Philip John has worked on movies like Chennai Story, Moon Dogs and Wedding Belles.
Sarabhai vs Sarabhai fame Vaibhavi Upadhyaya passes away at 38
"UNTIL WE MEET AGAIN….Those special memories of you will always bring a smile if only I could have you back for just a little while, then we could sit and talk again just like we used to do." shares Jay Gandhi, husband of Sarabhai vs Sarabhai actress Vaibhavi Upadhyaya as she passed away at 38 due to a car accident.
Cast of YJHD reunites for its 10 year anniversary
On the occasion of Yeh Jawani Hai Deewani completing 10 years, the cast of the movie does an unofficial reunion. The main cast of the film, Deepika Padukone, Ranbir Kapoor, Aditya Roy Kapur and Kalki Koechlin recreated the group photo from the movie and shared their reunion photos along with Karan Johar and Ayan Mukerji as well on their Instagram handle.
Ranveer Singh to be seen in Don 3 and Baiju Bawra
After getting signed for a Hollywood film, Ranveer Singh adds two more films to his bank Baiju Bawra and Don 3 which will be shot in the course of 2 years. Ranveer's Rocky Aur Rani Kii Prem Kahani is set to releases on July 28
Alia Bhatt shares a post about her grandfather's demise
Alia Bhatt shares a heartful note on her Instagram on her grandfather Narendra Nath Razdan's death. She along with listing down his best qualities, quotes, "My heart is full of sorrow but also full of joy .. because all my grandpa did is give us joy & for that I feel blessed and grateful to have been brought up by all the light he had to give!"
Celine Dion cancels her world tour due to her heath issues
Celine Dion cancels her rest of the world tour due to her medical struggles. On her Instagram, she shares, "I'm so sorry to disappoint all of you once again. I'm working really hard to build back my strength, but touring can be very difficult even when you're 100%. It's not fair to you to keep postponing the shows, and even though it breaks my heart, it's best that we cancel everything now until I'm really ready to be back on stage again. I want you all to know, I'm not giving up… and I can't wait to see you again!" The 'It's all coming back to me now' singer as been suffering from Stiff Person Syndrome for the past 3 years.
Maamannan's audio date launched
Mari Selvaraj shares the releases date of Maamannan's audio on his Twitter giving us more deets about who's performing. "We've got them coming to you! Get ready for a musical evening headed your way on the 1st of June at Nehru Stadium for Maamannan's Audio Launch. Also, catch @arrahman's live concert!", he says.
We've got them coming to you! Get ready for a musical evening headed your way on the 1st of June at Nehru Stadium for Maamannan's Audio Launch! ❤️ Also, catch @arrahman 's live concert! 🖤🎶🖤🎶🖤🎶🖤🎶🖤🎶🖤🎶#Maamannan🫅@Udhaystalin @RedGiantMovies_ @KeerthyOfficial… pic.twitter.com/8JAKFmBZ0Y

— Mari Selvaraj (@mari_selvaraj) May 30, 2023
RM from BTS appointed as Public Relations ambassador for the Ministry of National Defense
BTS member Kim Namjoon (RM) is appointed as the Public Relations Ambassador for the Ministry of National Defense. The BTS army seem to be super proud of this moment. RM have previously given a speech at the UN along with his other band members.
#RM officially appointed as a public relations ambassador for The Ministry of National Defense!!

PROUD OF KIM NAMJOON
RM PUBLIC RELATIONS AMBASSADOR
AMBASSADOR RM #ProudAmbassadorRM pic.twitter.com/BYhfXHni27

— BTS Charts Daily⁷💜 (@btschartsdailys) June 1, 2023
Queer film Pine Cone's first look released
The first look of the movie Pine Cone has been released by Onir, the director of the film. The film is to be premiered for the first time at the Kashish Film Festival on June 7 at Liberty Cinema, Mumbai.
That wraps up all the latest stories from this week's E Round up, hope you enjoyed all the updates!
For more such updates, follow us @socialketchupbinge.