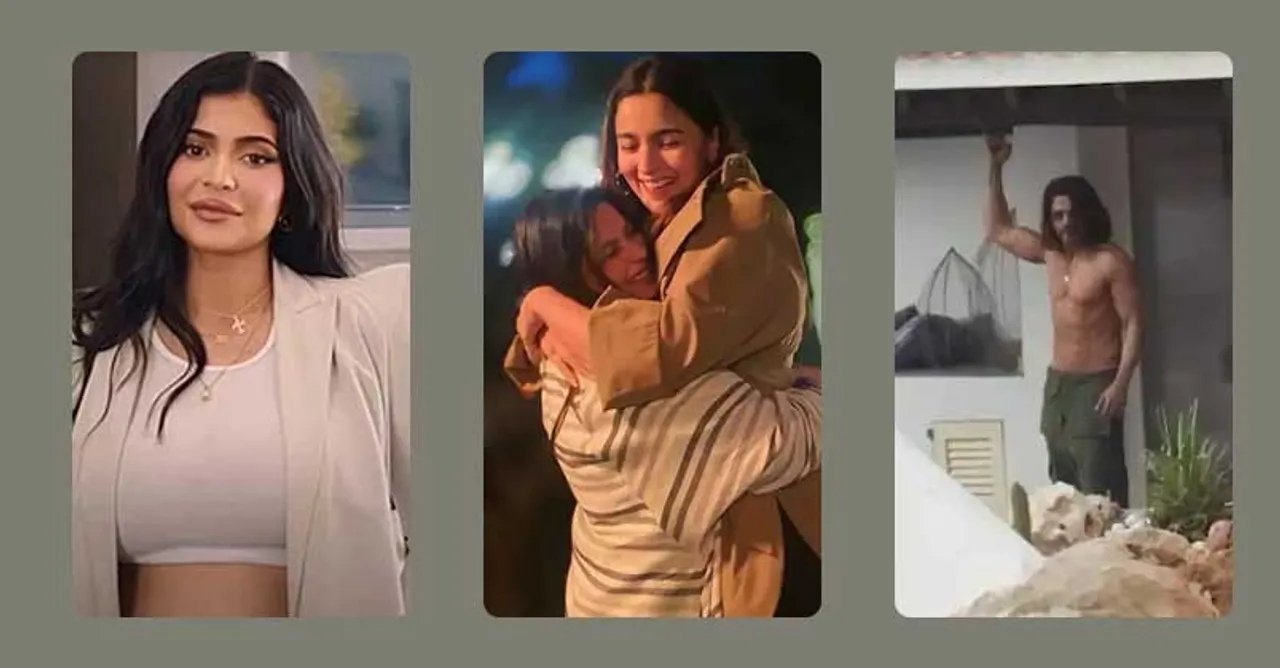 Our ERound up is here to keep you in the loop about everything from the entertainment world!
Before the long weekend kicks in, we wanted to update you about all the trending news from this week. From Sharukh Khan's leaked picture from the sets of 'Pathan' to Kylie Jenner's take on her post partum life, Tom Cruise's 'Top Gun: Maverick' screening at Cannes to Dulquer Salmaan's movies banned in Kerala, workers invading Luv Ranjan's movie sets to a warrant against Shilpa Shetty's mother in a loan case, Alia Bhatt sharing a Reel of her birthday to Aamir Khan's daughter sharing pictures of his birthday cake, Sandra Bullock took a break from acting and Shabana Azmi shared news of working in an American series. These and so many more interesting news are a part of this week's ERound up.
Let's take a look at what the ERound up has to tell us!
Shahrukh Khan's new look for his upcoming film 'Pathan' leaked
Shahrukh Khan is currently shooting for his film 'Pathan' in spain and his new look has surfaced on social media. The picture shows his physical transformation with 8 pack abs and long hair which has gone viral on the internet.
Kylie Jenner talks about her post partum life after the birth of her son
Kylie Jenner said that ever since the birth of her son Wolf Webster life hasn't been easy but rather crazy, physically, metally and spiritually. "I just want to say to my postpartum moms that postpartum hasn't been easy...it's...hard. This experience for me, personally, has been a little harder than with my daughter". She also assured her followers that it's okay to not be okay and just take it easy sometimes.
Alia Bhatt takes us through her 29th birthday with a Reel on Instagram
Alia Bhatt took to Instagram to give her fans a sneak peek into her 29th birthday and how spent it with her mom Soni Razdan and sister Shaheen Bhatt. The actress took a trip to the beautiful island of Maldives and was seen spending time at the beach, eating pasta and watching the tv show Friends.
Dulquer Salmaan's movies to be banned in theatres in Kerala untill further notice
Actor Dulquer Salmaan's upcoming movie 'Salute' was suppose to have a theatrical release but instead it will be released on an OTT platform. Due to this breach of contract The film exhibitors united organisation of Kerala (FEUOK) has banned all Dulquer Salmaan's movies or any movie made by his production house Wayfarer Films in theatres until further notice.
Aamir Khan's daughter shares pictures from his birthday celebration
Aamir Khan's daughter Ira, shared a picture of his cake on her Instagram stories. The cake was a combination of all his film posters such as 'PK' 'Dil Chahta Hai' 'Lagaan' and many others. The cake also had a clapboard made on top along with his parents names written on it.
Tom Cruise's 'Top Gun: Maverick' to be screened at Cannes Film Festival
Tom Cruise's 1986 blockbuster 'Top Gun' is ready to have its sequel 'Top Gun: Maverick' have its world premiere in the month of may. The film will also be screened at the prestigious Cannes Film Festival this year although it will be screened a few days after its worldwide release in San Diego. The film is directed by Joesh Kosinski.
Shabana Azmi talks about working in American series 'Halo'
Actress Shabana Azmi talks about how it was a dream come true for her to work on her upcoming American series 'Halo'. The story of the series deals with artificial intelligence, so it was something new for her to learn. The series is backed by the legendary filmmaker Steven Spielberg and directed by Otto Bathurst. She also said she enjoyed working with Natascha McElhone, Pablo Schreiber and Jen Taylor.
Sandra Bullock to take a break from acting
Academy award winner, Sandra Bullock who has given us marvelous movies like 'The Blind Side', 'The Bird Box' and many more has decided to take a break from acting. She said she takes her job as an actor very seriously when she's at work but for now she wants to be with her kids and her family 24/7.
Workers invade director Luv Ranjan's set over non-payment of fees
Workers invaded the sets of 'Sonu Ke Titu Ki Sweety' and 'Pyaar Ka Punchnama' director-producer Luv Ranjan's next film starring Ranbir Kapoor and Shraddha Kapoor and protested due to non-payment of fees which is collectively 1.2 crores. Around 350 workers gathered on the set who had worked on a song for the film last October. The police eventually arrived on the set as well.
Warrant against Shilpa Shetty's mother for a loan case
A businessman filed a complaint against Shilpa Shetty's mother Sunanda and the Mumbai court issued a bailable warrant against her on Tuesday. The businessman claims that Shilpa's father Surendra had borrowed 21 lakhs back in 2015 which has not been repaid yet. The summon issued by the court requires Shilpa, her mother, and her sister Shamita to be present in court.
Ranbir Kapoor considered wearing prosthetics to play Rishi Kapoor's part in 'Sharmaji Namkeen'
Rishi Kapoor's last film 'Sharmaji Namkeen' had its trailer release on Thursday morning but the day before that Amazon Prime Video shared a video in which Ranbir Kapoor shares his emotional thoughts on the film. He said that due to his father passing away in the middle of shooting this film, he even considered wearing prosthetics and stepping into his role for the completion of the film. But he thanked Paresh Rawal for gracefully accepting this role and taking forward his father's dream and said that rarely has it ever happened in Indian cinema that two great actors have played the same part.
Salman Khan did not accept any fees for his cameo in Chiranjeevi's 'Godfather'
Salman Khan has started filming for his cameo in Chiranjeevi's 'Godfather'. The actor was offered a handsome amount by the makers of the film but Salman generously refused to take any fees and commenced with the shoot of the film only with love and respect for south's superstar Chiranjeevi in his heart.
Poland's Karolina Bielawska wins Miss World 2021
Karolina Bielawska from Poland wins the Miss World 2021 title. She was asked "What's the most important discovery that is yet to be discovered?" to which she answered "We all have unique experiences and all of us can learn something about ourselves...It costs us so little to enrich others' lives. If you'd like to discover something new, try to learn to be rich in more empathy, in compassion, in gratitude". She is currently studying for her master's degree in management and will also be doing a PhD in the future. Apart from this, her hobbies include, swimming, tennis, scuba diving and badminton. Manasa Varanasi from India was also one of the semi-finalists and Indian-American Shree Saini was crowned the first runner up at the beauty pageant.
Ajay Devgn might be a part of Bhansali's next film Baiju Bawra
Rumour has it that stellar filmmaker Sanjay Leela Bhansali is in talks with Ajay Devgn to play the role of 'Tansen' in his next venture 'Baiju Bawra'. Bhansali believes that Ajay played a major role in the success of 'Gangubai Kathiawadi'. Ajay's role in Baiju Bawra is a very grey character but he has never been afraid of taking on challenges that others have.
Bella Hadid opens up about her nose job at the age of 14
Bella Hadid recently spoke about how she regrets getting a nose job at the age of 14 due to constant comparison with her elder sister and supermodel Gigi Hadid. She always felt like she was the uglier sister amongst the two and wasn't as outgoing as Gigi. The model now says that she should've accepted and kept the nose of her ancestors.
Oscar-winning director Steve Mcqueen honored with Royal Knighthood by Princess Anne
'12 Years a Slave' director Steve Mcqueen became the first black director to win an Oscar for Best Picture in 2014. He now adds another milestone by receiving the Royal Knighthood by Princess Anne at the Windsor Castle on Tuesday. He attended the ceremony with his mother and will now be addressed as Sir Steve Mcqueen in the UK.
Ram Charan sends monetary help to his security in charge in Ukraine
After Russia declared war on Ukraine, South Indian actor Ram Charan contacted his security in-charge who was with him during the Ukraine schedule of the 'RRR' movie. He stated, "He was shaking as he spoke about the situation there. He also told me that his 85-year-old father has been walking around with a gun". So the actor felt the least he could do currently to help him out in this crisis was send him monetary relief.
Kristen Stewart talks about the script of 'Spencer'
Actress Kristen Stewart who played Princess Diana in the film 'Spencer' and earned her first Oscar nomination for the role thinks that the script of spencer never tried to answer any questions and was impressed by how boldly committed the perspective of the script was. She felt the script was precise but never particular and was a rich fascinating world.
Actress Amrita Rao shared pictures of her secret wedding for the first time in 8 years
Actress Amrita Rao married Rj Anmol in a secret wedding back in 2014 and the two of them shared pictures on social media for the first time since then. The two decided to get married in secret as it could hamper Amrita's career and her husband Anmol understood that since the beginning. But she also felt it was important for her to get married at the time.
Well, this pretty much sums up all the major points from this week's Roundup. Hope you're all caught up!
Also Read: ERound Up: Gangubai Crossing 100cr to Elon Musk's second baby
For more entertainment content follow us @socialketchupbinge