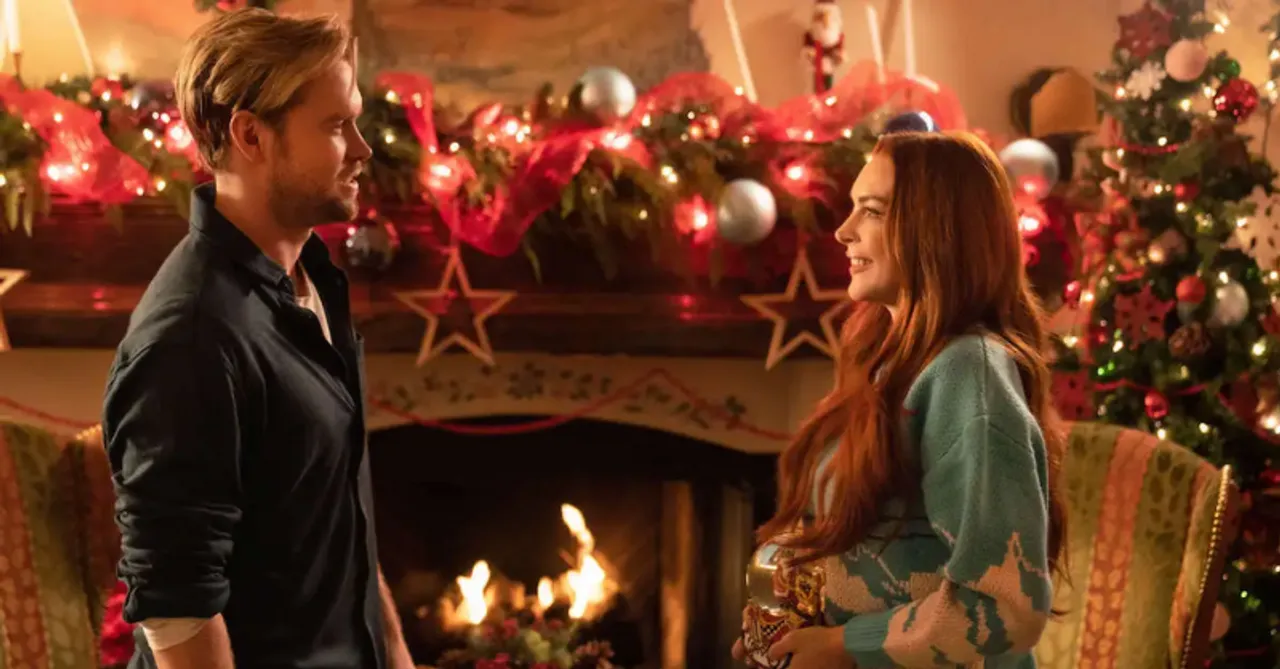 Falling for Christmas once again brings Lindsay Lohan to our screens after a long period of time!
For all the 90s kids, thinking of Lindsay Lohan reminds us first of Mean Girls! Do you remember her doing a Christmas song in that film? Because I sure do! She is also one of those few actresses through whom we got introduced to Hollywood in an age when there was no OTT. And Netflix apparently has taken it upon itself to bring back these faces that were early crushes for you and me like Lindsay Lohan and Chad Michael Murray! You know that cliche story of a rich spoilt brat who after an accident has a brush off towards the simplicity of life and ends up changing for the greater good as a Christmas miracle? Falling for Christmas is precisely that with a gendered role reversal!
Sierra Belmont (Lindsay Lohan) is a rich spoilt brat who is oblivious to this fact and wears nothing less than a Gucci, Prada, or Valentino. She is dating a selfish Influencer, Tad Fairchild (George Young) who loves nothing but numbers on his social media. Sierra's dad Mr. Belmont is an owner of a fancy resort and makes up a position in his resort - President of atmosphere (major nepotism!) with the intention of protecting her. Enter Jake Russell (Chord Overstreet), a small lodge owner who is in trouble financially. The story takes a turn when this newly engaged, spoilt brat heiress experiences a funny skiing accident. And after being conveniently diagnosed with amnesia, she finds herself obviously in the care of the handsome lodge owner, his daughter, and his mother-in-law.
The film is your usual run-of-the-mill rom-com where a convenient accident forces the two protagonists to live with each other, help each other while changing in the process, and end up falling for each other. Falling for Christmas offers nothing you haven't watched before but talks about how you don't need to turn everything into a social media frenzy. It highlights the simplicity that we're missing in this hustle of life and it does try to patch in on these feelings even if merely on a touch-and-go basis and ends up leaving you with a casual cheery feeling of Christmas, romance, and miracles!
For more binge-centric content, follow us @socialketchupbinge.