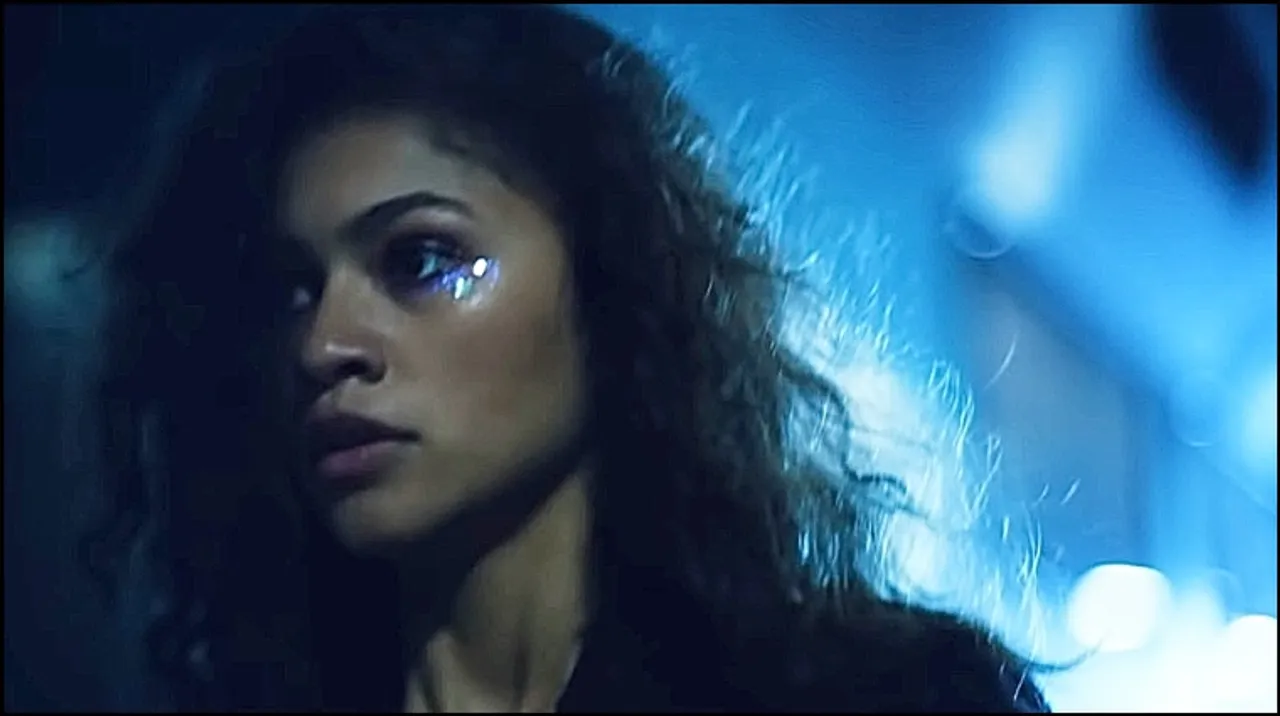 The Euphoria trailer has been released for two special episodes of the HBO Max show. The first episode is set to stream on 6th December!
HBO released the trailer of the critically acclaimed Television series, Euphoria starring Emmy Award-winning actress, Zendaya on 30th November 2020. The Euphoria trailer suggests that there is no season two as of now. Instead, a couple of special episodes will be released. The first special episode titled 'Part 1: Rue' will stream at 9 p.m on HBO Max on 6th December 2020.
Season one of the series had ended with Rue relapsing after using cocaine and Jules getting on a train, leaving Rue behind. The trailer for special episodes picks up where the first season ended. It shows a despaired Rue (Zendaya) sitting alone in a cafe as melancholic music plays as the background score. She is reminiscing about her girlfriend Jules (Hunter Schafer). As the trailer progresses, we see Rue sitting across Ali (Colman Domingo) now, whom she had met at the Narcotics Anonymous meetings. The trailer ends with Ali enquiring why she called him.  
For the uninitiated, Euphoria is an American teen drama that revolves around the story of a group of high school teenagers who are exploring themselves while also exploring drugs, sex, relations, identity, and trauma. 
The sneak-peek has definitely left fans excited and intrigued. Here's how they reacted to the Euphoria trailer:
I'm crying tears of joy...@yourbfsbabe @OreShutup @_dayooo_ https://t.co/5hE8t8IhUR

— UglyEbzz😍 (@toritseju_u) December 1, 2020
DAMN RIGHT https://t.co/bg3FZa52Yx pic.twitter.com/xtNdudKhsG

— Internet Mom is 💫upsad💫 (@ashleyippolito) November 30, 2020
YESSS I'M CRYING RIGHT NOW 😭😭 @euphoriaHBO @Zendaya #EuphoriaHBO #rue #chapter1 https://t.co/KymalDc6lQ

— lonelinessfeelsgood_ (@lonelinessgood) November 30, 2020
THE WAY I SCREAMED OMGGG https://t.co/pVNm0XBMyt

— t o m y d e s (@desplanque_tom) November 30, 2020
rue bennett is coming for us pic.twitter.com/Jp6GTQAUN0

— euphoria pics (@euphorixhbo) November 30, 2020
me on december 6th at 9pm watching the new euphoria episode pic.twitter.com/2cXVW7N9Er

— sarah (@sarahlcmpbll) November 30, 2020
Shoot it in my veins, ASAP https://t.co/ooHUjYXJBX

— THE Meat MEASURER (@EtTuNegro) November 30, 2020
we've been waiting so long for it !!very excited🥺😭😭 https://t.co/wGXrHcgLaI pic.twitter.com/AUu0Sux3R0

— SAF (@al_oos1) November 30, 2020
I love good news! https://t.co/JjQn0B5OvP

— Michael (@mikpick2) November 30, 2020
This shit better be 3 hours long https://t.co/yVhdcnUiCc

— TO PIMP A HOE (@ChristinaOoro) November 30, 2020
i CANNOT wait https://t.co/urVffhYypo

— samimi🐙 (@samia_amor9) November 30, 2020
DECEMBER 6 BRO I'M NOT READY😭 https://t.co/2MWEIAXNHm

— A.O.D (@AtlegangDikgang) November 30, 2020
Mhmm yup that's right https://t.co/D2rWM51Xao pic.twitter.com/pyAyCixZDm

— ♡Wanziᵛ∞①₁₂₇↔️🌹 (@Wanzi_G) November 30, 2020
It's a date! https://t.co/OovUQMuS8z

— 💁🏽‍♂️Denardi💙 (@D_Blue_True) November 30, 2020
You can watch the trailer here: