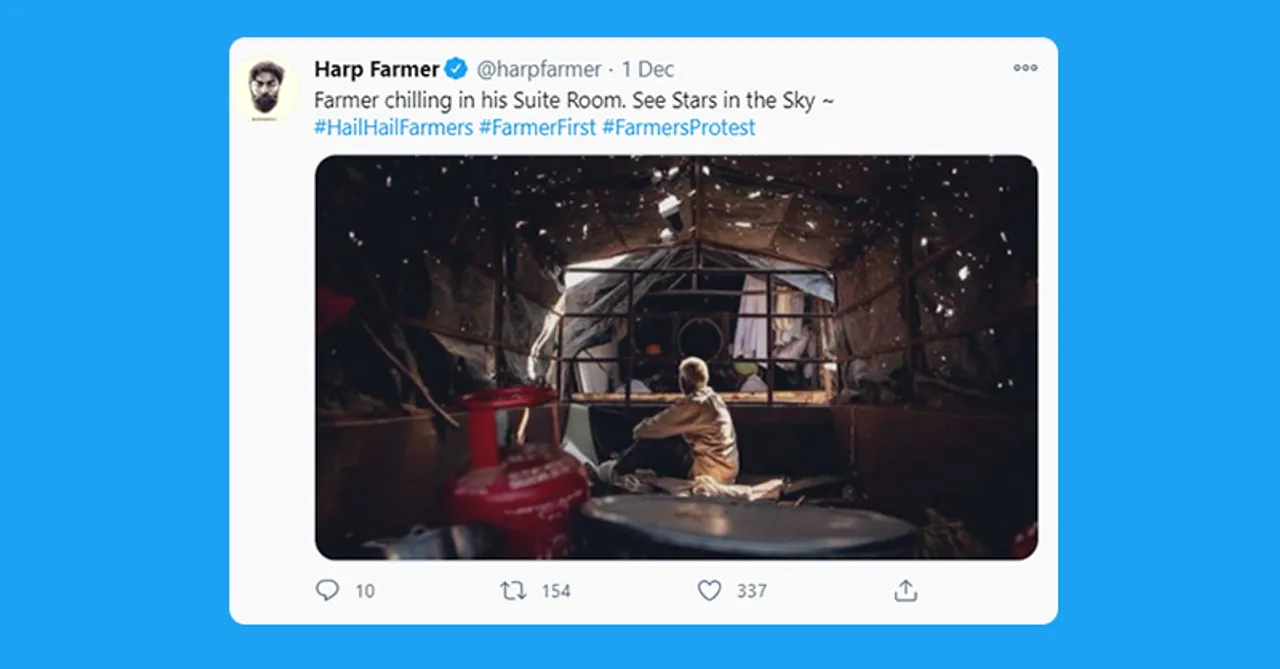 You might have seen the social media flooded with the picture of police beating up an old Punjabi man and a guy standing on top of a water cannon. 
If you have, then you would want to read through this article about the farmers' protests.
Thousands of Indian farmers on 27th November 2020, walked up from Punjab and Haryana to reach Delhi in protest against the new reform made in the agriculture law. According to them, these reforms will be the end of Indian farmers. The farmers had been protesting in Punjab for some time, but they decided to walk to Delhi to force the government into listening to their demands. Small groups from Haryana and Uttar Pradesh have also joined them in the farmers' protest.
The farmers have been blocked by barricades and barbed wires put up by police to stop them from entering the capital. Since they have been stopped on roads leading up to the capital, they have set up their camps on five major roads. They have brought enough supply of necessities with them that could last them for almost three months. The farmers think that the reform is not for the benefits of the farmer but for the corporates. 
To remove the farmers protesting on the roads, the police have tried throwing tear gas and launched water cannons on them. Delhi Police also requested nine stadiums to be converted into jails for them but the city government has denied the police's request. The recent development is that Amit Shah, the home minister has been in talks with representatives of the farmers about their demands. 
The protest has gained national importance and is finding support through social media. People have come forward in support of framers, as agriculture is the primary sector of the economy in the country and the source of livelihood for many. 
Here are some of the tweets on the issue:
Use Hashtags 🙏#FarmerProtest #FarmersProtest#standwithfarmerschallenge⁠⁠⁠ pic.twitter.com/yvvuNG6fzq

— Gippy Grewal (@GippyGrewal) November 29, 2020
WE ARE FARMERS 🙏🏾

NOT TERRORISTS 🙏🏾#farmerprotest #standwithfarmerschallenge pic.twitter.com/nvPbt37jZE

— DILJIT DOSANJH (@diljitdosanjh) December 1, 2020
#SpeakUpForFarmersThey used water cannons, tire gas bullets to stop these farmers🌾, but the farmers provided them water to drink. 🥛🥬@rashtrapatibhvn#FarmersProtest pic.twitter.com/NSIPrNX6fz

— Harpreet Kaur (@HeerVandar) December 1, 2020
Happening Now: Highway near Rajiv Gandhi Education City in Sonepat sealed, heavy police deployment

Protesting farmers who spent the night in Panipat have now reached Samalkha and will be reaching here

Arrangements made to stop them at this point#FarmersProtest #ChaloDilli pic.twitter.com/K9ScS5oa2q

— Zeba Warsi (@Zebaism) November 27, 2020
Ye Inquilab hay sir,
Ye Revolution hay !!!

Solidarity with farmers ✊️#SFI #FarmersProtest #ChaloDilli @Sfikerala_ @SfiDelhi @SFI_CEC pic.twitter.com/Zw2HW1oATT

— SILPA ☭ (@silpa__) November 28, 2020
#दिल्ली_चलो#FarmersProtest#ChaloDilli This is how we're being treated for protesting peacefully ..... democracy is ending in india .. pic.twitter.com/sb7Umw5rws

— Rippendeep Kaur (@KaurRippendeep) November 27, 2020
Massive massive #respect for the #farmers from #Punjab, #Haryana, #UP & #Uttarakhand who fighting tooth and nails with the inhumane #BJP govts to enter in national capital for the protest against anti #farmerbill!!#FarmersProtestChallenge #FarmersProtest#ChaloDilli pic.twitter.com/Z6iMrDIIFh

— Amit Bhagwat (@AmitBhagwat89) November 27, 2020
#Please don't get #confused #between #farmers #protest and #politics. In this #video you can see on #ground thing he is clearly mentioning that there are some people who are there for #khalistan and #bhindrawale. #Support this protest wether you #believe the bill is in favor/not pic.twitter.com/W8CPTpciNg

— Bhagwadharak (@bhagwadharak) November 29, 2020
#FarmersProtest #standwithfarmarschallenge #Tractor2Twitter #TractorToTwitter
We feed you pic.twitter.com/52iyYaorrL

— Ramandeep Kaur (@Ramande94302825) December 1, 2020
Hundreds of thousands of protesting farmers observe Baba Nanak's Gurpurab on the road, away from home on Delhi border. May Waheguru's blessings be upon them all. #BabaNanak #Chardikala #Kirat #FarmerProtest pic.twitter.com/k1nlTHOQpK

— Joban Randhawa (@iJobanRandhawa) December 1, 2020
An idea whose time may have come. https://t.co/rt8njXNkwr

— Nagarjun (@ageingsocialist) November 30, 2020
Need food ?
support farmers #FarmersProtestDelhi2020 pic.twitter.com/gA8RVA9LuX

— S.Rajak (@SRajak19) December 3, 2020
𝗜 𝗦𝘁𝗮𝗻𝗱 𝘄𝗶𝘁𝗵 "𝗙𝗮𝗿𝗺𝗲𝗿𝘀" 𝗮𝗻𝗱 𝗬𝗼𝘂❓
𝗦𝗼 𝗜 𝗦𝘂𝗽𝗽𝗼𝗿𝘁 𝗧𝗵𝗶𝘀 𝗧𝗲𝗴🤳#5दिसंबर_भारत_बंद #5दिसंबर_भारत_बंद #FarmersProtestDelhi2020 #FarmersProtestDelhi2020 pic.twitter.com/PFeSBiCzy0

— कटु-सत्य 🤨 (@DombivaliMe) December 3, 2020
#FarmersProtestDelhi2020
No caption needed pic.twitter.com/zrxayAB3M9

— Sahil Ghanghas Jaat (@SahilGhanghasJ1) December 3, 2020
#FarmersProtestDelhi2020#DiljitDosanjh #FarmersProtests
Support farmers pic.twitter.com/fNgnSnlYG8

— Jagtaran Sidhu (@jagtaran_sidhu) December 3, 2020