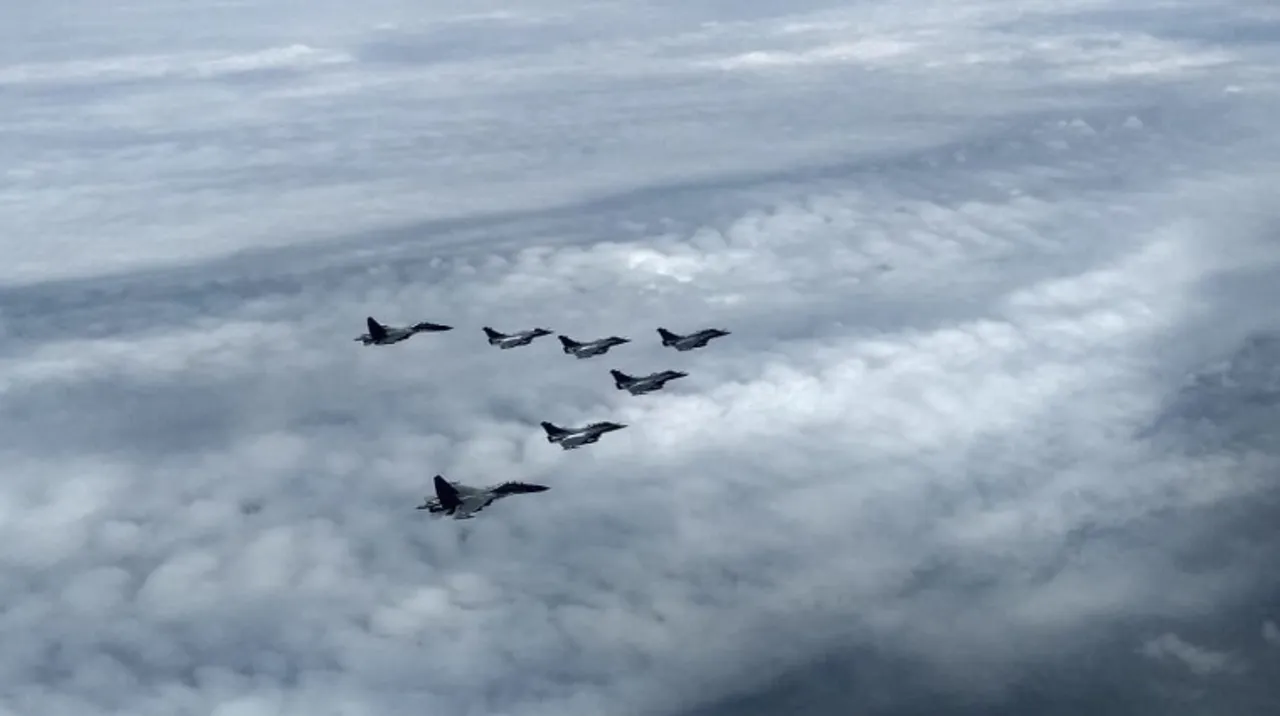 Five Rafale jets, the first of the total 36 contracted by India, land at Ambala airbase today. Netizens are elated and full of pride at the moment.
The Rafale fighter jets touched down at Ambala airbase amidst tight security and heightened emotions of proud Indians. Section 144 has been imposed in Ambala along with a ban on photography of any assets at the air force station by the district administration.
Defence Minister Rajnath Singh described the touch down of Rafale combat aircraft in India "the beginning of a new era in our Military History. These multirole aircraft will revolutionise the capabilities of the @IAF_MCC".
The Touchdown of Rafale at Ambala. pic.twitter.com/e3OFQa1bZY

— Rajnath Singh (@rajnathsingh) July 29, 2020
The set of 5 Rafales started their 7,000 km flight home from Mérignac in France on Monday. The fighter jets were refuelled mid-air by the Air Force in France before it landed at the Al Dhafra airbase near Abu Dhabi, a brief stopover before taking off for Ambala early on Wednesday. They were welcomed with heart and smiles by the Navy's warship INS Kolkata deployed in the Arabian Sea as it flew over the Indian Ocean.
IAF chief RKS Bhaduria received the Rafales and the team of pilots led by Group Captain Harkirat Singh, the commanding officer of the No 17 Squadron, also known as the "Golden Arrows".
We can see netizens are so proud at the moment:
The Terrific Beauty of #Rafale when loaded.
Welcome #RafaleInIndia pic.twitter.com/uBhKeRSELy

— Jagan Patimeedi (@JAGANTRS) July 29, 2020
Can't wait for this beauty to arrive today! 😍 #RafaleInIndia #RafaleJets pic.twitter.com/AKaGftumqo

— Nehal Tyagi (@legalchuza) July 29, 2020
5 Rafale Jets take off from France to join #IAF.

The man behind getting this deal into a reality is none other than our Late @manoharparrikar ji. Ex Defense Minister & Ex Chief Minister of Goa.#RafaleJets #RafaleJet#RafaleInIndia 🇮🇳🇮🇳🇮🇳 pic.twitter.com/hlJbbDo52y

— अघोरी 🚩 (@BhagwaDhari03) July 29, 2020
Amul cartoon today To welcome expected arrival of Rafale jet today, after a long wait of 4 years!#RafaleInIndia pic.twitter.com/MVpaeFaioU

— Kataria Naresh (@NareshKataria14) July 29, 2020
Beast has arrived..Nightmare for enemies..#JaiHind #IndianAirBase #RafaleInIndia pic.twitter.com/6sxniS8qLz

— अमन गौङ (@Gaurempire1) July 29, 2020
That's mid air refuelling of Rafale by the French air tankers.#RafaleInIndia ✈️Welcome to new home 🇮🇳🌺Keep hunting & serve our nation. Jai Hind 🇮🇳@IAF_MCC pic.twitter.com/8IlF9ehmsK

— Soldierathon (@Soldierathon) July 29, 2020
Pdharo mhare desh
Welcome to India #Rafales
5 birds being guarded by 2 Russian beauties #Su30mki
Proud owner of the new #Rafale being a taxpayer of the nation.#IndianAirForce #India #RafaleInIndia#Rafale #AmbalaAirbase #Ambala #RafaleJets #RafaleFighterAircraft #RafalePower pic.twitter.com/rAPMt7mnQY

— Dhruvil Gajjar (@meggi_07) July 29, 2020
#Rafale is the 1st fighter jet of India which has induced fear in external as well as internal enemy. 🇮🇳
I'm seeing this fear on social media very clearly.
Thank you @narendramodi jee.🙏
We needed this kind of fear from a long time.#RafaleJets #RafaleInIndia#ModiHaitoMumkinHai pic.twitter.com/wKWCmogp70

— Surya kant Shukla (@suryakantshukl) July 28, 2020
You say Rafale, I hear Manohar Parrikar!!

He was the main force behind upgrading Rafale from what Congress initially agreed on, fixing Meteor missile was one of those. As a tribute to him, I'd request name the first plane arriving tomorrow as "Manohar Shakti".#RafaleInIndia pic.twitter.com/DmgW9mOHmB

— Prince Tomar (@PrinceT09846582) July 28, 2020
Finally we receive #RafaleInIndia through this team😍😍😍😍😍 pic.twitter.com/vCUiwUHabk

— Naman Gupta (@NamanGu73706340) July 28, 2020
Beast has arrived..Nightmare for enemies..#JaiHind #IndianAirBase #RafaleInIndia pic.twitter.com/6sxniS8qLz

— अमन गौङ (@Gaurempire1) July 29, 2020
Welcome Rafale.
Now touch the sky with glory. #RafaleInIndia #IndianAirForce @narendramodi pic.twitter.com/uHFyJoVVtl

— mayankgaurav (@mayankgaurav88) July 29, 2020
Welcome #Rafales, a proud moment for the nation.
They'll soon be inducted into the IAF as a part of its No. 17 squadron, "The Golden Arrows". @IAF_MCC more power to you!#RafaleInIndia pic.twitter.com/2dzpPaWU3c

— Tanmay Srivastava (@tanmayrajshrey) July 29, 2020
Stunning pictures. A bird called Rafale. Happy Landing #RafaleInIndia #ThankYouPmModiForRafale #thankyoumodi @IAF_MCC https://t.co/sZDkw1JTGi

— Gokul (@gokul2287) July 29, 2020
When you speak of #Rafale. Don't forget this man. Respect sir 🙏. You've done a greater good for the generations to come.

And thanks PM @narendramodi ji@rajnathsingh @IAF_MCC @adgpi @indiannavy #Ambala #RafaleinIndia #IAF #PMModi #RajnathSingh #RKSBhaduria pic.twitter.com/YaAZAgHs3b

— Arun Ramesh 🇮🇳 (@arun10venkat) July 29, 2020