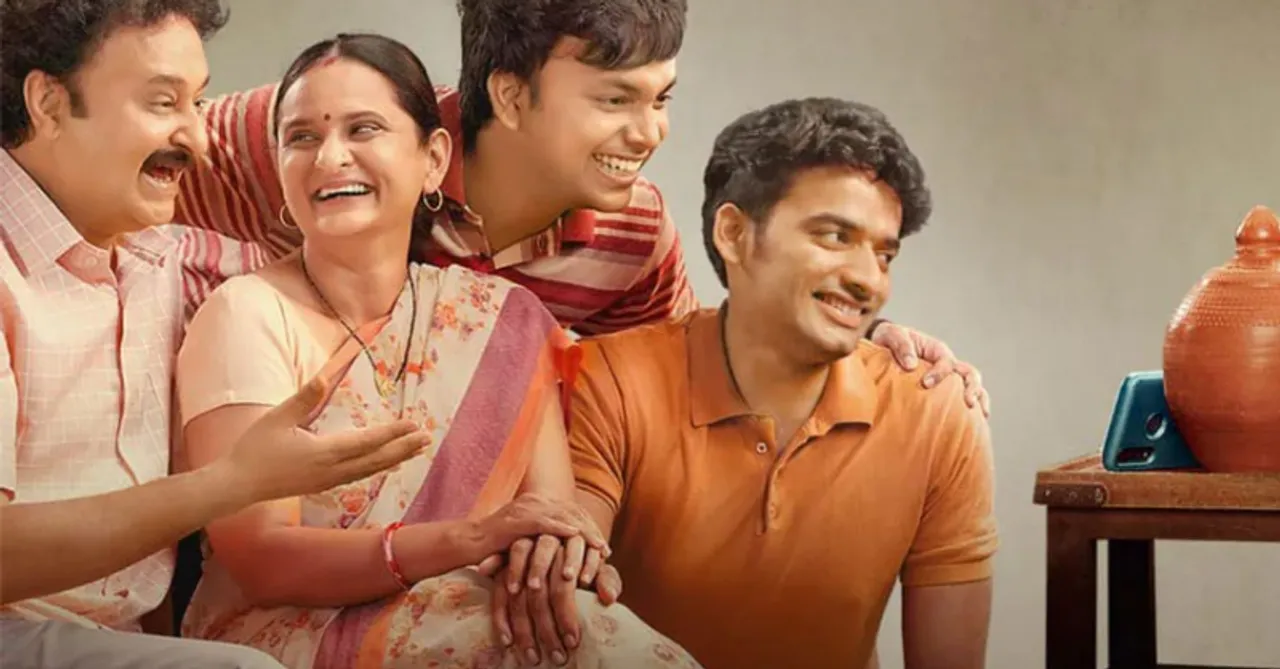 Gullak S3 sheds tiny anecdotal kisse of the middle-class Mishra parivaar and has embraced the dramatic kahani of the parivaar.
In 2019, TVF brought in a sweet-tempered brief episodic series about an Indian lower-middle-class family. And with its honest comedic depiction, the Mishra Parivaar won over all our hearts in just 5 episodes. In the two seasons of this existential dramedy, the story or the characters didn't move, rather they stayed in one place overcoming small feats in each episode. With its lightweight comedy in the horde of crime thrillers existing on OTT, the series became a stress buster for the audience. But with Gullak S3, the series broke free of the cycle of narrating small kisse to tell a rather compelling story of change and growth.
Gullak mirrors the growth seen in the Mishra Parivaar since Anu Mishra now has a job with a salary account, so when Santosh Mishra gets a heart attack or Aman's school fees need to be paid, Anu Mishra steps up, unwillingly sometimes. Aman Mishra who passed out of 10th as one of the toppers is at a crucial stage and dangling between science and arts, aka the choice of his family vs his. While Santosh Mishra's life edges him towards office politics and retirement in the future, Shanti Mishra deals with it all in her usual sarcastic style and even helps out a young girl by giving her the strength to not marry if she doesn't want to.
Even though the show has taken a new approach to storytelling, this transformation feels more inevitable and effortless rather than abrupt. The season never loses its essence of being an honest take on the lower Indian middles class family struggles via comedy even while it edges towards being dramatic and filmy. The tropes of the season like students tussling with science vs arts, the elder son's sacrifice, struggles of arranged marriage, office politics, adulting, a son taking the place of his father, and more seem like seen-before narratives. But the fresher and more realistic lens taken toward these tropes with that Lucknowi accented banter and an excellent cast makes the show unique and an interesting one while maintaining its usual charm.
Jameel Khan, Geetanjali Kulkarni, Vaibhav Raj Gupta, Harsh Mayar, Sunita Rajwar, and others have been so well rimmed and adorn their characters so beautifully that by now you can't imagine anybody else playing these characters. These actors are responsible for bringing alive the already amazing writing! Though the end of the season feels all too easy and away from moral scrutiny, the entire journey of the Mishra Parivaar with the beloved Gullak's narration will fill your heart with warmth and water in your eyes.
While the show steps into the inevitable future this time around with intense conflicts and background music, it also takes a leap forth toward tapping into some major real-life issues. Created by Shreyansh Pandey, written by Durgesh Singh, and Directed by Palash Vaswani, Gullak S3 is currently steaming on SonyLIV!
For more entertainment content follow us @socialketchupbinge