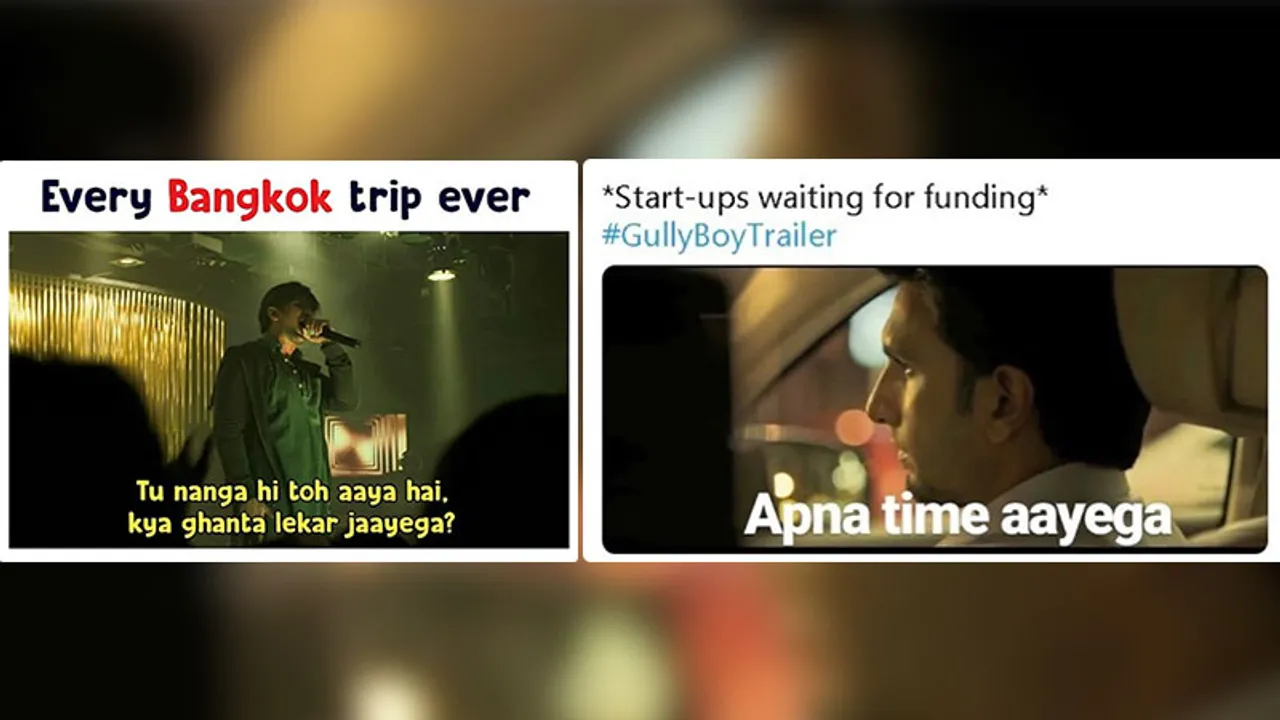 Well, movies can be a hit or a miss but the one thing we can always rely on is netizens making memes. Some really funny memes! The launch of much talked about movie Gully Boy's trailer today led to a whole lot of hilarious Gully boy memes.
Not that we're complaining. 
We millennials might not come through with our college assignments, project deadlines, and in general all basic responsibilities, but we are always on point with our meme game. When it comes to being creative with our memes? We assure you if there were awards for being creative, we would be bagging them all!
Right from startups waiting for funding to friends making TikTok videos and the various versions of the name Gully Boy, we have it all in here.
One thing we guarantee you is loads of rolling on the floor laughing moments while going through these Gully Boy memes. 
Shayad 2055 mai aayega ??
Tag your Engineer friends

Follow @Gossipkigaliyan for more interesting gossip@RanveerOfficial #aliaabhatt
.
.
.
.
. #GullyBoy #ApnaTimeAayega #lol #memes #GullyBoyTrailer pic.twitter.com/ZWDSfZbQJ3

— GossipKiGalliyan (@Gossipkigaliyan) January 9, 2019
When your HR says , you have to report in the office at 8 instead of 10Am. #GullyBoy #GullyBoyTrailer #ApnaTimeAayega #ZoyaAkhtar #HappyBirthdayFarhanAkhtar #GullyBoyTrailerLaunch . pic.twitter.com/WBjjiRDcm9

— Akashdeep (@akashdeep_ad) January 9, 2019
Parents reaction after reading remarks written by teacher in school diary.. #GullyBoyTrailer #GullyBoy pic.twitter.com/ppdWEsunWP

— Mayur | میور (@mayurm10) January 9, 2019
When my friend make tik tok videos .#GullyBoyTrailer pic.twitter.com/QrUJdk2Sjd

— Pranjul Sharma ? (@Pranjultweet) January 9, 2019
Tell Cersei. I want her to know it was me. #GullyBoyTrailer pic.twitter.com/QG2BEFRbF7

— SAGAR (@sagarcasm) January 9, 2019
#GullyBoyTrailer
Hardik pandya-
Virat is better than Sachin
Indians- pic.twitter.com/JdK6ykvhbX

— N I T I N (@theNitinWalke) January 9, 2019
These are just the starters, we can only imagine what will happen once the movie releases. Hey, but till then these Gully Boy Memes shall keep us laughing.