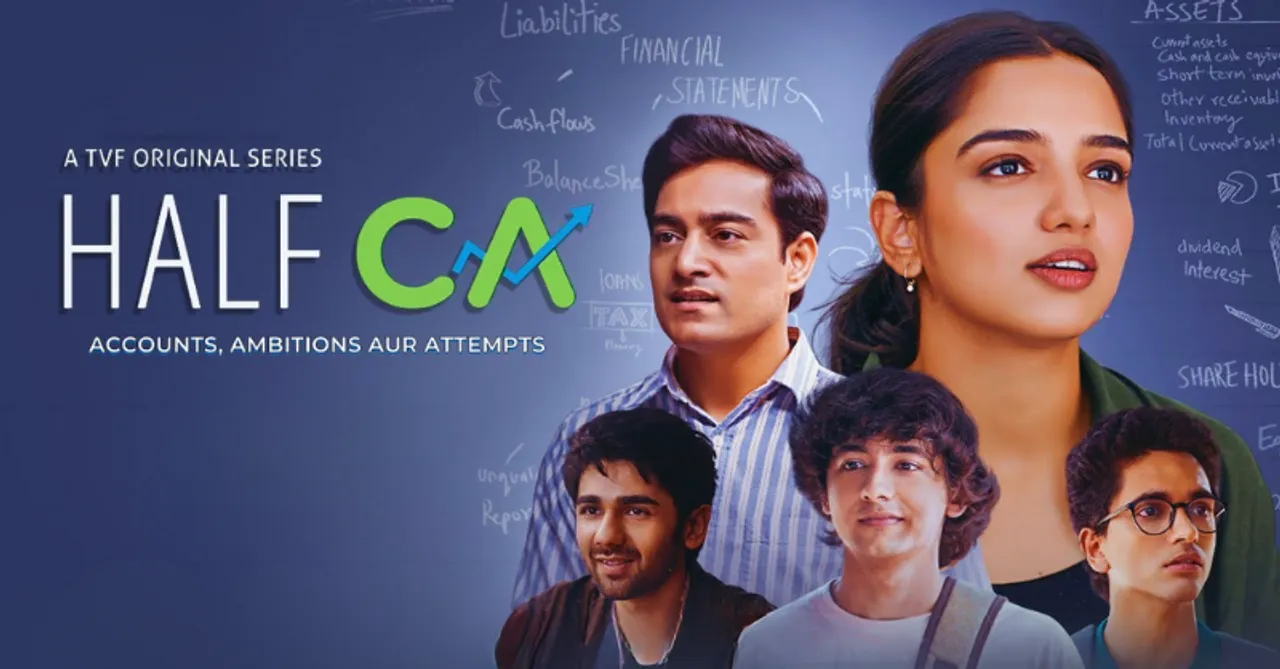 Half CA review: The best part of Half CA is that while it recognises the passion of becoming a CA, it also highlights the failure and celebrates it.
Half CA review: If there's someone who we can trust blindly to tell the real tale of young adults, it is definitely TVF! Especially when it comes to the struggling journey of aspirants dramatically connected to life. IAS and ITT-JEE got Aspirants and Kota Factory as their very own shows so it was only apt that CA got a Half CA! As CA aspirants 'ka na to kota hota hai na hi Rajendra Nagar bas jahan kitaab utha li wahi unka rajendra nagar or kota dono ban jata hai' and who would have understood this and made everyone understand it better than TVF?
In a similar fashion of explaining the concepts of the course through various life struggles, the show is divided into 5 episodes encapsulating the journey one takes to become a CA. If the first one asks you the most basic question as to CA kyun karna hai, by the last one, you get to know how to balance the sheet. It's a brilliant strategy to make up a show! Because while it shows the struggles of becoming a CA it also makes us understand their value. As most people know who Ambani, Adani, Tata are, they don't know who their CA's are. More so it motivates the aspirants with a fresh perspective as CA'S do not just help the economy grow, they are the economy.
But Half CA isn't just about CA aspirants, it's about life and the various ups and downs we all face. In the wake of various curve balls and obstacles that life throws at us, it's hard not to lose hope. But then to have a show that explains the most basic concepts of an academic course as simple valuable life lessons is rather life-affirming. I specifically loved how they showcased these - to express the concept of overhead expenses which means indirect costs incurred in business like electricity and decipher it to moving away from home and comfort zones as an investment in a better future, or the concept of write-off which means cutting off loss in business as something like closing of one chapter to make space for a new one, or group 1 group 2 which is giving papers for clearing CA intermediary and turning it into there are options in life to confuse us so either think like there is no option like Iron Man had to click his fingers to save the world or keep your ego aside and accept that they are there to tell you which one is not for you.
Archie essayed so intricately beautifully by Ahsaas Channa is that relatable girl who is used to comfort zones and fears of everything at first, from traveling in local trains to panicking in exams. She wants to leave things when she fails at them but with the help of people in her life and herself, when she pushes herself, she ends up feeling a sense of achievement just like after hopping into a local train. In contrast to her is her friend Vishal played brilliantly by Anmol Kajani who is the source of all entertainment and jokes. He is serious about nothing and tags along with everything that Archie does until he finds himself. But the elder mentor figure Neeraj Bhaiya is just like Sandeep Bhaiya in Aspirants who is at his third attempt at clearing CA finals. Essayed by Gyanendra Tripathi who accurately brings out the loneliness, pain, and passion of Neeraj that tugs your soul, and more than anything you want him to clear the exams because he has just one goal - to become a CA!
Roshan Joshi as Parth is that perfect nerd we have all come across and feel annoyed with almost. Because he has answers to all the questions even the ones that the teacher doesn't have but he has a beautiful heart too! And finally, Prit Kamani as Tejas who I wish I could see more of, brings his charm to reign in the nostalgia of college back to us, and reminds of his Feels Like Home character mixed with the carefree style of Bunny (YJHD)! This show feels so apt from the locations of coaching classes, living situation of PGs in Mumbai to a small town shop called goyal pooja samgri avem general store that no wonder that one of the writers from the team of Harish Peddinti, CA Khushbu Baid, and Tatsat Pandey is a first attempt cracked CA.
Half CA on Amazon Mini TV is so realistic that you don't feel like you are watching a show. It's like you are watching lives unfold. Where people crack under the pressure of giving exams and have a panic attack in the middle of it, realize that CA is still nerve cracking inspite of being not competitive, it demands you to sacrifice a college life full of fests, fun, and friends, and even change your relationships with family or even childhood friends, and so much more. Do akshar C and A added as prefixes before your name increases your value was known to everyone but they create such a big difference in someone's life that was hardly known to anyone. Directed by Pratish Mehta, it has warmth and that feel of home that gives you the strength to get back up and never give up!
For more binge-centric content and reviews, follow us on @socialketchupbinge.