Killing the norm and making people love the villain more than the hero of an action-movie, Hans Gruber had us crushing all along. Take a look at how this character played by Alan Rickman made it to our list of iconic villains.
What does it take for a big heist in one of the best action movies to take place? A great and well-written villain who is strong enough to create terror on-screen. One of such classic and iconic villains is Hans Gruber (played by the late Alan Rickman). There is something extra evil about a villain whose chic look creates a contrast to his match his sinister plans, right? Hans certainly knew how to look the part when he walked in all suited up with his troop of well-armed goons to carry out his theft. And even after so many years and a number of killer villains, Hans still remains iconic.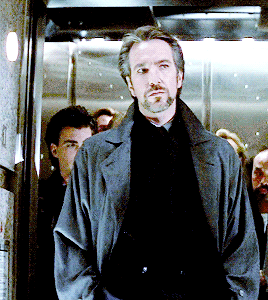 Hans Gruber the German thief is one hell of a smart guy. He is one of the villains that every movie-lover loved to hate. He is calculative, aware and astute and you can see that right from the time he walks out of the elevator, ready to activate his brilliant plan of stealing $640 million dollars! We also get a glance of his brilliance as he speaks Shakespeare, gets the President of Nakatomi i.e Takagi's suit brand right and makes hilarious demands from the FBI. What also makes him one of a kind is how he's always a step ahead in every situation. Every time we thought McClane had him, he would just improvise and find a way out.
Alan Rickman who has portrayed some great and iconic characters throughout his career gave us one of his finest villains in Hans. It was also the first movie character that Alan played on-screen. He was a theatrically trained actor who managed to stand out with his nuances and ace character portrayal. The mannerisms and soul that he gave to his characters made them impossible-to-replicate and they truly belong to Alan alone.
Here are some iconic dialogues of Hans Gruber that we love:
"I am an exceptional thief, Ms. McClane, and since I'm moving up to kidnapping, you should be more polite."
"When you steal $600, you can just disappear. When you steal $600 million, they will find you unless they think you're already dead."
"I'm going to count to three; there will not be a four"
"He won't be joining us for the rest of his life."
"You know my name, but who are you? Just another American who saw too many movies as a child? Another orphan of a bankrupt culture who thinks he's John Wayne? Rambo? Marshal Dillon?"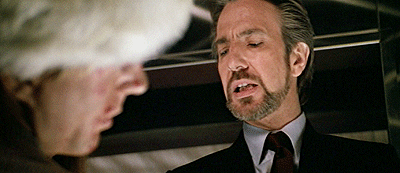 Oh, Snape! We just wish he had the chance to run away with that money. (We had to make that pun, come on.)