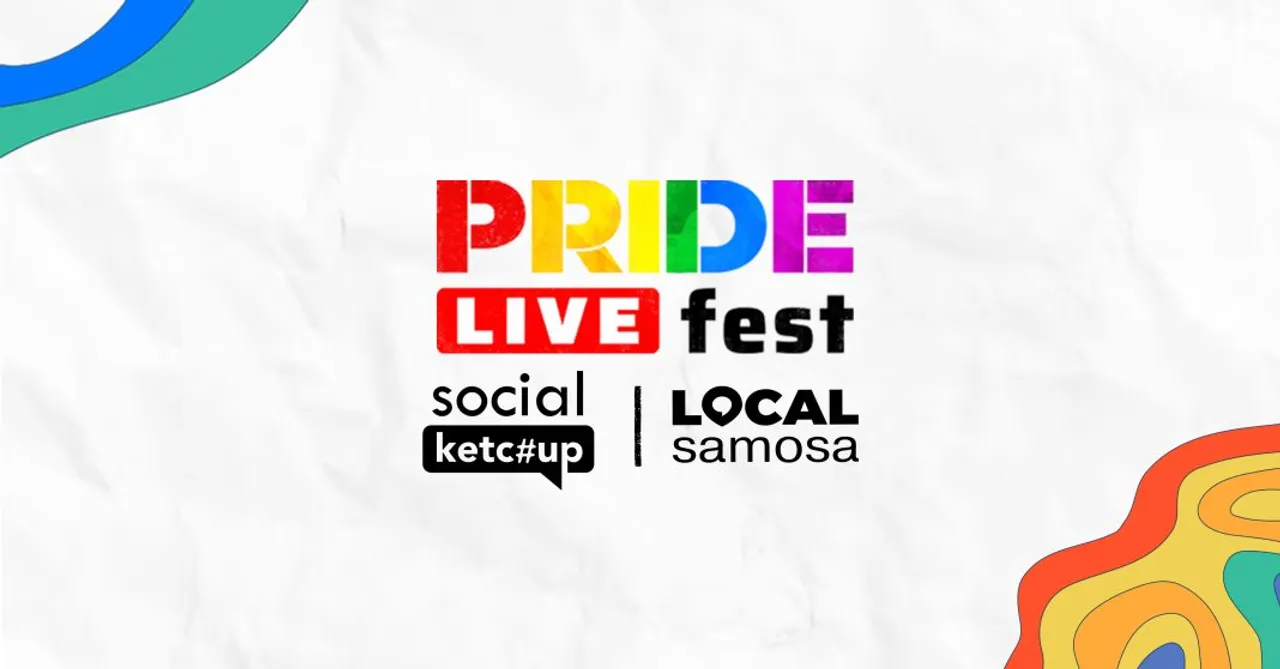 If you missed out on the fun, keep reading to know about everything fun and exciting that happened at Pride Live Fest Season 4.
The fourth edition of Pride Live Fest hosted by Social Ketchup and Local Samosa was an eventful affair that saw an ensemble of representatives and communities come together to celebrate the magic of love beyond gender. Unlike the previous years, this year's PLF was held offline with people from the community and allies meeting in person in the hopes that we continue talking about all things queer not does in June but beyond that. Thereby, along with our Community partners – Sweekar, Dragvanti, Official Humans of Queer, Qknit foundation, Mist foundation, Swabhava, Dreams Entertainment, Lakshya Trust and Keshav Suri foundation, we hosted our first offline PLF event in the form of a Pride Party on August 2, 2023.
Pride Beyond June was more than just rainbows and waving flags. Shreya Shetty said, "I feel like (Pride beyond June) is all about showing up and showing out no matter what month it is because we are queer 365 days. Essentially just staying alive!" While we had a panel with people from and working closely with the community talk about the importance of the same, the event was also graced by jaw-dropping performances and businesses making it an exhilarating experience.
For anyone who missed out on the event, here's our quick rundown about the celebration:
Panel Discussion:
During the Pride Live Fest Season 4, the panel discussion focused on celebrating Pride beyond June. The panellist included Shyam Konnur, Founder of Mist Foundation, Nilakshi Roy, Sweekar Parent, Vishal Dudeja, Marketing Manager at The LaLiT Mumbai and Sulagna Chatterjee, Writer-Director. The discussion was insightful and provided a platform for individuals to share their experiences, thoughts, and ideas on how society and individuals can continue supporting the LGBTQ+ community while advocating for them throughout the year. It was a great opportunity to learn from others and gain a deeper understanding of the ongoing challenges that the community faces.
Honorary awards:
Heroes who make sure to use their platform to share and talk about the hardships of their fellow humans should not be gone unrecognized. It is because of people like them that the conversations of Pride go beyond June and PLF decided to honor them for their work.
Drag Performances:
The event was graced by two incredible drag artists. Gentleman Gaga looked absolutely pretty in pink as she gave an extraordinary performance on 'Pretty Girl Rock' by Keri Hilson. She had the crowd floored and continued to keep them engaged as she emceed for the afternoon. Drag artist Patruni Shastry also performed at the event and had the audience cheering for him all the while. Taking everyone back in the ages as he performed classic old Bollywood songs, Patruni surely left an impact.
"Make a new friend" corner:
Getting to know each other and know about people who might not have known otherwise is the best part about events like these. To encourage more conversations and friendships, we had a corner for everyone attending the event to meet up and make new friends. Considering how many actually got to meet new people and learn about their work, we'd like to think it was a success.
Stalls
We also had three stalls out of which two were queer owned businesses at the event. People indulged in the art that they had to share and enjoy each piece of clothing, trinkets and colors that they created. We had a raisin art by Art and Sentiments, makeup and face art by Nirjara, and cool-printed garments by JUICE by Ranjit Rodricks.
Hope we can collectively continue celebrating Pride throughout the year!!