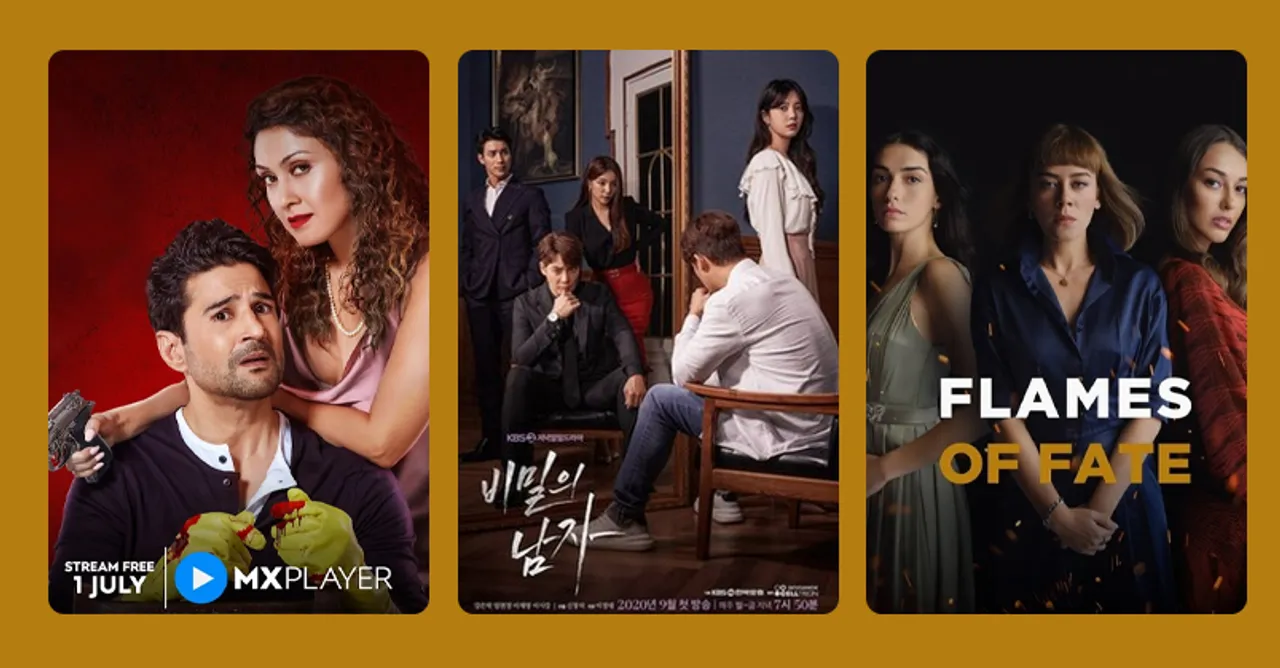 MX Player has a wide range of options in July 2022, from Korean to Turkish dramas and we're ready to binge on all of them!
MX Player has been successful in keeping the viewers gripped to the screens with its multitude of content across diverse genres and in multiple languages. The streaming giant is loaded with great content and has some charming and eye-catching additions to its catalog for July, which is just unmissable. Starting with Rajeev Khandelwal and Manjari Fadnnis in Miya Biwi aur Murder, Korean dramas like Kang Eun-Tak's A Man in Veil, Choe Chan Yi's Light on Me. Flames of Fate, a Turkish drama about justice and love will also be seen on MX player this month. Whereas Signed, Sealed and Delivered will be the much-needed suspenseful show that'll keep us at the edge of our seats till the end.
Check out this list!
July 1
Miya Biwi aur Murder
As Priya and Jayesh (played by Manjari Fadnnis and Rajeev Khandelwal, respectively) struggle in a dysfunctional marriage of seven years, their life takes an unexpected turn one night when they have to set aside their differences to stay alive. As people are poisoned, shots get fired, and dead bodies keep piling on, the Miya and Biwi will have to stick together to take on devious thieves, dreaded gangsters, blackmailing police officers, and a delusional maid to survive. Can they do it? Or do they fall victim to the madness of the night!
July 6
A Man in a Veil
Tae Poong's growth is hampered as a result of a childhood injury. He is torn between two sisters: Yu Jung, the warm-hearted sister who is waiting for Tae Poong, and Yu Ra, Yu Jung's twin sister who is radically different from her and exploits Tae Poong for her own needs. This drama chronicles the fascinating narrative of a man navigating the trials of love, life, and the odd miracle, making it a must-watch with fresh episodes being released every week!
July 13
Intense Love
A love story about a brilliant doctor and an actress who both refuse to have their marriages planned by their parents. Su Jinbei, an actress, possesses a beauty that defies the skies. She is accustomed to being the center of attraction as her fame grows. However, the downside of it is that she attracts controversy. She may be the best at flirting, but she has yet to move on, claiming single status since birth. Zhou Shiyun is is a brilliant doctor with charming looks, money, and brains. He is a perfectionist who enjoys being in charge, but he is not very fond of many things and may be fairly indifferent. Women come to him in droves, and he doesn't seem to notice. Instead of the typical domineering CEO who falls in love with the lady, it is the actress who takes the initiative in love. With fresh episodes releasing every week, it's definitely worth feasting your eyes on!
July 20
Light on Me
Woo Tae Kyung, a high school student, joins the Saebit Boys High School Council to make friends and meets his first love there. Woo Tae Kyung, who is frank and direct, gets intertwined with Noh Shin Woo, who is frigid on the exterior but warm on the inside, Shin Da Won, the school's most popular student president, and Nam Gung Shion, the mood creator, and shows friendship and love.
July 27
Signed, Sealed and Delivered
Tune into his captivating series in which a crew of postal detectives seeks to uncover the secrets surrounding undeliverable letters and shipments from the past, delivering them when they are most needed.
Flames of Fate
Plug in to MX Player to watch the path of the flames that altered all the lives they touched, the flowers that sprouted from the ashes of a fire. The narrative of discovering oneself, going on the journey, and seeking justice and true love.
Which of these shows from MX Player is gonna be a part of your watchlist? Let us know in the comments below!
For more entertainment content follow us @socialketchupbinge