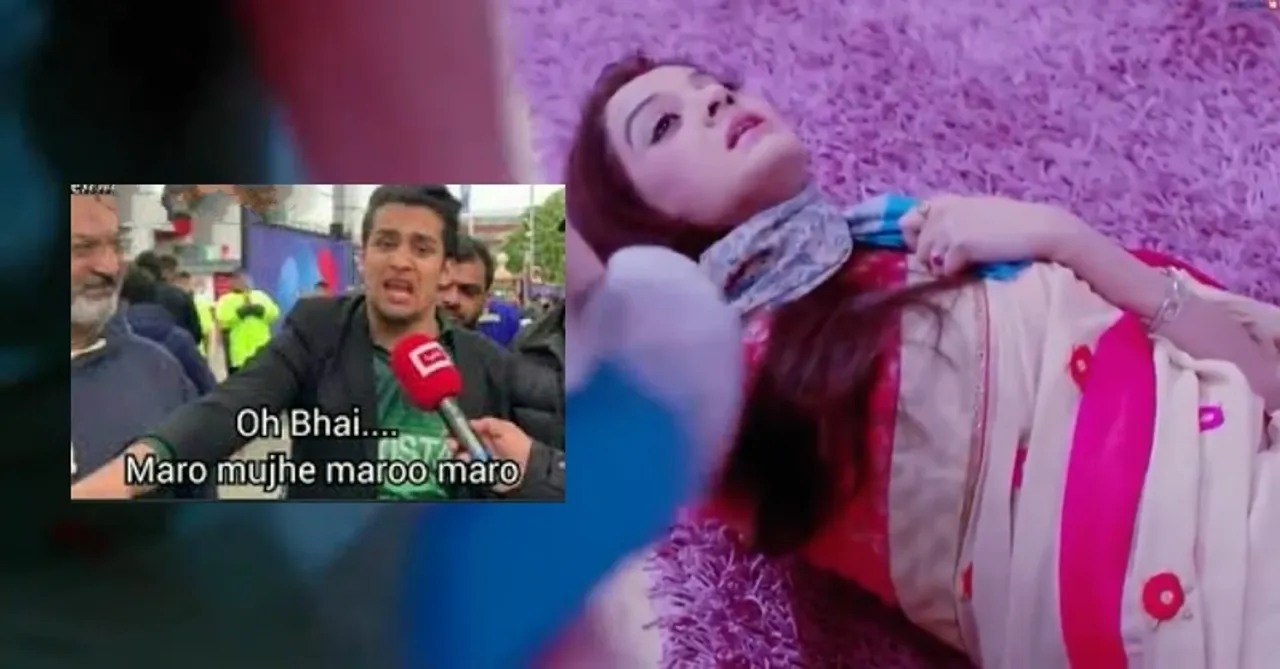 Check out how Twitter reacted after a 'shawl choking' scene from Sasural Simar Ka became viral.
We belong to a generation that is blessed with platforms that offer great series and shows with gritty and entertaining stories. However, the Indian television scenario was and is quite different. The stories and the way they are executed still continue to leave many perplexed. And the frequent pops of scenes from these TV serials do not surprise us either. The shawl scene from the daily soap, Sasural Simar Ka is just proof of it.
The popular Tv serial that made it to every household and has the homemakers glued to it has some pretty unrealistic screenplay. It is true that one cannot judge a person's imagination, but the level at which these scenes turned out has left us questioning everything in life.
'No Context Violence' on Twitter is one account that shares questionable violent scenes from shows. It was this very handle that brought this shawl scene from, Sasural Simar Ka to everyone's attention, and Twitter had a lot to say.
— No Context Violence (@NoConViolence) January 29, 2021
Indian soaps that gave us stories about naagins and a woman turning into a fly have proved time and again that common sense is not something that one needs while watching them. Who would have thought, that a simple garment like a shawl can "accidentally" cause someone's death? And the mere imagination that a person can somehow find a way to get themselves tangled into someone's shawl and suffocate to death when there is a fair chance of it not happening has left us standing up, slow-clapping as logic evades us. Twitter shared their reaction to the video and we are in complete agreement.
Here's how people reacted:
INDIA!!!...We already talked about this! Dats not how cloth works!!! xO Lolhttps://t.co/EQd6dGI25n

— Snappy Pants (@Snappy_Pants) January 29, 2021
Once she learned the forbiiden technique by accident it was clear there woudn't be only one victim

— David Virgilio (@wizard_mouse) January 29, 2021
That's the face of a murderer right there... pic.twitter.com/MfC4RMsazw

— MCLovesCheesecakeToo (@MCLOVESWINTER) January 29, 2021
My sasuma watches such serials all day I can only imagine how many times she had murdered me in her mind 😂😂😂😂😂

— ekchidiya (@lazybirdy8) January 30, 2021
Cringe Indian soap operas are a great source of national embarrassment.

— Avinash Jain (@avinashjain) January 30, 2021
The leading cause of death for affluent Indian women seems to be accidental strangulation by silk wraps...

— MiSt526 "Cogito, ergo sum" (@Mi_St526) January 29, 2021
Mataji ki koi galti nahi hai. Kisi ki koi galti nahi hai. Period

— Naraaz Ahmed (@boyzpledwell) January 30, 2021
Thank God I stopped watching this $#|t long back 🤷🏻 pic.twitter.com/lSPY7t4YNv

— Mohini (@mohini23451) January 30, 2021
Omg Kya ye matlab kuch bhi 🤣🤣🤣

— Swathi✨ (@Ohh_heyy_) January 30, 2021
Nolan should learn from this

— Akash (@akashtattva) January 30, 2021
Mataji is like "die bish" 😂

— ich bin noah (@ichbinnikhat) January 30, 2021
Je kya dekh liya maine🤣🤣🤣🤣😂😂😂😂

— Gurmeet Kaur Gill (@Gill24Gurmeet) January 30, 2021
I want to meet person who wrote thus script I think he knows how where to get quality weed.

— Sri ram Prasanna (@SriramPrasanna9) January 30, 2021
— 🚩TakShak🕉️ (@B4dBucky) January 30, 2021
That granma, with that hairstyle, of course she's a living final destination.. sheesh

— Oreo_Sleepyhead (@ris_staydmn) January 29, 2021