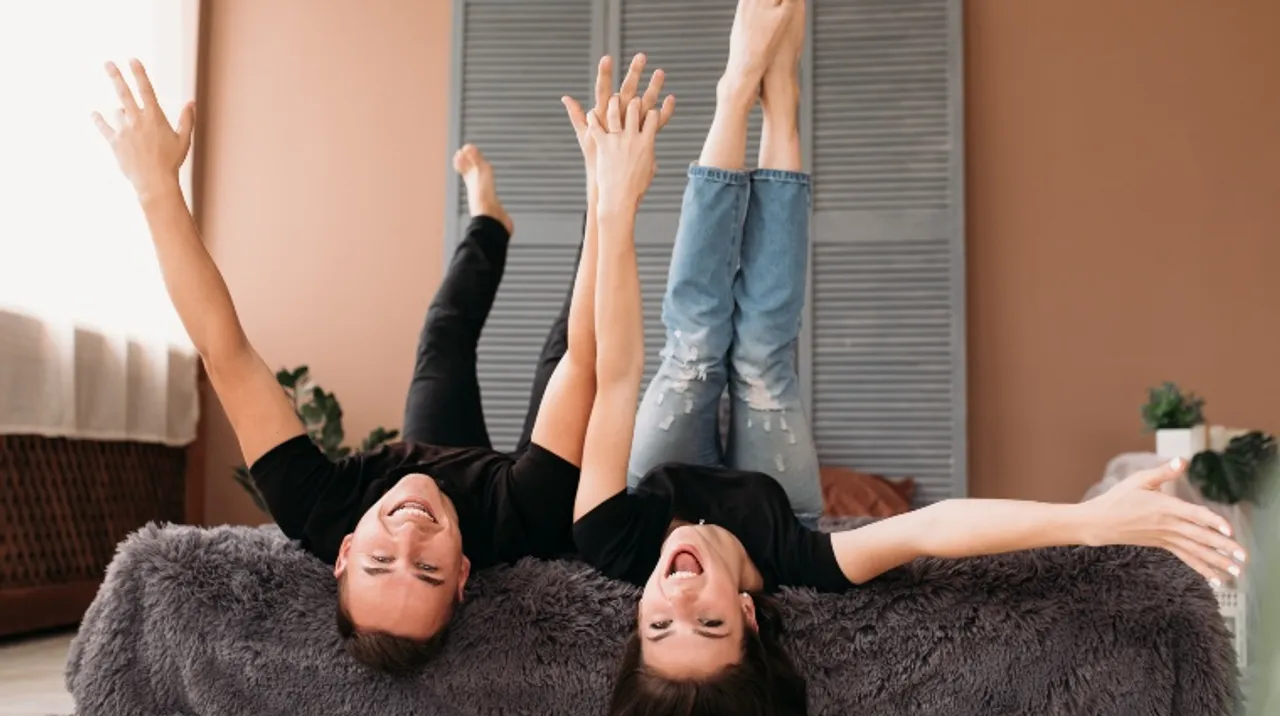 A bedroom is a sacred place for all those who love sleep and our bed, the most prized possession. So, if you're someone who enjoys your sleep and naps, like most of us, then can't miss these hilarious tweets about couples not choosing a bed side.
You probably know that having a preferred side of the bed is no small deal. A side can be the difference between a good night's sleep and a night of tossing and turning. It's the thin line between great or a terrible Monday morning. The relationship you share with your bed is something that only comes second to your relationship with food. And while we can't pick between the two, everything else pales in comparison, doesn't it?
If you've agreed with at least a few of the things mentioned above then you're definitely going feel strongly about this twitter thread. The single janta rarely has to go through this conundrum but couples know that this is in fact a big deal. And most couples you know will undoubtedly have a clear preference of their side of the bed. But apparently, not all of them do (Yep, we couldn't digest it either). A recent tweet that we came across left us and a whole lot of Tweeple with raised eyebrows and so many questions!
Here's the tweet that received all the hilarious tweets about couples not choosing a bedside:
Several months ago, a couple we are friends with said they don't sleep on the same side of the bed every night. As in, every night when they get into bed, they don't know who will sleep on which side. Still blows my mind

— Jeff Stein (@JStein_WaPo) July 27, 2019
If one of us accidentally falls asleep on the wrong side, we need to wake up and move. My god, we aren't animals.

— Matthew SNOWFLAKE❄️AF (@mshalk) July 28, 2019
Who the F do these people think they are? They think they fun and interesting because they change their sleeping side every night? Be boring and predictable like the rest of us and pick a side! pic.twitter.com/FLozvi95Tq

— Keisha Portman - My Shitty Thoughts (@MyShtttyThought) July 28, 2019
Not only do we sleep on same side of the bed every night, the dogs also sleep in pretty much the exact same spots every night.

— Karthik (@blandphilosophy) July 27, 2019
We swap sides in hotel rooms. I thought that was pretty progressive. These folks are radicals!

— Ryan (@AuraLeeHarvey) July 27, 2019
Personal log 10:02 The humans still do not suspect us.

14:17 *engage SmallTalk mode + SocialAnalysis mode*

We like sports.
(Positive result.)

Yes, your baby is beautiful.
(Positive result)

We have no set sides of the bed.
(Why are we on fire?)

— Mr Dysphemistic (@manyshovels) July 27, 2019
Whoa... even when we're on vacation we keep the same relative sides. I don't think we could sleep otherwise.

— Nervous Squirrel ??? (@Ratat0sk) July 29, 2019
I broke up with someone who wanted to do this

— politics and poetry (@rebelpioneer) July 27, 2019
Do they toss for it?

— I'm Spartacus ???️ (@SPD2212) July 29, 2019
I've been trying to find a hole in this reply for hours. Pretty airtight.

— SonOfBetsy (@SonOfBetsy) July 28, 2019
These ppl scare me.

— Lennox Lewis (@LennoxLewis) July 28, 2019
165 years, 18 houses, 47 dogs, 12 marriages, 5 mattresses, 29 lbs of skin flakes, 12 pounds of dust mites, always same side of the bed.

— Don Hammond (@bluestatedon) July 28, 2019
Heard about an alleged "No side" couple many years ago myself. Every so often the insanity of it would cross my mind. I firmly believe that this is one of those urban legends. It's just not possible. pic.twitter.com/HOMGaK8Nmb

— NotInvisibleUSA? (@indivisible_usa) July 28, 2019
Nope. How do you know which way you can safely roll? pic.twitter.com/KnaHdBpnY8

— Noortheninjabi, RN, CCRN (@ummeowyn) July 28, 2019
July 28, 2019
I don't generally like to accuse people of sinful behavior but...

— Rev. Dr. Chuck Currie (@RevChuckCurrie) July 28, 2019
July 28, 2019
I'm anxious just reading this. I sleep alone in a California King & still wouldn't dream of sleeping on the other side of it.

— Violet Skyye (@Violetskyye) July 27, 2019
I don't even remember what the main tweet was or why I'm here but I'm glad I found myself here

— Tomás (@Tmaleman) July 28, 2019
I sent my husband this tweet and asked him what he'd do if I got into bed on his side. His response? "I will move you."

— Corie Whalen (@CorieWhalen) July 27, 2019
July 27, 2019
Helpful life advice: stay single and you can do whatever you want to do. Pure bliss. *Except my pup likes to sleep on top of my head, on pillows. But that's a dog, not a human, so completely acceptable.

— ADD Confessions (@AddConfessions) July 28, 2019
I'm gonna try crawl in the other side tonite. If you don't hear back in the am alert somebody.

— Danny O (@drock0521) July 28, 2019
Do they have to move their books, lotion, meds, change pillows? I'm stressed & exhausted just thinking about it.

— Bernadette (@BernadetteNoBot) July 28, 2019
My laundry knows what side of the bed it belongs on.

— Shelly Splainin' (@sheLLbeLL_xo) July 28, 2019
In this situation I become Sheldon. pic.twitter.com/O6RHusElTq

— ꧁༺ ʝʊʟɨɛ ༻꧂ (@juliecornewell) July 28, 2019
July 28, 2019
33 years, 5 houses/apts. we prefer ending the day with the certainty of the same side of the bed & starting the day the same way. Though I will admit when my husband has been gone for work, I take the whole bed - but get in on my side! Husband sleeps on his side if I am gone.

— Sandi West (@foobie02) July 28, 2019
Clearly a part of some satanic ritual

— hersh magotra हर्ष मगोत्रा (@hershyy) July 28, 2019
July 28, 2019
There were some concurred with the couple's choice to sleep on any side of the bed:
I am one of these couples ! sides mentally is just a basic Territorialism , it's natural for animals, but I think as a human couple it's important to share and who really cares ? I would hate being with someone so selfish to have a "side" of anything. IMAO.

— mieshelley (@mieshelley) July 28, 2019
single sided people are likely the same ones who get mad if you have to sit in a different seat in a classroom, think you "own" a spot at a general admission concert situation, & can't handle if someone parks outside your house. What a miserably entitled waste of time.

— mieshelley (@mieshelley) July 28, 2019
I've been married 25 yrs. We sleep wherever. ?‍♀️ If I walk by one side that's where I go, if he does that's where he goes. It's OUR BED NOT OUR SIDE? ?‍♀️

— Melissa Ryder (@mryder37) July 28, 2019
Wats the big deal , wat wrong in tat.
Its ur bed right, sleep ny side u want.

— Vineet (@Vineet1618) July 28, 2019
*Single people thinking about their bed as they read this thread:
Which side of the debate and bed do you prefer to be on? Tell us in the comments below.