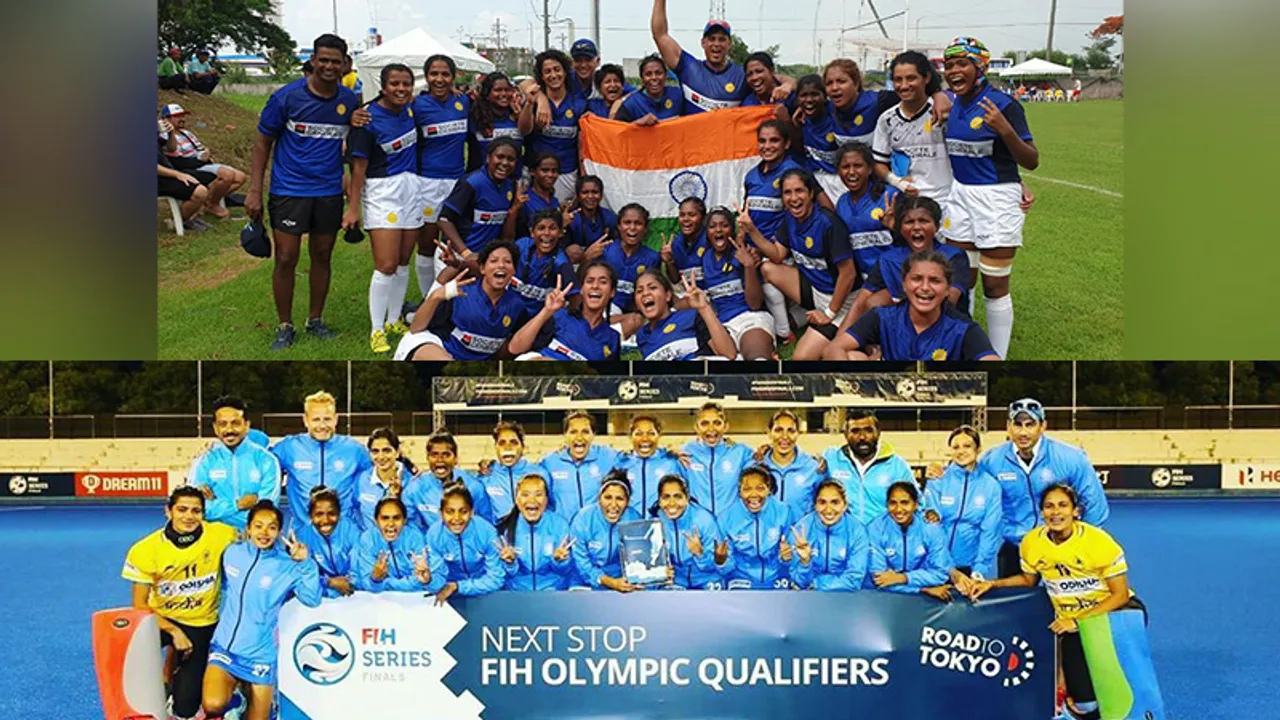 It is truly a moment of pride and honor for all Indians as the women sports' teams bring in glory from all sides of the world. The Indian Women's Rugby and Hockey team have recently won international laurels and we could not be more happier!
Indian women's Rugby team won its first international win against Singapore in the Asia Women's Division 1 Rugby XVs Championship. The match was played on 22nd June, 2019, at Manila. The Indian team registered its victory with a score of 21-19.
Indian Women's Rugby Team Makes History with First Ever International Win. India emerged victorious against Singapore with a 21-19 score. Our women Rugby team has huge potentials as it's only third time the team played an international match after having been formed a year ago. pic.twitter.com/lWFnsNnmaR

— Kiren Rijiju (@KirenRijiju) June 24, 2019
Another big win made its way home with Indian women's Hockey team winning the FIH Women's Series Finals after defeating Japan by 3-1.
The #Indian women's hockey team arrived in #NewDelhi on June 25 after a successful campaign at the #FIHWomen's Series Finals #Hiroshima, 2019.

Photo: IANS pic.twitter.com/FkcPjQxmLa

— IANS Tweets (@ians_india) June 25, 2019
They were showered with love from across the country.
Congratulating Indian Women Rugby Team for their historic victory in Asian Rugby Women's Rugby Championship 2019!#RugbyIndia pic.twitter.com/tOHCu1GP4o

— Achyuta Samanta (@achyuta_samanta) June 24, 2019
wow .. !! this is great news !! well done ladies !! proud of you all ?????????????????????????? https://t.co/LBf5ApmpiS

— Amitabh Bachchan (@SrBachchan) June 24, 2019
Congratulations girls ! You make us truly proud! Just the beginning of many many more victories to come ! ????you go girls???? @RugbyIndia #asiarugby #womenschampionship #1steverwin ! #TeamIndia ?? #proudindianwomen https://t.co/EwpRAMNqES

— Raveena Tandon (@TandonRaveena) June 22, 2019
Just a year after making their 15-a-side international debut, @RugbyIndia women beat the odds to for their first-ever win in the format at the Asian Championships. @ninansusan brings the story of their remarkable rise under coach @NaasBotha10: https://t.co/zPCzXhwR1r pic.twitter.com/BAZpcTiLTZ

— ESPN India (@ESPNIndia) June 22, 2019
AND THEY GET ONE STEP CLOSER...

Congratulations to the Indian Women's Team on comprehensively winning the FIH Women's Series Finals Hiroshima 2019 and thereby qualifying for the Olympic qualifiers! ????#IndiaKaGame #FIHSeriesFinals #RoadToTokyo #INDvJPN pic.twitter.com/40FLOF9hkI

— Hockey India (@TheHockeyIndia) June 23, 2019
Many many congratulations to the @TheHockeyIndia women's team on winning the international hockey Federation Series Finals. The nation is proud of you..today you made all Indian proud...keep it up.. champions..? pic.twitter.com/kctFOgWsAY

— Nidhi Patel (@NidhiPa43357235) June 25, 2019
Jai Ho.????
Indian women's hockey team reaches final of FIH Series Finals https://t.co/GJkTsokn0F

— Anupam Kher (@AnupamPKher) June 22, 2019
Meet the World Hockey Champions

Indian Women Hockey team won the championship in Hiroshima after beating Japan by 3-1. An absolute dominating performance from India to win the title.

???

Chak De India ?@TheHockeyIndia pic.twitter.com/KpN6Ac0zgs

— #GauravPradhan ?? (@DrGPradhan) June 24, 2019
While the boys are playing well in the World Cup, our girls are proving their mettle too and we could not have been more proud!