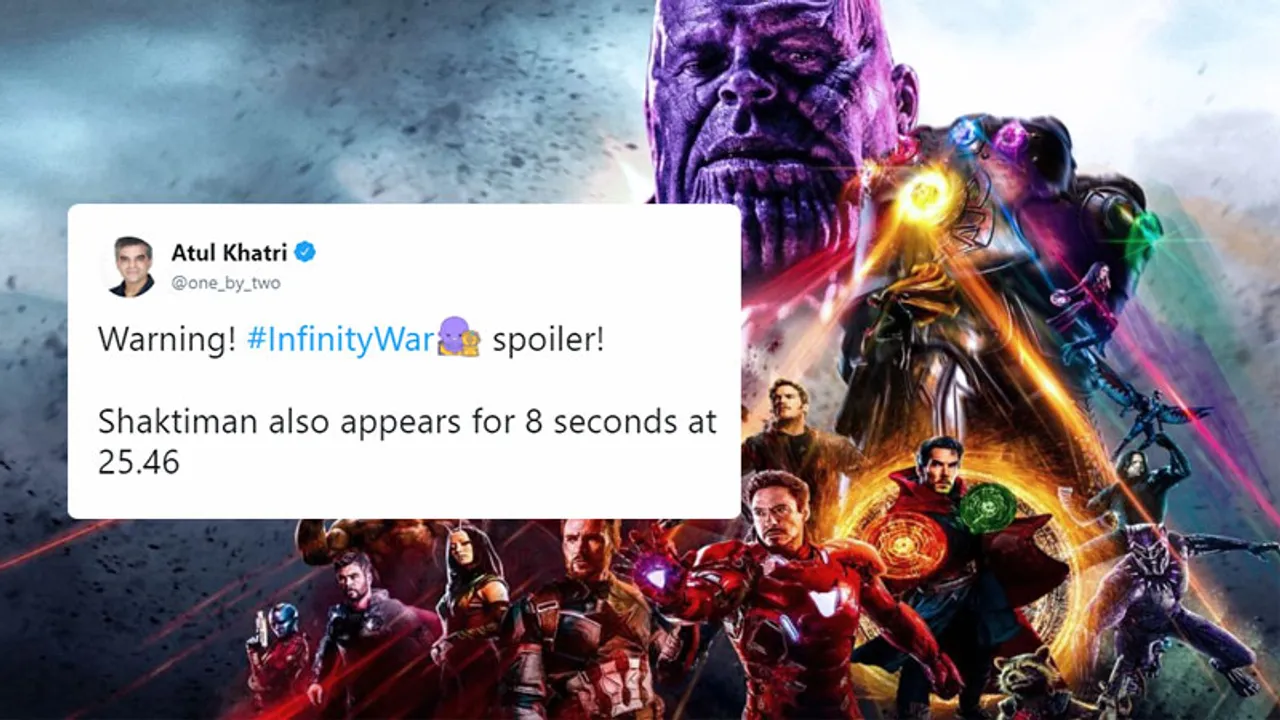 We are sure all the Infinity Wars fans out there have seen the movie by now. So, let's see a few Infinity Wars memes now!
Everyone has been waiting for the #InfinityWar since a decade and now that it is finally here, the Twitterari of course can't keep calm! Did you know this movie is on Pace to be the 6th movie in history to premiere at the U.S Box Office with more than $200Million?
Don't worry, there aren't any major spoilers in these tweets because #ThanosDemandsYourSilence!
Also, to celebrate the movie, Twitter unveiled new emojis for the major characters, so let us know what you think about this read through your tweets ;)
Warning! #InfinityWar spoiler!

Shaktiman also appears for 8 seconds at 25.46

— Atul Khatri (@one_by_two) April 27, 2018
Me: On my way to watch #InfinityWar

Gf: *calls...babu i m home alone... pic.twitter.com/XTR8KZ04ze

— Jaiveer Singh (@Banna__saa) April 27, 2018
My mind from Start to End while watching #AvengersInfinityWar

#InfinityWar #Hulk pic.twitter.com/SunWlA7RqN

— Thanos Chikna (@Madan_Chikna) April 27, 2018
Marvel: #InfinityWar is the most ambitious crossover event in history

Husband & Wife: Oh yeah?? pic.twitter.com/2nw3IU5inR

— Thanos Chikna (@Madan_Chikna) April 22, 2018
The first fight scene in #infinitywar had me like pic.twitter.com/ybqc0sQ0co

— Jae ?2? (@JaeRoar) April 27, 2018
I'm gonna need some time to process and recover after seeing #infinitywar pic.twitter.com/slyZ4fMUrH

— Julia Kelly (@MissJuliaKelly) April 27, 2018
If you don't think half of humanity needs to be wiped out, you're part of the problem. I hope Thanos turns out to be real. #InfinityWar

— KFC (@KFCBarstool) April 27, 2018
My favorite part of #InfinityWar was when the screen turned to black at the end and a loud chorus of 'What the fuck' echoed throughout the cinema.

— mikki (@mikkinomore) April 27, 2018
Dread it, run from it, long range weapon still arrives. #thanos #infinitywar pic.twitter.com/LWPofACYmQ

— 9GAG (@9GAG) April 27, 2018
It's a matter of choice#InfinityWar pic.twitter.com/3POriYxMvo

— infinity war is ? (@xstrandingstone) April 27, 2018
Got more of these? You got to tell us!