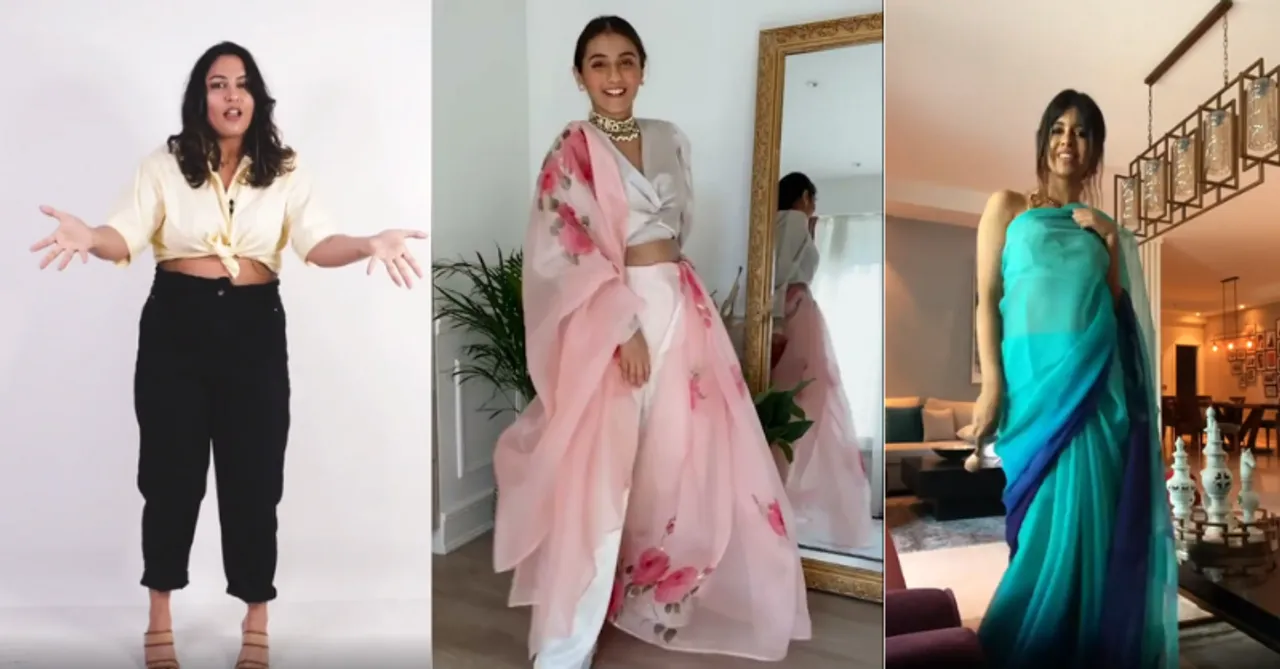 Here are some of the Insta trends that were kick-started by women on this Women's International Day. Cause why should boys have all the fun?
As unpredictable as 2020 was, it was also a year that was very #trending! With series of lockdowns, and the world practicing social distancing, the world came together (quite literally) on social media. Over the past decade, Instagram has intrinsically become a part of the global cultural fabric, inspiring terms that have now become commonplace like "Instagram famous" and "Instagram official". This Women's International Day, here are some of the trends that were kick-started by women.
Whether it was food videos of baked banana bread or dalgona coffee, workout sessions, musicians going live from their living rooms, or WFH memes – while the world learned to acclimatize to the new normal, Insta challenges and trends helped keep a lot of us together. While some were fun and entertaining, some had a deep message and cause behind them, and interestingly a lot of these challenges were started by women! Here is a quick recap of some of the buzzing trends on Instagram inspired and made to trend by women creators.
#BodyPositive 2020:
This is one trend that many women creators hopped on to. We saw many posts, stories, and Reels where women creators were talking about how it is okay to have flaws. Women creators were actively seen talking about how one must feel confident in their own skin and body.  Hashtags like #bodypositivitymovement, #selflove, #loveyourself were also seen to be used by a lot of women on Instagram. Creators like Sakshi Sindhwani, Harnaam Kaur, Supaarwoman, and Dolly Singh were seen sharing content around body positivity on Instagram.
Don't rush challenge: 
The 'Don't Rush Challenge' is a makeup brush challenge that got immense popularity and was trending globally. In this challenge, women are seen flicking their brush on camera and going from drab to fab and then passing ahead of the brush to other creators for the same. This was one of the challenges which trended on Reels. Many creators and celebrities Ishita Dutt, Niti Taylor, Masoom Minawala, Sejal Kumar, Larissa Dsa hopped onto this particular trend and gave it their own twist.
Red dot challenge:  This challenge saw women posting pictures with a red dot on their hands. As a part of raising awareness around menstrual health, this campaign was an initiative taken by UNICEF. Celebrities like Dia Mirza, Neha Dhupia, Aditi Rao Hydari participated in this challenge on Instagram.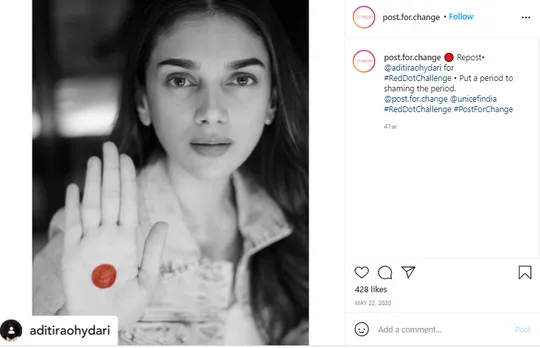 Black and white #ChallengeAccepted: The #ChallengeAccepted trend saw women from across the globe post black and white selfies photos of themselves with a hashtag #ChallangeAccepted. Under this challenge, women were seen nominating other women to post their black and white pictures with an aim to spread positivity during the pandemic. The aim of the 'challenge' is to celebrate womanhood and promote friendships among women. Celebrities like Ananya Panday, Tara Sutaria, Sonam K Ahuja, Bipasha Basu Singh Grover, and Mira Kapoor were seen taking part in this challenge.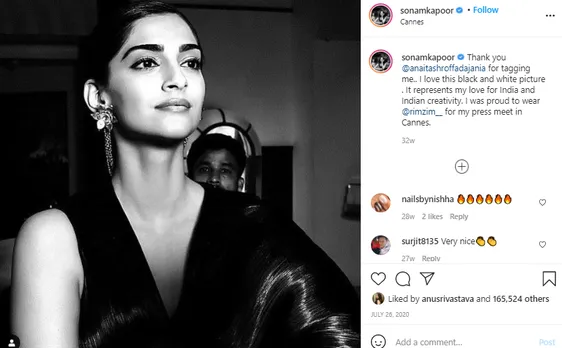 The Saree Challenge: This is another challenge that was loved by women on Instagram. In the Saree challenge, women were seen posting their pictures clad in a desi avatar in a bid to share something positive and appreciate other beautiful women in their life. Many creators also followed this challenge and nominated other to be a part of this challenge.
#ActAgainstAbuse: This particular trend was started by Femina in order to raise awareness around domestic violence. Celebrities like Tapsee Pannu, Radhika Apte, and Sonakshi Sinha were seen participating in this campaign.