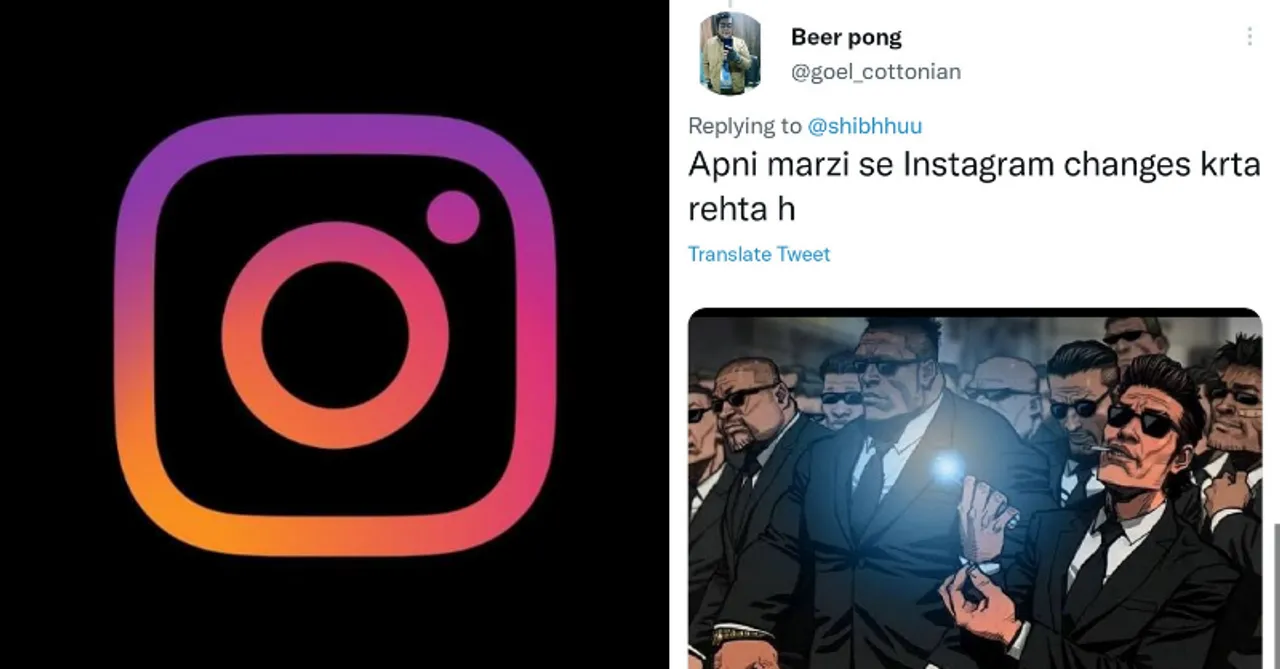 In the new Instagram update, we're introduced to a button swap and going by Twitter reactions, it's safe to say that nobody seems to enjoy it!
Social media is known to be a safe place for creativity, expression and interaction. When it comes to digital platforms, there are no limits and tough rules. Some social media platforms are better suited for certain activities like for a long time Instagram was believed to be a picture sharing platform and when we think about those unorganised feed and raw captures, we feel nostalgic. Over time, Instagram feeds became more about impressions and less about fun and it hit us the hardest when the platform announced their Reel feature. Now it feels like the trend of sharing short videos is what Instagram is looking to promote. We have come across a number of memes saying that Instagram is no more about pictures and the platform is doing its best to suppress picture content. One Instagram update after another and a number of changes in the app's algorithm in the past few years have made us all believe that.
Users disliked many such changes and recently Instagram did a button swap thing and left us all confused. The "Add Reel" option has been added where once was the "Heart" icon. People are getting confused after the new update and accidentally clicking the Reel option. And we all know when we do that, hours of mindless scrolling is inevitable. We saw memes all over the internet and could hardly find someone who is happy about this new update. Here's how people on Twitter reacted to this bold move by Instagram!
Check it out!
Me when i accidentally click the "Post" option instead of "Reel" option pic.twitter.com/pS6UROYqb8

— Shibhhuu (@shibhhuu) February 15, 2023
My thumb adjusting to new insta updates pic.twitter.com/kFQxRooueL

— Palak (@Woh_meow_hai) February 15, 2023
the worse instagram can do is this pic.twitter.com/vMcjctFueZ

— shanaya (@kuttijannani) February 15, 2023
Me and Instagram are pretty much the same.

We make insignificant changes.#instagramupdate

— Sandesh Srivastava (@sandesh_sri5) February 16, 2023
The amount of traction the "Add Post" page has received because of one button swap is unbelievable.

Almost like the UI/UX guy was told to give results or leave and he decided to mess with the most important button of the whole app to save his job.#instagram #instagramupdate

— Abhinav Chawla (@chawlaabhinav22) February 16, 2023
Apni marzi se Instagram changes krta rehta h pic.twitter.com/HfBcm5ATlk

— Beer pong (@goel_cottonian) February 15, 2023
This is how us social media managers usually feel with every IG update 🥲 #makeitstop #digitalmarketing #socialmediamanagement #instagramupdates #princelouis pic.twitter.com/eCDCkgeonb

— Nautilus Marketing (@Nautilus_uk) June 7, 2022
Me trying to make sense from this new Instagram updates #Instagram #ig #igupdates #instagramupdates pic.twitter.com/0pSIHMUZvD

— Dwayne (@GlenroyScafe) December 14, 2022
What's going on, these IG updates have me feeling all kinds a dumb #Instagram #ig #igupdates #instagramupdates pic.twitter.com/GT1vLlEOm6

— Dwayne (@GlenroyScafe) December 14, 2022
Me looking at these new Instagram updates like #Instagram #ig #igupdates #instagramupdates pic.twitter.com/mmNVC7IzGT

— Dwayne (@GlenroyScafe) December 14, 2022
What do you think about this new update? Let us know in the comments below!