Every year, the month of June is celebrated as the #Pride month. It celebrates the diversity of the LGBTQ+ community and reinforces the point that they are equal to people of the straight community and should be treated so. The verdict of decriminalization of gay sex by the Indian Supreme Court in 2018 was a big victory for everyone.
It is well in public knowledge that the people of this community have had to struggle for their basic rights, and they do this by stating that there is #Pride in being who they are. Many Indian queer activists have played a major role in uplifting the community; and they have done so by taking help of media as their weapon.
We look back at some of the incidents in Indian media that proved to be milestones for our LGBTQ+ community.
1. In 1977, noted writer, Shakuntla Devi published the first book on the queer community –'The World of Homosexuals'.
This is Shakuntala Devi aka the human calculator. We all might have heard about her but a lesser known fact is that she was also the author of first Indian book on homosexuality titled ' The World of Homosexuals.' https://t.co/UcNEK1Ad08 pic.twitter.com/Rxpabe1PqT

— Bolt News (@boltnews) February 13, 2019
2. Ashok Row Kavi, a gay journalist/activist, founded the first Indian magazine for queer men in 1990, called 'Bombay Dost'.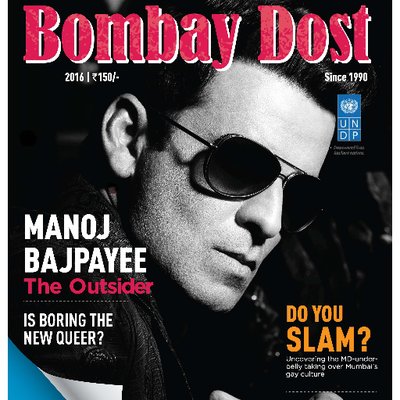 3. In 1996, the first ever Indian gay film was made called 'BOMGaY'. It was a 12-minutes long movie starring Rahul Bose and R.Raj Rao (an author) and others who were shown as different queer men living in Mumbai. It never released commercially but is an important part of Indian LGBTQ history.
Wow: one of our preservation DVDs sounds super interestion! It's called Bomgay (DVD 15017), and you can read about it on wikipedia here: https://t.co/PGYpqNLa9c pic.twitter.com/i0RsfXGFH1

— AU Media Services (@AULibMedia) March 30, 2018
4. 'Sakhiyani: Lesbian Desire in Ancient and Modern India' was published by Gita Thadani in 1996; it delves into the erotic nature of women with each other in ancient India.
5. 'Fire' –a movie starring Shabana Azmi and Nandita Das and directed by Deepa Mehta was released in 1998; the protagonists played the role of a lesbian couple. Although Shiv Sena vandalized many theaters in Mumbai and Delhi who screened it, it played an important role in showing where the mindset of our society stands.
6. 1999 proved to be a milestone as it saw India's first pride parade in Calcutta, it was called the Calcutta Rainbow Pride. And then it saw many such parades.
7. 'Facing the Mirror: Lesbian Writing from India' published in 1999, which increased the visibility of queer women in the country.
? bananapeppers: dojahan: Facing the Mirror: Lesbian Writing from India (1999) you can read more from… https://t.co/5YMyDdJxZp

— David Hargreaves (@DaveMHargreaves) October 8, 2016
8. In a very brave move, Prince Manvendra Singh Gohil came out in 2002 and became the first openly gay prince in India. He was then invited to The Oprah Winfrey Show.
Indian Prince Manvendra Singh Gohil, who was disowned by his family after coming out, is opening his palace up to vulnerable LGBT people. He plans to build a center to house and provide services, such as healthcare and therapy, to the community. pic.twitter.com/MS9mIWdVo8

— AJ+ (@ajplus) January 8, 2018
Inspiring and heart-warming. Thank you Prince Manvendra Singh Gohil for opening your heart and home?❤https://t.co/PvTisqsJMK

— Sonam K Ahuja (@sonamakapoor) January 14, 2019
9. Author R. Raj Rao published the first gay romance novel of India in 2003 –'The Boyfriend'.
Read my column Street Play 6 in Pune Mirror https://t.co/Bky0IzCzVE

— Dr. R Raj Rao (@rajrao2015) November 4, 2015
10. 2008 saw the first and simultaneous Pride parades in Mumbai and Delhi and saw a large turn out.
Humsafar Trust takes out LGBT pride parade in Mumbai after Supreme Court legalises homosexuality. #Section377 pic.twitter.com/j90zGjM7td

— ANI (@ANI) September 6, 2018
Hundreds turn out in New Delhi for colourful Pride parade https://t.co/PWCZoz8pUg pic.twitter.com/qeYXpljLyv

— ITV News (@itvnews) November 25, 2018
11. In 2010, The Kashish Mumbai Queer Film Festival –which is now one of Asia's largest queer film festivals –started. It allowed people to showcase content on these matters which otherwise would have seen critics' backlash. It was launched with the support of actress Celina Jaitley.
Very proud to be the industry partner of the biggest #LGBTQ film festival in South Asia @KashishMIQFF Exciting discounts for #MAMIYearRoundProgramme members at #Kashish so register here for this amazing movie feast that begins today https://t.co/YS9ju8w6oD #Happy10KashishMIQFF pic.twitter.com/62Dj0OPALq

— JioMAMIwithStar (@MumbaiFilmFest) June 12, 2019
12. 'Queer Ink' was also launched in 2010 by Shobhna S. Kumar –it is the first publishing house for queer fiction. It also provides crisis intervention services and educational resources for the Indian LGBTQ community.
TELL ME A STORY ⠀⠀⠀⠀ ⠀
Queer Ink's unique project to explore first person queer Indian narratives is out with its eighth story by storyteller – Anubhav. His story explores the dichotomy of love and family. Head over to our Instagram page to read it: https://t.co/FtS6XfpPzP pic.twitter.com/r9lkRoDgRt

— Queer Ink (@QueerInk) June 2, 2019
There are many unheard stories of Queer India. Debarati Das is bringing them forward in her anthology. Help us by making a valuable contribution. Click here https://t.co/Ig1cbB2DpP

#QueerIndiaStories #QueerVisibilityMatters

— Queer Ink (@QueerInk) May 5, 2019
13. As a protest against Section 377, the openly gay and proud author Vikram Seth posed for India Today's cover like this.
14. Satyamev Jayate –the famous show hosted by Aamir Khan that focused on social issues –aired an episode on 'Accepting Alternate Sexualities'.
15. In 2015, Gaysi Magazine published the first ever illustrated queerness anthology, having artwork by over 30 artists.
An All Inclusive Love https://t.co/C7Y4PHnnPZ #pansexual #queer #india #lgbtqi #fuckedup pic.twitter.com/7Cj0ERJWYP

— Gaysi Family (@gaysifamily) June 12, 2019
16. The first ever LGBTQ-centric web-series, called 'All About Section 377' was granted permission to air on National Television, and by 2016 had a primetime spot on NDTV Good Times.
We are glad to announce a special screening along with meet and greet with the cast of the web series "All about section 377-Part 2"

The screening will be held at National College Bandra West, on Sunday 15th April from 4 PM to 8PM. pic.twitter.com/niUiHRrRi0

— Gay Bombay (@GBgaybombay) April 4, 2018
17. In December 2016, many bars and pubs banned queer male couples on the New Year's Eve. Harish Iyer, and activist, started a #GayWellSoon campaign in protest. Him and other started sending flowers to these bars (inspired from Lagey Raho Munna Bhai) asking them to change their thinking.
YOU THROW US OUT, WE THROW FLOWERS ON YOU!
Like Anand Bakshi saab says फूल आहिस्ता फेंको..

— harish iyer ?️‍? (@hiyer) December 18, 2016
MEN AND MEN can also be couples too @ExperienceShiro @TheBarStockExch open your minds #GayWellSoon wish u a speedy recovery from homophobia

— harish iyer ?️‍? (@hiyer) December 18, 2016
18. Fariz Arif Ansari directed 'Sisak' –the first silent LGBTQ film –in 2017; it is 20 minutes long. It also made its place in the Cannes Film Festival!
Sisak: India's First Silent LGBTQ Movie https://t.co/GzKgsnXsl2 pic.twitter.com/1O7RvTP38y

— The Pride Project (@rainbowprideIND) September 11, 2016
While our brothers and sisters of the LGBTQ community still struggle and fight for equal rights, it is nice to see that this long history is finally giving some fruitful results. We hope they're treated as equal as the straight community (because they are!) very soon! Happy #Pride Month people!