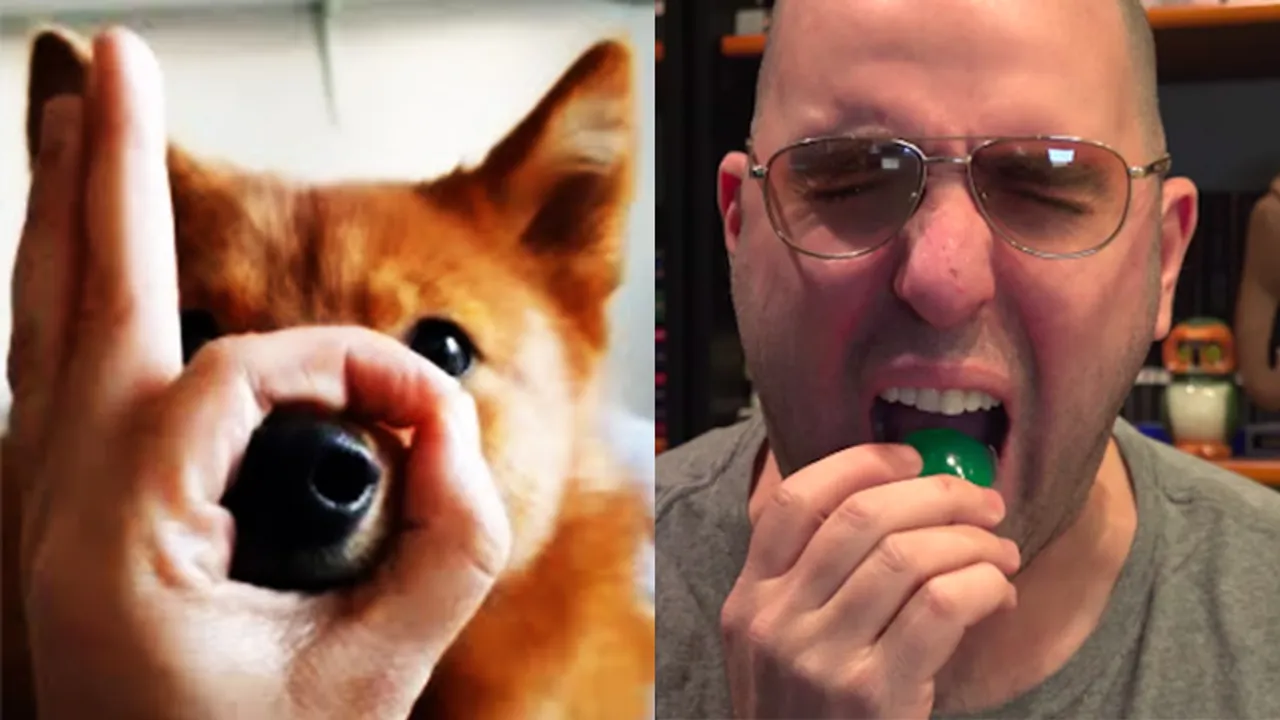 2018 saw a lot of ups and downs, some incredible highs and some staggering lows. It was a year full of craziness and weird stuff happening around us! From viral hashtags to (un)cool internet challenges, they had it all!
Internet challenges initially became popular as a promotional tool for movies, but have quickly risen to be the new trend among netizens. 2018 was filled with these quirky challenges, and while some were actually interesting, others were downright dangerous. From people to dogs, everyone was involved and it was hilarious at its best, and uncomfortable at its worst!
We compiled a list of the weirdest internet challenges of 2018, tell us how many of them have you tried! Take a look:
1. Eat It or Wear It Challenge
This was a simple task where you and your partner compile a list of questions for each other, the one who answers wrong has to either eat or wear an item from a list. What a waste of food, honestly!
2. Kiki a.k.a In My Feelings Challenge
The viral track from Drake's latest album, Scorpion, was turned into a challenge when people started getting out of moving cars to dance to the song! Let me tell you, Kiki doesn't care if you die, so better take care of yourselves before you pull a stunt like this.
3. Shoot Dance Challenge
Debuting in the music video for the song "Shoot" by BlocBoy JB, the hook step became popular among youngsters and they challenged their mates too in it, thus making it viral.
4. What The Fluff Challenge
This was one of the cutest online trends of the year! Owners would wave a blanket in front of their dog and pretend to vanish. The shocked and confused reactions of the dogs are adorable!
5. Get Out Challenge
Another pointless, yet hilarious challenge emerged with the release of the movie "Get Out". In this, people run towards the camera change their direction in the last moment. The failure videos of this trend are too funny to ignore!
6. Tide Pod Challenge
One of the most dangerous and hazardous challenges to go viral was the Tide Pod challenge. Youngsters tried to EAT DETERGENT from a pod to accomplish it! Why would anyone want to put their lives at risk like that just to get social media validation?
7. Neymar Challenge
Remember the epic meme moment of FIFA 2018 when Neymar Jr. fell on the ground and wasn't able to get up? Well, it also became a hilarious challenge where you had to fall down and roll immediately between your chores if you heard "Neymar"! The challenge had everyone in fits of laughter!
8. Zoom Challenge
In this, you need to dance to a song while being seated and then suddenly vanish from the screen by being pulled by your legs violently. While seeming harmless, this challenge proved to be dangerous for kids as they hit the ground hard and hurt themselves.
9. Condom Challenge
If you thought the snorting condom challenge was going to be enough, you were wrong. In the new condom challenge, people fill them with water and throw it on other people's heads. It is not as harmless as it seems, because condoms can break on impact and can hurt really bad. Also, since its latex it might get difficult to remove. Whatever happened to the good old water balloons?
10. Cinnamon Challenge
It involves eating a spoonful of ground cinnamon in under 60 seconds without drinking anything. It is very hazardous as cinnamon is known to cause gagging, vomiting, and choking. I know cooking can be a task but it's better than risking your health, right?
11. The Level Up Challenge
One of the few good ones of the lot, this originated from Ciara. Basically, you just need to announce 3 ways in which you're going to "level up" or better yourself, or you could just dance on the song. Quite positive, isn't it?
12. The Matilda Challenge
To accomplish this challenge, you need to create variations of the scene from the movie Matilda where she finds out that she has telekinesis. The song "Little Bitty Pretty One" must be played or the video doesn't count.
13. The Snoot Challenge
Another adorable dog challenge, where owner made a ring out of their hand and the pets willing tried to fit their mouths in them. Seeing dogs try to fit their mouths has to be one of the cutest things I've seen on the internet this year!
While some proved to be light-hearted and fun, others were seriously dangerous. Like we said, 2018 has been weird. Hopefully, we won't see anything like the Tide Pod challenge in 2019!
Tell us which one was your favorite!