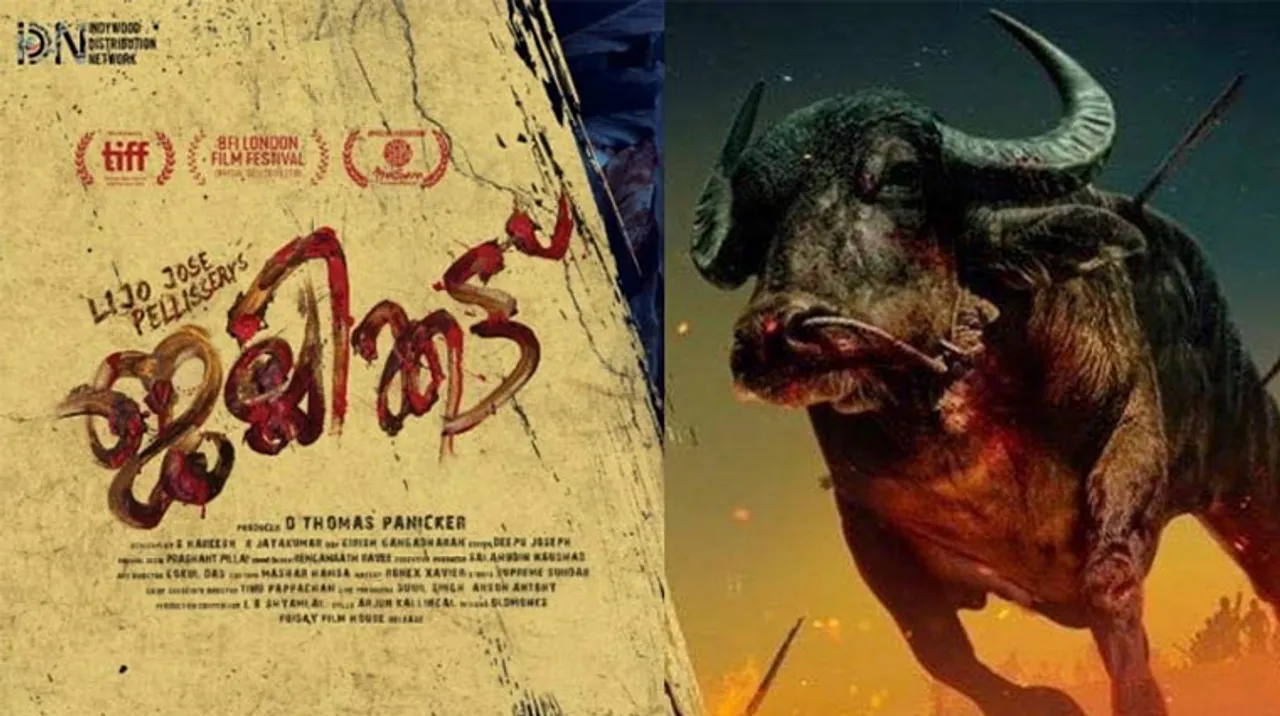 'Avanmaru randu kallel odunundelum, mrigham aa mrigham!' meaning 'They may walk around on two legs but they are animals'. A result of prolific writing and impeccable screenplay, Jallikattu is winning hearts.
Indian cinema is at its merry phase. A number of movies are being made with many receiving critical acclamation and huge box-office earnings. For a country like India that is house to a number of regional languages, the spectrum of stories in the country has also widened. Indian cinema has grown from Hindi movies to movies made in regional languages. In this scenario, where movies from down south are remade into Hindi or Bollywood as it is referred to some movies are enjoyed the way they are, language is not a barrier. This Jallikattu movie review goes to prove just that fact.
Jallikattu is the story of a buffalo that ran out of a slaughterhouse into the village creating havoc and how Antony (played by Anthony Varghese Pepe) and Kuttachan (played by Sabumon Abdusamad) take this into their hands. The masterpiece is an impeccable cinematic experience. The director Lijo Jose Pellissery has tried showing a man's greediness on screen in the most beautiful and cinematic manner.
Watch the trailer here:
Released on September 6th it was recently made available to the audiences on the digital streaming site Amazon Prime Videos. This has given people the opportunity to enjoy this gem of a movie.
Here's the Jallikattu movie review from the netizens:
Just watched #Jallikattu on @PrimeVideoIN
Jallikattu is 90 minutes of experience that is unlike anything i've seen in indian cinema. It's an incredible & sensational journey deals with politics, humanity, morality, revenge, nemesis and basic human emotions.
CINEMA AT ITS BEST. pic.twitter.com/FRi9dxlP2f

— Salman Shaikh (@nameissalman) November 6, 2019
Indian cinema's ambassador to chaotic, testosterone-filled narratives & non-vegetarian food, @mrinvicible's #Jallikattu is a rich, gory kaleidoscope to rural Kerala's innate way of life. Watched at the #FCBlockbuster screening by @FilmCompanion.

Review: https://t.co/H4l0i0acEq

— Tusshar Sasi (@FilmySasi) November 6, 2019
#Jallikattu is a great little short that has a variety of voices
Mind-blowing ? pic.twitter.com/VUOO9lqgpA

— Noney (@Noney77k) November 3, 2019
If your movie lover. Then watch #Jallikattu . Wonderful movie. Now available in @PrimeVideoIN pic.twitter.com/xMYAxtFnem

— ತೇಜಸ್ವಿ ಕನ್ನಡಿಗ#StopHindi (@Tejaswi_Kannada) November 3, 2019
ICYMI | #Jallikattu is out on Amazon Prime. Replugging my interview with cinematographer Girish Gangadharan.
//There is a pensive wide shot that has a post-apocalyptic imagery, with a mix of mist and fog — reminding one of Andrei Tarkovsky's Stalker//https://t.co/RHYPk4uC9Q

— Srivatsan (@LoneWolf_7126) November 3, 2019
#JalliKattu works as an anti-thesis to the monster films.
Here the human-trials are crude, not the monster. It is assuredly, a cinematic achievement, and deserves to win loads of accolades.
Of course, Pellissery is modern-day Genius and Prashant Pillai's chants were stupefying. pic.twitter.com/tsmIZvQYBx

— Chaitanya (@illusionistChai) November 3, 2019
#Jallikattu
No word to describe ....????⭐⭐⭐⭐⭐
Love from #Nepal

— Pkush All (@devilkush00) November 3, 2019
#Jallikattu is trending on national level because it is released on @PrimeVideoIN. Amazon prime is becoming the defacto option for latest movies in Malayalam.

— Swaroop Shankar (@swaroopsv) November 3, 2019
#Jallikattu - 90 minutes of unadulterated experimental fun that is unlike anything I have seen in ind cinema. This is mad max in a village that exposes human greedy-ness.
Last 10 seconds sequence reminded me of what Stanley Kubrick did in "2001 A space Odeyssey" - Masterstroke pic.twitter.com/RwK5800Stu

— Chiranjeev Gorur (@Chiranjeev100) November 3, 2019
Watched #Jallikattu on prime
No words just ???? pic.twitter.com/DsuA06P1lr

— Funmate (@FunmateOfficial) November 3, 2019
#Jallikattu (2019, Malayalam)

Lijo Jose Pellissery unleashes a guileful pandemonium. Jallikattu is one of the year's biggest discoveries. The movie is an incredible and sensational journey which deals with politics, humanity, morality, revenge, nemesis and basic human emotions. pic.twitter.com/uYfXpowtS4

— Gunindra (@Gunindra_Rowdq) November 3, 2019
#Jallikattu is BLOODY BRILLIANT, this type of writing comes only from absolute insecurity,Story telling staright from the heart,how come @mrinvicible s every movie is brilliantly written and layered #Jallikattu questions the whole idea of human civilization,thanks @PrimeVideoIN pic.twitter.com/vR6Smcrsuh

— Aditya Kathasagaram (@Adikathasagaram) November 4, 2019
After Tumbbad, #Jallikattu is the best movie I have seen from India.
Indian cinema is reaching new heights.
Shout out to cinematography, sound design, direction infact anyone who is associated with this movie.
It's on Amazon prime go and bless yourself. pic.twitter.com/tgT6OOAFtc

— सिद्धान्त घिल्डियाल (@shaitan_pandit) November 4, 2019
#Jallikattu is a Glorious chaos. A buffalo escapes and what follows is madness, rampage and violence in village. A fascinating tale of human greed, male ego and masculinity aided by evocative score, splendid cinematography and crisp editing. Sound design is Oscar worthy. pic.twitter.com/hbBDR4a8ZB

— d' (@iam_dhruvin) November 4, 2019
#Jallikattu Want to know what @mrinvicible smokes to get this idea..All you have is a buffalo escaping a slaughter and you get a 90 minutes of rollicking ride sprinkled with some great subtle humor:)

— M(an)i Views (@ManikandanN13) November 4, 2019
All it took was a buffalo to escape for us to get this picturesque movie. Have you seen it yet?